By Don Berryman
Ahmad Jamal Emerald City Nights: Live at the Penthouse 1966-1968 on the Jazz Detective label
Following up on last year's release of Ahmad Jamal – Emerald City Nights: Live at the Penthouse Volume 1 and 2 [read my review here] which was the debut of Zev Feldman's Jazz Detective label, we are now blessed to have the third and final release. Produced by Zev Feldman and supervised by Ahmad Jamal himself, the 2 LP set is issued on 180-gram vinyl transferred from the original tapes recorded live at the Penthouse jazz club in Seattle, Washington. The recordings were made from one concert date in 1966, two separate dates in 1967 and the final one in 1968. Seattle radio station KING-FM had a direct line to the club and broadcasted a live weekly show from the Penthouse. A tape was made at the radio studio during each live broadcast and those air check tapes are the source of these previously unissued recordings.  For all of these dates Ahmad Jamal's trio included his longtime collaborators: bassist Jamil Nasser and drummer Frank Gant. The double LP will be released on November 24th for Record Store Day first. On December 1st CD and digital releases will be available.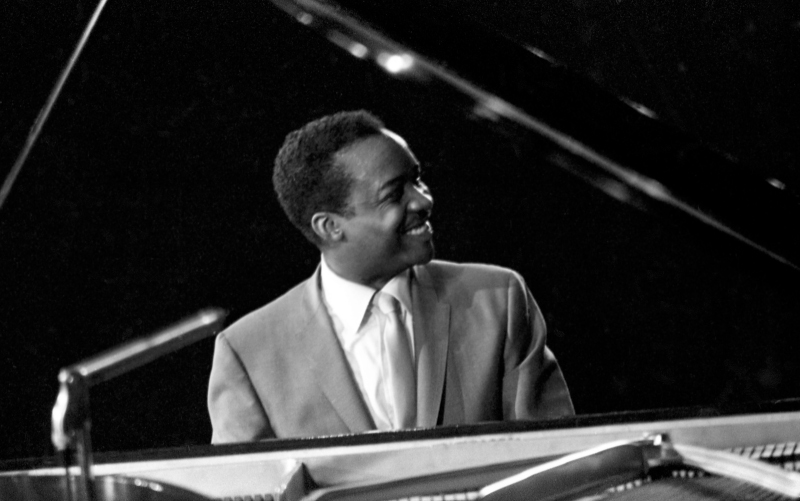 Ahmad Jamal's 1958 live album Ahmad Jamal at the Pershing: But Not for Me was a huge success with the hit single  "Poinciana." rising on the R&B charts and appearing in jukeboxes across the country. His music being both accessible and meaningful proved to be successful while his lyrical touch and use of space was highly influential.
This new release Emerald City Nights: Live at the Penthouse 1966-1968 was recorded about a decade later and demonstrates his skills growing and  thriving in live performance. In the booklet, Jamal talks about how he loved playing at The Penthouse and performing live in general, saying "There's no comparison between performing live and performing in a studio. That's art — performing remotely, that is to say, not performing in the studio.  It's all live, but recording remotely from the studio is a science and an art. If you can capture that, as some of us have, you always come up with spectacular things, in my opinion. Being in a studio has its constraints; has its difficulties. And when you're performing away from the studio, it's a different thing altogether. Recording remotely has worked well for me because in a live setting with an audience, you can capture that electricity, which is sometimes hard in the studio. The artist interacting with the audience elevates it."
This release doesn't revisit any of the tunes from volumes one and two. Jamal's repertoire was expansive. Instead we are treated to tracks like the rarely recorded Joe Kenedy tune "Fantastic Vehicle" which starts off  here with the bass echoing the piano introduction and then is propelled by the momentum of this solid rhythm section, and the waltz "Dance to the Lady" by John Handy which swings relentlessly.  Even old standards are given new life, Jamal is playful on this very percussive rendition of "Misty", slipping in several measures of "C Jam Blues" after the first drum solo before returning to the tune. Bert Bacharach's "Alfie" is my favorite track on the LP. Jamal is absolutely brilliant and the mood changes repeatedly during the performance from thundering chords to dancing melodic flights.  Every selection on this release is a gem and the sound is crystal clear.
The extensive notes in the booklet included in this release includes interviews with Ahmad Jamal as well as with pianists Les McCann, Monty Alexander and Emmet Cohen, plus producer Marshall Chess of Chess/Argo Racords and others.