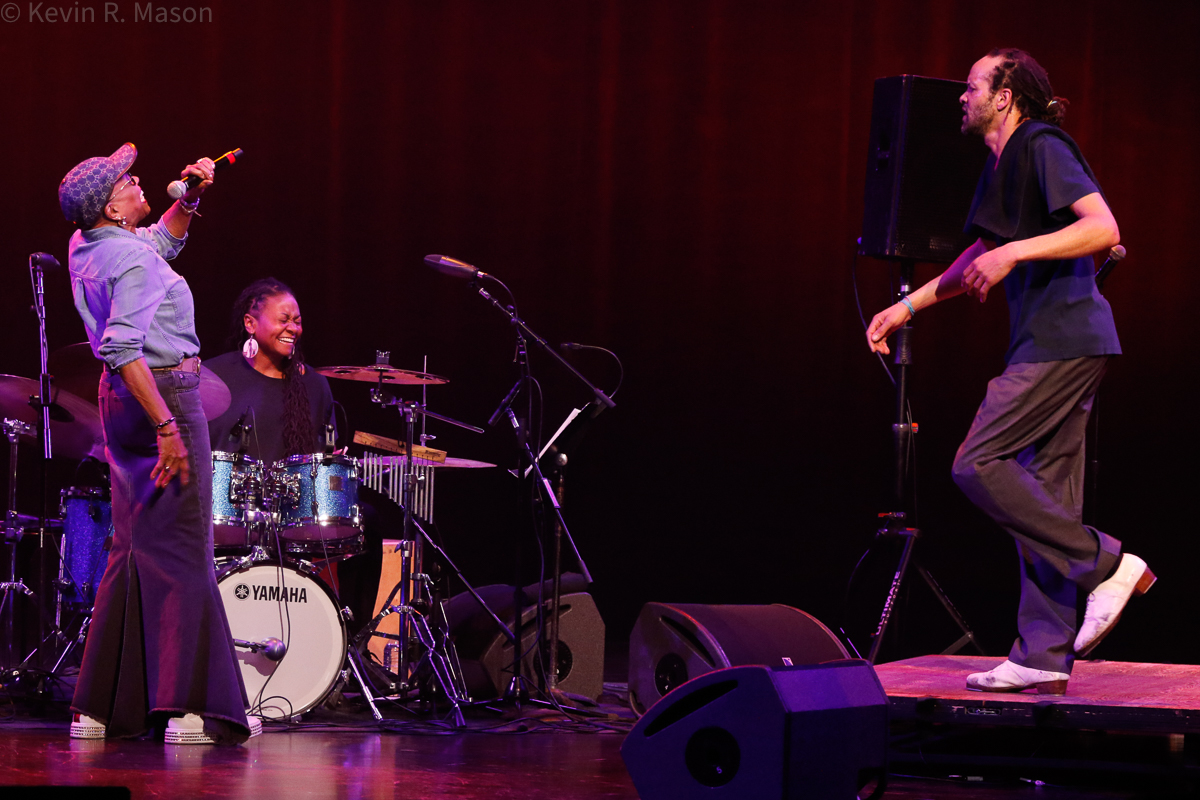 In its 11th year, the TD James Moody Jazz Festival was once again held largely at Newark's New Jersey Performing Arts Center (NJPAC). This has become one of the premier autumn jazz events in the Northeast, and the line-up included Terence Blanchard featuring the E-Collective and the Turtle Island Quartet, Fantasia Barrino, Jazzmeia Horn, and Vanessa Rubin.
The festival was named for NEA Jazz Master and Grammy Award-winning saxophonist/flautist James Moody, who worked with many jazz luminaries during his career, including Dizzy Gillespie, Mike Longo, Lionel Hampton, Renee Rosnes, Dexter Gordon, Quincy Jones, Jon Faddis, Jimmy Heath, Roberta Gambarini, Elvin Jones, Milt Jackson, Cedar Walton, Max Roach, Charles Mingus, Monty Alexander, and Slide Hampton.
Dee Dee Bridgewater & Savion Glover: Interpretations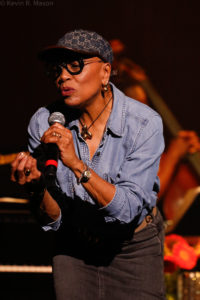 On Saturday, November 12, NJPAC presented singing and dancing icons Dee Dee Bridgewater and Savion Glover. A recording of NJPAC's Jazz Advisor Christian McBride welcomed the crowd, and Dee Dee and Savion were joined by pianist Carmen Staaf, drummer Shirazette Tinnin, and bassist Amina Scott. Savion Glover entered first and started some thrilling tap dancing on a specially made platform. Then Bridgewater came on stage with her band members and began the concert with an affecting ballad while Glover tapped effortlessly. Dee Dee grooved along to Savion's amazing dancing. It was all so well-orchestrated that the tap sounds were almost like another instrument, and the audience was really wowed by Glover's skills. At one point, he danced a solo so spectacular that the audience burst into a spontaneous ovation.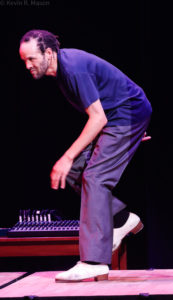 On "Sometimes I'm Happy," Dee Dee's scatting and Savion's tapping were so incendiary, it's a wonder the stage did not go up in flames! Glover not only interpreted the music with his dazzling footwork, but he also put his whole body into his performance. Savion left the stage to huge applause, and Bridgewater and band carried on with a delightful "La Mer" ("Beyond the Sea") in both French and English. The song was equally alluring in either language, with fine solos by the supporting musicians, especially Carmen Staaf on piano.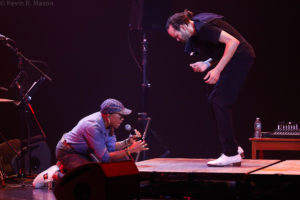 When some audience members came in late, Bridgewater launched into the funniest impromptu rap to tease them. She is a real charmer on stage. Dee Dee is not only a top-notch vocalist, but she weaves a spell over the audience with her charisma. The next song was an enchanting rendition of "Autumn Leaves" that she also sang in French and English, and it had an extended drum solo by Shirazette Tinnin. Savion returned to the stage to mesmerize the crowd with the intricacy of his dance moves. "Shiny Stockings" was an exciting duet where Dee Dee sang a cappella and danced with Savion. Bridgewater noted that she and Glover both agree that the stage is like a therapy session, one that makes both the audience and the performers feel good. On a dramatic "Nature Boy," Dee Dee crouched down and sang to Savion's dancing feet. Glover is a ball of energy on stage, and he was the perfect person to interpret the music of this outstanding concert.
The next avant garde piece segued into a swinging number that had Savion team up with Shirazette Tinnin for a scintillating duet section. The last song was filled with improvised word that Dee Dee delivered with impressive style. This splendid concert was an excellent reminder of the long connection between jazz and dance.
Jon Faddis Quartet – Bethany Jazz Vespers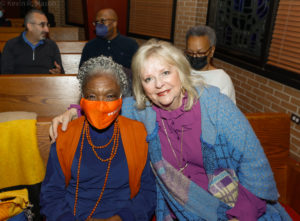 Bethany Baptist Church in Newark hosted a session of their free series, "Bethany Jazz Vespers" that starred the Jon Faddis Quartet. Dorthaan Kirk, fondly known as "Newark's First Lady of Jazz," welcomed the crowd. "It's so great to see all of you. We're kind of getting back to where we were before Covid…Welcome, welcome back!" Kirk made some announcements about upcoming Jazz Vespers, and she thanked NJPAC and WBGO Radio for their continued support.  She also discussed how Bethany Baptist has hosted many quality artists, even during the pandemic, including Stefon Harris, Russell Malone, and Samara Joy.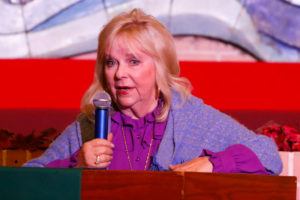 Then Dorthaan introduced Linda Moody, the widow of James Moody, who is tirelessly keeping her husband's legacy alive through her patronage of the festival named for him. Linda said, "Good evening. I'm so thrilled to see everybody! This is so wonderful; you have no idea. I'm so glad to be back in Newark. The first time I was at Bethany it was 11 years ago…Bethany feels like home." She praised Jon Faddis, and said he's like family to her, and added, "I love all of you. Thank you for being here."
Then Dorthaan took the microphone again and introduced the group with impressive biographies of each – illustrious trumpeter, composer, educator, and conductor Jon Faddis, bassist Destiny Diggs, drummer Chris Latona, and his brother, guitarist Andrew Latona. Kirk has known Jon Faddis for many years. "I want to publicly thank Jon Faddis for always, always being there when I call on him, no matter what." She noted just some of the many high points of Jon's career and commended him for his long history of mentorship. "Please welcome the great Jon Faddis!" Jon came to the mic and said hello to Dorothy Longo, Mike Longo's widow, who was in the audience. Faddis recalled that Mike Longo was playing in Dizzy Gillespie's group, along with James Moody, when he first sat in with Gillespie when he was 15. He reminisced about James and Linda Moody officiating at his wedding to his wife, Laurelyn Douglas, showing how close-knit these friends are. Faddis said, "I have to acknowledge my neighbor in Bergen County, one of the world's greatest guitarists is sitting in the fourth row, and his name is Russell Malone. I can't tell you how much I admire him."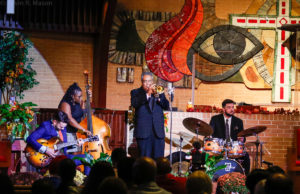 The concert began with Miles Davis' "All Blues" with Destiny Diggs' moving bass solo. Then Faddis chimed in with his strong, crystal-clear trumpet tones, and Andrew Latona added an excellent guitar solo on the fine rendition of this iconic piece. Next came a gorgeous performance of "Someday My Prince Will Come" where the quartet played so harmoniously, it was a beauteous thing, with magnificent trumpet riffs from Jon, who was in top form. Dizzy Gillespie's "Tanga" was a lively, toe-tapping tune played as a duet by Jon and Andrew that was presented in a manner reminiscent of the improvisations of Wes Montgomery.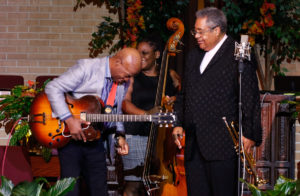 Faddis coaxed Russell Malone up to the stage, and the two musicians had the audience cracking up with their humorous exchanges. Jon has quite a jovial personality, in addition to his prodigious musical talent, and he is an entertaining storyteller. The group played a sensuous "West End Blues" with a superb extended guitar solo by Russell and an excellent trumpet section where Faddis threw in some notes from "Stormy Weather." Jon had Russell play a quick part of a country blues number, and the crowd loved it!  Faddis thanked Malone and joked that he'd Venmo him, eliciting chuckles from the audience. Andrew Latona returned, and the quartet played "Toccata," the final movement from Gillespiana, which was written for Dizzy by Lalo Schifrin. It was a percussive beauty with fine input from each member of the quartet, and a subtle riff thrown in from "Night In Tunisia" by Jon's trumpet. This show was a stellar effort by all involved, and they finished with an explosive crescendo, followed by roars from the crowd. Although Jon Faddis is in his "elder statesman" years, his musical skills are as sharp as ever, and he's still at the top of his game. The young artists he shared the stage with were no slouches, either. You'll certainly be hearing more from them.
Jazz & Equality: Beyond the Struggle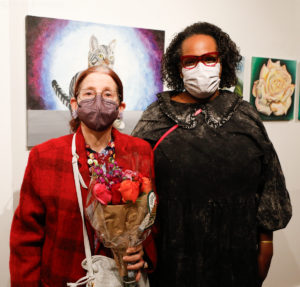 On Sunday, November 13, Ahavas Sholom, a synagogue/museum in downtown Newark, presented an art exhibit and concert. The exhibit displayed art by people with disabilities, reflecting their struggles and triumphs in creating their work and developing their careers. A video from an artist in Texas displaying their work was played for the audience. Eric Freedman, the president of Ahavas Sholom, who is also the founder of the museum space, was in attendance. Nelson Alvarez was curator, and he oversaw the entire installation of art. Alvarez said, "I have to give a great thank you to Ahavas Sholom for hosting this event." Alvarez discussed the process of becoming an artist, and how they selected the artists for this particular exhibition. For more information about Alvarez, go to www.nelsonarte.com. One of the artists, Nancy Hernandez, was there with her art teacher, Armisey Smith, and they discussed their processes.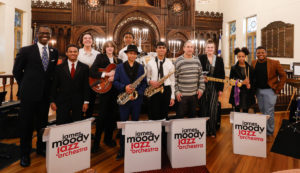 After the art exhibit, The James Moody Jazz Orchestra gave an excellent concert. The James Moody Jazz Orchestra was a group of very young musicians, including drummers Abby Torres, Alejandro Kavlakian, and Clay Hudson; bass guitarist Audrey Coyne; pianist Jaden Torres; guitarist Nathan Ward; and saxophonists Hasan Ali and Jeremiah Torres. They were under the assured direction of Mark Gross, NJPAC's Director of Jazz Instruction, and they started with "Lady Bird," in a rapid-fire bebop pace that had an expansive big-band sound. Gross said that NJPAC has always had a close connection to the Moody family. So he asked Linda Moody if he could name this ensemble after her late husband, and she graciously gave permission. "Moody's Mood For Love" was inspired by Errol Garner's "I'm In The Mood For Love" and it was a romantic ballad that the orchestra played with style. The musicians swapped in and out with each other, and they continued with an exquisite version of "Misty" that had a lovely sax solo by Hasan Ali. John Coltrane's "Impressions" was a driving piece with a number of excellent solos.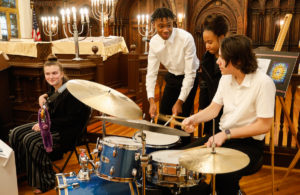 Mark Gross gave praise to the parents who gave so much support to their children in the orchestra. The concert also included fine renditions of "There Is No Greater Love" and "Billie's Bounce." "Nostalgia in Times Square" by Charles Mingus was a joyful, swinging piece with all the musicians adding to the conversation.  Wayne Shorter's "Footprints" featured these up-and-coming instrumentalists showing seasoned virtuosity on this classic, and "Body and Soul" was a languid pleasure that was totally relaxing, with guitarist Nathan Ward at the forefront. Thelonious Monk's "Rhythm-A-Ning" had a round robin with all three drummers taking a turn, having great fun and playing without restraint. It bodes well for the future of jazz to see young talent like this.
Yellowjackets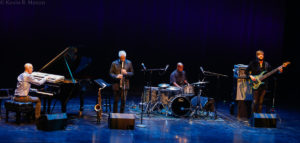 Once again, Christian McBride's recorded voice welcomed the crowd. The Yellowjackets, Russell Ferrante on piano and synthesizer, drummer Will Kennedy, bassist Dane Alderson, and Bob Mintzer on saxophone, EWI, and clarinet, started the set with some fabulous smooth jazz on "Capetown" that the audience really appreciated. On "Dewey (For Miles)," Bob Mintzer cajoled such winning notes from his EWI, that an audience member yelled, "Come on man, play it!" and there was a powerful ovation after his solo. Mintzer said that it was great to be there, in the 42nd year of the Yellowjackets' existence. They played songs from their newest CD, Parallel Motion, including "Challenging Times" and "Onyx Manor," a moody, introspective song.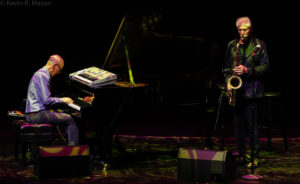 They followed with a plaintive ballad, "Greenhouse," that began with a haunting saxophone solo, then as the tempo quickened there was some fantastic interplay between the band members. Russell Ferrante added some kalimba-like sounds on his synthesizer, contributing a unique touch to the tune. Bob said, "How about a big round of applause for the James Moody Jazz Festival!" Mintzer told a funny anecdote about James Moody, and said how much he is missed, but his presence is still with us. The group went back to the 1980s for the sprightly "Downtown" where Dane Alderson's fingers flew over the strings on his bass guitar and drummer Will Kennedy kept marvelous pace with his high-energy licks. Mintzer's sax sparkled, and Ferrante played the piano and synthesizer at the same time!
Things slowed considerably on the next song, a charming ballad with a touching piano solo, and they followed with a fanciful island-inspired piece that really got the crowd going. Their final song "Intrigue" was a fusion piece with the bass guitar leading, and the other instruments adding outstanding support. They received such loud applause that they returned for an encore, a church-influenced, soulful number that had the audience on their feet, listening to each musician getting their moment in the spotlight. The Yellowjackets' 42 years as a group really shows, because they play so seamlessly together. It is no wonder that they are still going strong!
Oscar Peterson: Black + White
On Saturday, November 19, Bethany Baptist Church hosted a free showing of the documentary film, Oscar Peterson: Black + White. This film explores the extraordinary life and career of renowned Canadian pianist Oscar Peterson through archival footage and interviews with musicians, including Herbie Hancock, Jon Batiste, Branford Marsalis, Robi Rotos, Joe Sealy, Larnell Lewis, Denzal Sinclaire, Quincy Jones, Billy Joel, Duke Ellington, and Ramsay Lewis, who celebrated Peterson effusively, describing the different things that made Oscar great. The documentary was directed by acclaimed filmmaker Barry Avrich, and it told the story of a young piano prodigy turned legendary, worldwide icon.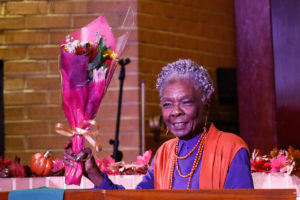 Dorthaan Kirk greeted the crowd and discussed the one-dollar Oscar Peterson gold coin that Canada issued in 2022, then introduced the documentary. In the film, Peterson was quoted as saying, "I am a jazz pianist. That's all I wanted to be." As a child, Oscar was first taught piano by his father, then was mentored by noted composer/pianist Paul de Marky. Peterson spoke about the influence Art Tatum had on him. When he first heard a recording of Tatum, he was so intimidated that he gave up the piano for two months and had crying spells at night. Later, Oscar met Tatum and they became close friends. There was a discussion about impresario Norman Granz having a big part in introducing Peterson to the United States. Granz promoted several artists, including Ella Fitzgerald, and he made sure they were well treated when they traveled.
Ray Brown and Herb Ellis were in one of Oscar's first and perhaps most important trios. Duke Ellington encouraged Peterson to expand into solo piano gigs and recording. The film really emphasized the amount of influence Oscar had on the development of the genre of jazz. Quincy Jones said that Peterson was adventurous, and nothing scared him. Oscar noted that Nat King Cole's great piano skills were overshadowed by his extraordinary voice, and Peterson really admired Nat's singing. A few times during the film, Oscar could be heard singing some of Cole's songs, and sounding remarkably like him. There was also a conversation about the racial inequities and devastating instances of segregation faced by black musicians. Peterson's composition "Hymn to Freedom" was inspired by his awareness of Dr. Martin Luther King and the burgeoning Civil Rights Movement. The song went to become one of the anthems of the movement, and the beauty and power of the song still resonates today.
Oscar received many accolades, including several Grammy Awards and the Order of Canada. However, there was a price to be paid for all his success. He discussed how being on the road and the demands on his time resulted in three unsuccessful marriages. He said the road is one of the loneliest things he'd ever experienced after getting off the stage. Oscar's fourth wife, Kelly Peterson, talked about how they met, and how he took her and their daughter Celine on tour with him all the time. Kelly and Oscar discussed the stroke he had in 1993. It took a lot to get him back to being able to play, and he stressed how important the support from those close to him was during this time. They especially noted that bassist Dave Young kept coming over to make him play, and by 1994, Peterson was back on stage. Although his left hand had been affected by the stroke, it was said that his right hand was so strong, most people did not even notice the left-hand problem. Oscar continued to perform, despite some health issues, until his death in 2007.
Kelly Peterson spoke movingly about how his death affected her and their daughter. Oscar's life was celebrated all over the world, and various musicians discussed the continuing influence he has on young instrumentalists, and how he can never be replaced. At the end of the film, Peterson said that despite the ups and downs, he was grateful for his life.  Oscar Peterson: Black + White was a meticulously and beautifully produced film that brought wonderful illumination to the life of the unforgettable Oscar Peterson.
The Maria Schneider Orchestra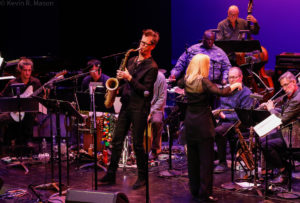 NEA Jazz Master and Grammy Award winner Maria Schneider returned to NJPAC with her genre-defying orchestra. Schneider is a gifted arranger/composer/conductor whose work often blurs the lines between post-bop classical jazz and avant garde. Her passion for artists' rights inspired her Grammy Award-winning recording Data Lords, which also was a finalist for the 2021 Pulitzer Prize. Maria's orchestra included saxophonist Donny McCaslin, accordionist Julien Labro, trombonist Ryan Keberle, bassist Jay Anderson, drummer Johnathan Blake, percussionist Keita Ogawa, trumpeter Mike Rodriguez, and clarinetist Scott Robinson.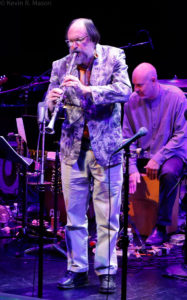 Their first song was a seductive tune with a sinuous rhythm, and it featured a fine clarinet solo by Scott Robinson. It began slowly, but then increased in intensity. Next. from the CD Concert in the Garden, "Buleria, Solea y Rumba" evoked several emotions, and Donny McCaslin's impassioned sax solo was the highlight of the tune. Maria was poetry in motion as she conducted the orchestra, putting her whole body into the endeavor. "The Great Potoo" was inspired by a bird that Maria described as looking like a cross between a Muppet, an alien, and Yoda. This unique tune once again featured McCaslin on an interpretive sax solo and Ryan Keberle added an impressive trombone section. The song changed tempos several times, no doubt a nod to the temperament of the Potoo.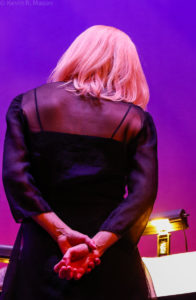 They continued with another bird-inspired song, "American Crow," that harkens back to the crows Maria saw growing up, who were of nasty dispositions, but she loved them. Maria said that we have lost the ability to have courteous dialogue in this seriously divided world, like the crows, and she dreams of a return to civility. The song echoed a cacophony of crows, but trumpeter Mike Rodriguez inserted a beautiful, calming section into the piece. The audience was riveted by this unusual performance. From Maria's recording The Thompson Fields, "Lembrança" was a brilliant fusion of Latin and big band music, with numerous tempo changes and another marvelous trumpet solo by Rodriguez. The orchestra lent amazing support, and accordionist Julien Labro offered a heart-tugging refrain, followed by bassist Jay Anderson's emotional notes. This closing song was a moving ride that enveloped the crowd and made a perfect finale for this distinctive show.
The Sarah Vaughan International Jazz Vocal Competition – The SASSY Awards
The last event of the 2022 James Moody Jazz Festival was the Sarah Vaughan International Jazz Vocal Competition, nicknamed The SASSY Awards. From the NJPAC website: "The divine Sarah Vaughan—Newark's greatest musical gift to the world—got her start as the winner of a talent contest. NJPAC honors her legacy every year with The Sarah Vaughan International Jazz Vocal Competition. Now entering its second decade, "The SASSY Awards" is the only international jazz vocal competition of its kind, open to all genders. At this public performance, you'll witness the next generation of powerhouse jazz vocalists ready to take their rightful place in the global spotlight."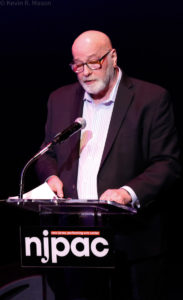 WBGO Radio's Gary Walker was the host of the event, and the illustrious judges were Christian McBride, T.S. Monk, Regina Carter, Pat Prescott, and Maria Schneider. Musical Director and pianist Sergio Salvatore was accompanied by drummer Jerry Brown and bassist Gregory M. Jones. Gary noted that Sergio has been Musical Director of The SASSY Awards for the past six years. Contestants are evaluated on vocal quality, musicality, technique, performance, individuality, artistic interpretation, and their ability to swing. The winner receives a $5,000 cash prize and a one-of-a-kind platform for embarking on a career in the music business. The five finalists in the competition were Ekep Nkwelle, Kristin Lash, Lucía Gutiérrez Rebolloso, Allan Harris, and Lucy Yeghiazaryan, and each one was introduced via a short video.
Ekep Nkwelle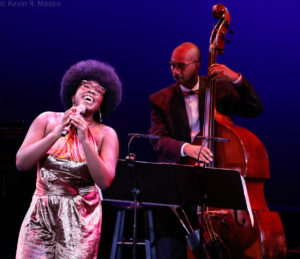 Ekep Nkwelle is a first-generation American in a family from Cameroon. In her video she spoke about being introduced to music by her late father, and she discussed the profound influence that Sarah Vaughan had on her. Nkwelle strives to share with people worldwide her deep passion for the history and culture of the African diaspora. Ekep started with a lively and lovely "Never Will I Marry" that she sang in a warm and assured voice. Her second song was "Dindi" by Antônio Carlos Jobim, with an arrangement that was used by Sarah Vaughan. She displayed an impressive multi-octave range on this gorgeous performance. To close her set, she sang "CC Ryder," a bluesy number that Ekep really sold to the audience with a rousing finish.
Kristin Lash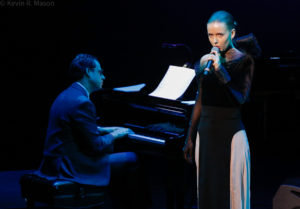 Slovakia-born Kristin Lash's video revealed that she grew up in a very musical family. She said she was honored to be there and hopes to continue to do what she loves – music. Along with her boyfriend, Jakob Grey, she formed the duo Lash & Grey, and they have performed internationally. Lash has supported stars like Stanley Clarke and Dianne Reeves, and she's preparing her jazz debut release. Her first song was a swinging "There Will Never Be Another You," that she sung in a lilting fashion and scatted over several octaves. Next came an up-tempo "I'll Remember April" and again, Kristin showed off her scatting skills, soaring over the scales. Her final song was one of her favorites, the jazz classic "Lush Life," and Lash really got this challenging tune  right!
Lucía Gutiérrez Rebolloso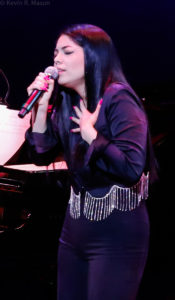 Lucía Gutiérrez Rebolloso's video disclosed that the Mexican vocalist's parents are both amazing musicians. Lucía said that Sarah Vaughan was an inspiration who was both a talented singer and an excellent storyteller. Currently, she is recording her first solo album and working as a backup singer and vocal director for the Mexican artist Natalia Lafourcade. Lucía's set began with "You'd Be So Nice To Come Home To," where her effortless and impressive scatting had the crowd break into cheers. She said, "I'm nervous in the best way possible, because this is a dream of mine!" Her second song showed more high-level scatting throughout the tune. Her third number was a samba version of "What a Difference A Day Makes" in English and Spanish that delighted the crowd, and she even did a tap/flamenco dance in the middle.
Allan Harris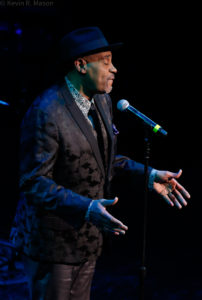 Allan Harris' video started with him singing and playing guitar. He recalled when he was growing up, he visited his aunt's Harlem soul-food restaurant that was around the corner from the Apollo Theater. Many luminaries from the Apollo visited the restaurant between shows, including Sarah Vaughan and Duke Ellington, and he was dazzled and influenced by these stars. Harris is a real storyteller through his interpretations of the American Songbook, classic and contemporary jazz, popular standards, blues, and originals.
Allan started with an emotional "The More I See You" sang in warm, mellow tones. He followed up with a romantic "I Remember You," rendered with the greatest of ease. He said, "In the city of Sarah Vaughan, you've got to swing it," and he and the band really did swing "Mean to Me" that featured smooth scatting by Harris.
Lucy Yeghiazaryan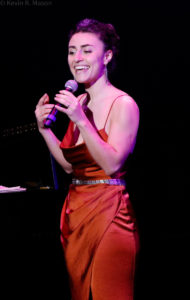 American-Armenian vocalist Lucy Yeghiazaryan grew up without electricity, so her first exposure to music was hearing relatives performing. Her influences include Michael Jackson and Mahalia Jackson, and Lucy has performed at Jazz at Lincoln Center, Birdland, and Mezzrow. She is a recipient of grants from the Doris Duke Charitable Foundation, Chamber Music America, and the New York Foundation for the Arts. She began with a jazzy "Dance With Me" that used her welcoming tones to draw in the listeners. Next came "That's No Joke" as an ode to New York City, and it featured some fine scatting. To close, Lucy sang a song about the phase of a love affair where you're absolutely crazy about the person. "The Very Thought of You" was a splendid ballad that melted the crowd.
These five finalists are all so talented, each in their own right, and Gary Walker proclaimed that the judges had a really difficult job ahead of them. After an intermission Walker returned and discussed the history of The SASSY Awards, and how it has become widely recognized among musicians and jazz fans alike. He also remembered the late music producer Larry Rosen, who co-founded the competition, and put so much into it. Then there was a video tribute to Sarah Vaughan, which outlined  her humble beginnings, followed by her  amazing rise to the top of the music business, and her many honors, including NEA Jazz Master, the Hollywood Hall of Fame, and the street in front of NJPAC named "Sarah Vaughan Way."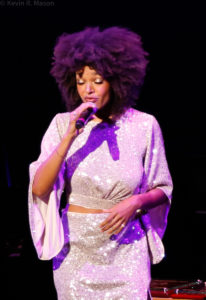 Gary introduced NJPAC CEO, John Schreiber, who said that the SASSY Awards is one of his favorite events of the Festival. He recalled some anecdotes of when he toured with Sarah Vaughan early in his career. Tawanda Suessbrich-Joaquim and Gabrielle Cavassa were the co-winners of the 2021 SASSY Awards, and they both returned to perform at the 2022 competition.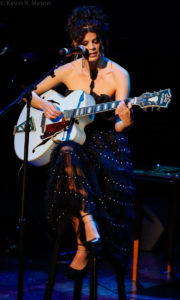 Gabrielle recalled her experience at the virtual event, and noted how much courage it takes to put yourself out there to compete. She accompanied herself on guitar on a lovely rendition of "You Go to My Head" that showed the skills that made her co-winner. Tawanda came on stage to perform a sparkling version of "It Don't Mean a Thing, If It Ain't Got That Swing" that showed off the chops that led her to shared victory with Gabrielle.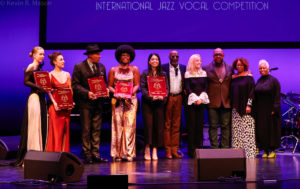 Then, the judges returned to announce the winners. The 2nd runner-up was Allan Harris, 1st runner-up was Ekep Nkwelle, and the 1st place winner was Lucía Gutiérrez Rebolloso! Walker thanked the hard-working band and the judges.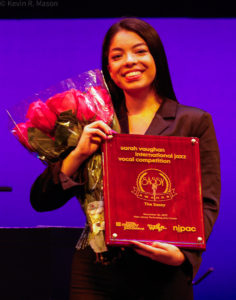 As always, The SASSY Awards was a great show! It gave the crowd a glimpse at future stars of jazz, and the future really looks bright. Although there was not a closing medley with all the finalists as there has been in the past, it was still a spectacular afternoon of music!
The 2023 TD James Moody Jazz Festival will take place from November 3 to November 19. The line-up includes Take 6 with Hillary-Marie; Omara Portuondo; Gladys Knight; the documentary film Louis Armstrong's Black & Blues; Cyrus Chestnut; and Steve Turre. For more information, go to: https://www.njpac.org/series/james-moody-jazz-festival/.