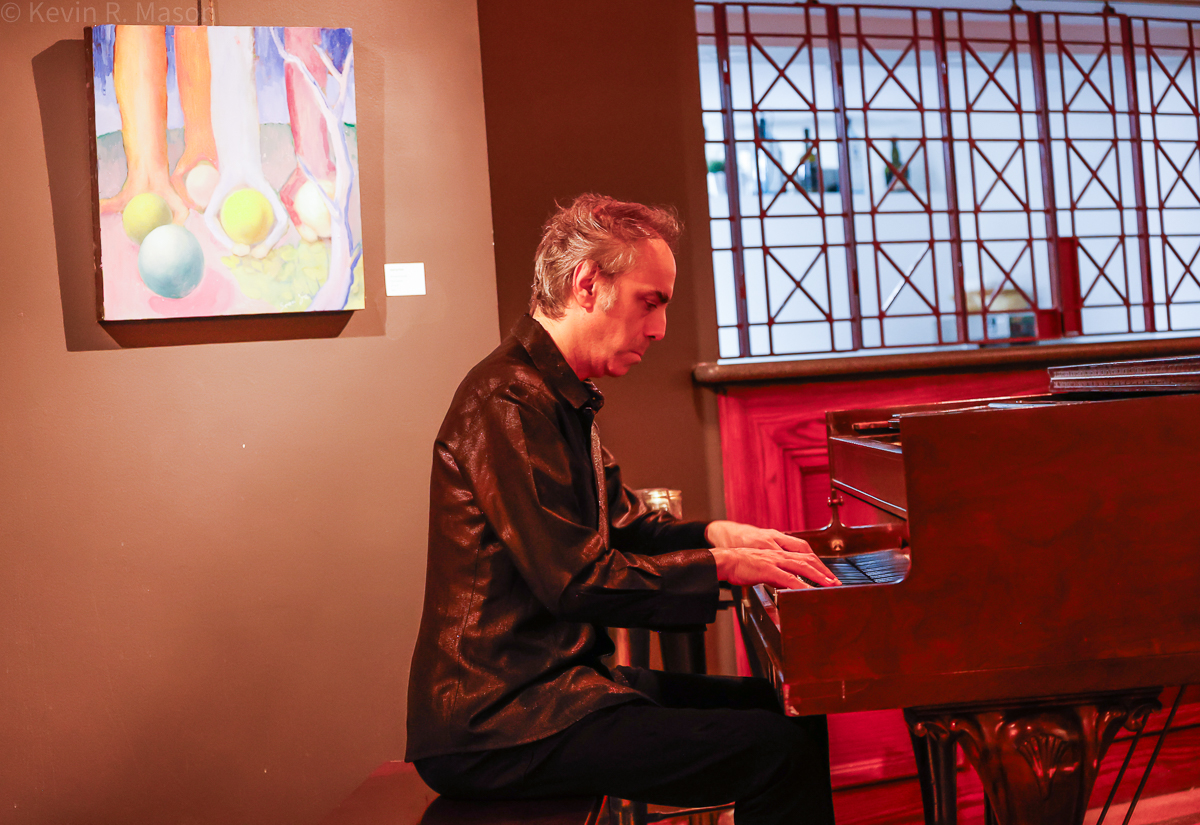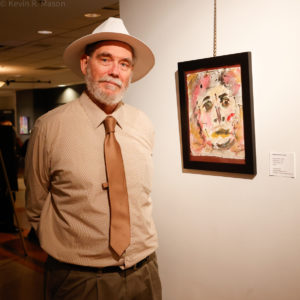 Each year, Festival International de Jazz de Montréal (FIJM) takes over a big part of the city's downtown area, and it overflows with music. So much so, that all the events cannot be confined within FIJM itself. This year, Professor Norman Cornett, noted Canadian religious studies scholar, jazz enthusiast, journalist, and art critic/curator, presented series of events: a jazz concert, several artist talks, and an ongoing art exhibition throughout FIJM. All the activities were free to the public.
These events took place at Le Gesù, Centre de créativité, the building that houses a church on the upper level, and a performance venue on the ground floor. Each day of FIJM, Gesù had concerts at 6:00 pm and 10:30 pm, and Festival attendees got to see Professor Cornett's exhibition of stunning artwork by talented artists on the way in and out of the shows. On several afternoons during FIJM, Cornett hosted the artists for interviews (where he often served as interpreter), while displaying their work and meeting with visitors to the exhibition.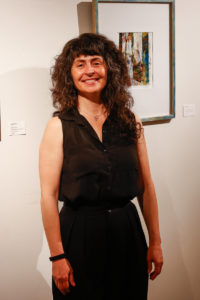 Although the venue always has art on the walls, curated by Dominique B. Marier, Gesù's Art Development Director, Professor Cornett's presentation during FIJM had even more than the usual amount of excellent art pieces on display. On CTV in Canada, Cornett said, "We can see a symphony of colors, of forms, of shapes and silhouettes, that essentially echo jazz."
Soon Ja Park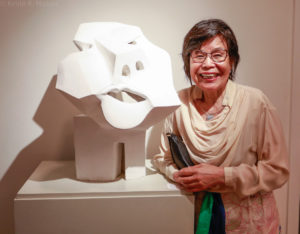 Originally from South Korea, Montréal-based artist Soon Ja Park brings a perspective to art that comes from a very challenging background, before she came to North America. Professor Cornett called her "a quiet feminist," and she speaks her thoughts very eloquently through her art. Soon Ja Park did not begin studying art until she was 47 years old, because her father would not allow her to pursue and study art as a child. Her story is very inspiring, coming from an upbringing where her artistic instincts were suppressed, to flowering as an adult into a full-fledged artist with     a unique and compelling vision. Her preferred style of art is contemporary, although she started studying classical art and developed from there.
Often, her work has the enchanting feeling of a waking dream. Park works on metal sculptures, and she sometimes collects her supplies from junkyards. She re-purposes all that metal into pieces of art that are quite spectacular. Soon also does oil paintings, plaster, and unusual paper works. Although Park's pieces that were on display at Gesù were normal sized, she also works on very large pieces, and they are some of her favorite things to create. Park has exhibited her work throughout Quebec, including a solo show at Galerie Luz in Montréal.
When you look at Soon's arresting art pieces, like her metal sculpture "Gathering Together" and her self-portrait, you can't help but reflect on how far she has come. This woman's dream of being artist, although denied to her when she was young, was somehow sustained in her psyche until she grew up. When she finally was able to follow her desire to create art, her work poured out of her like she had been doing artwork throughout her whole life. Her history and the eventual fulfillment of her artistic yearning is a testament to the endurance of the human spirit. For more information, follow her on Instagram: @soonjaparkonyxgallery or @artistsoonja.
Lise Leroux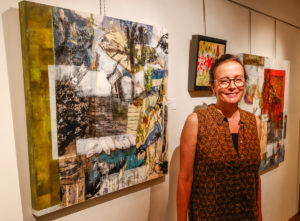 Lise Leroux's work is surreal and expressive, inviting the viewer to indulge their imagination and make their interpretation. She is a mixed-media artist whose pieces include printing, collage and collagraphy, acrylic with charcoal, monotype, and cardboard. Lise has shown her art at Atelier Circulaire, Galerie Luz, and Atelier Alain Piroir in Montréal, as well as group and solo exhibitions in other galleries all over Canada.
Lise likes to experiment and said, "I don't always do the same thing…I always try new techniques. I follow classes sometimes to keep up." Leroux grew up in an agricultural environment, and the land is an inexhaustible source of inspiration for her. Lise uses natural and organic objects like leaves to do printing. 'I see a texture that I like…I have a surface that I can print on, and I print it on there. I like to explore." Her palette is predominantly neutral colors, and photography is also an important tool Leroux uses. She said, "I like to photograph trees, rocks, anything in nature." Lise will pull certain elements from a photograph that she likes for use in her artwork. Composition is important to her, and she often focuses on placing things in a certain way. She talked about small, but important details that might not be noticed at first glance, like a tiny bird's nest, a dog, and even a piano that started out as a chair, until she decided to change it. She is a very dedicated artist, who perseveres until she is satisfied.
As to her process, she just begins painting, and sees if she is inspired. If not, she walks away for a time. "I don't need to be inspired. I begin, and if it doesn't go well, I stop…If it's working, it's working. If it's not, it's okay. When I get there, I am not necessarily inspired. I get inspired by doing it." Lise often achieves a surreal, dream-like quality to her remarkable artwork. To learn more about Lise Leroux, go to: www.aapars.com/lise-leroux or on Instagram: @liselerouxpeintre.
Matt Herskowitz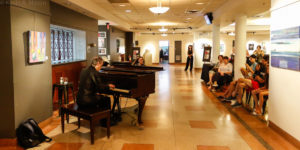 Professor Cornett introduced esteemed pianist Matt Herskowitz's concert with great praise. Matt's superb piano skills were able to command the attention of the audience as a solo performer. Herskowitz began with a lovely, hopeful "All Good Things," which was composed during the pandemic, when he was looking forward optimistically to better days. He said that one of the benefits of the pandemic was how much time he got to spend with his son and how he was able to catch a lot of his son's milestones. "Past Is Prologue" was inspired by a piece of art Matt saw, and it was an exceptionally expressive song where Herskowitz's piano riffs brought out the importance of every note.
"Ragtime Butterfly," from Matt's latest EP, is part of a collection of jazz songs based on Chopin's Études, seen through the lens of contemporary jazz. He played the original Chopin version first, then performed the updated ragtime rendition, most impressively. Herskowitz thinks that the Chopin Études are for advanced piano players to play, for students to study, and for everyone to listen to. Professor Cornett discussed how he met Matt, when Dave Brubeck told him about Herskowitz. Brubeck was quite interested in the connection between classical music and jazz, and so is Matt. Cornett stated that Herskowitz is on a spirit quest – seeking the vital energy that comes from combining jazz and classical styles. From Brubeck's mass on the CD To Hope! A Celebration, Matt played "All My Hope." The song started slow and deliberate, then became quite energetic, and Herskowitz filled the lobby in Gesù with fire and grace.
Dave Brubeck had a very high opinion of Matt Herskowitz, and after hearing this concert, that opinion is easy to understand. This brilliant musician was asked if he could live without music, and Matt said, "I would shrivel up and die without music," adding that there was nothing else he knew how to do. He is continuing to compose music based on Israeli and Arabic music, a particular interest of his. Herskowitz started rather late in jazz, after first studying classical music. After playing jazz for several years, he began performing an inspired hybrid of jazz and classical. Matt acknowledged all the beautiful art that was on the walls of the lobby in Gesù, then ended his concert with a delightful piece from the film The Triplets of Belleville that was spectacular! For more information about Herskowitz and his work, go to: www.mattherskowitzpiano.com.
Lisabel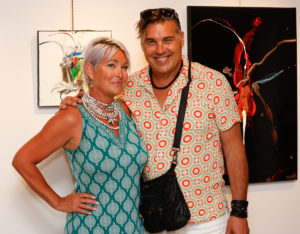 Quebec artist Lisabel sells her work in 30 countries and specializes in large pieces, but she also does smaller pieces to make some of her art more affordable and available to her customer base. Lisabel has created more than 5,000 artworks. She is inspired by all kinds of music when creating her exceptional work that incorporates technology. She decided to go into art full time after a career in science. In 2007, she had a serious accident and broke her back and arm. During her recovery, she returned to the art that she first did as a hobby but had put aside years ago. Her scientific background in chemical research enables her to work in liquid polymers and unique composite materials, and she often creates medium from raw material. Her work is known for luminosity of color and dynamism of movement.
Lisabel's approach is very technical and specific. She thinks carefully about what she wants to do and plans each piece like a recipe, before she starts working. She listens to all kinds of music while she is working, and everything she does has an abstract aspect.  She often gets commission work, where she sometimes collaborates with the client, and other times she is left completely to her own devices. Lisabel's husband, Glenn Miller, is her Managing Partner, and Glenn quipped, "She's my partner from 9-5 and my wife from 5-9." Miller continued, "I'm a businessman, so the reason why it's a great partnership is very few artists have an actual businessman as a partner. In the world of art, they refer to us as Celine and René, just like Celine Dion and René Angélil (who was Celine's manager throughout her career). Also, we built a very unique business, because we built our own gallery, a single artist gallery." The business in question is Galerie Lisabel, which is also an upscale event space. In addition to his work with his wife, Miller is a percussionist/vocalist who has performed in some of the best venues in Montréal. This talented duo keeps very busy! For more information, go to www.lisabel.ca.
Noëlle De Roo Lemos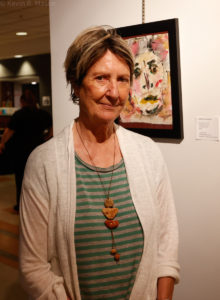 Artist Noëlle De Roo Lemos grew up in Portugal, and her artistic impulses started during her youth. She is also the author of an enchanting book, Vivre dans une oasis au Québec that is illustrated in crayon. The book is about life in the woods – living in it thoroughly, and enjoying nature, especially plants and animals. She explained, "We go to the forest, we get to know the forest, you know where the paths of the deer are, where the birds come…eating the lower parts of the trees, and where they find worms. It's about listening, seeing…all sorts of animals that live in the forest…I live with the forest."  Lemos noted that if you stand still and quiet long enough by a pond or in a forest, you'll start to hear noises, and animals will come to you. She spoke about the fascinating lives of beavers and how they will approach you if you call them correctly. She also discussed the way bees pollinate flowers, and how essential that process is in nature. She finds endless sources of inspiration for her art in the outdoors, and she finds the connection to nature very spiritual.
Lemos works in oil, acrylic, and paper collages. She said, "I do lots of collage. I love collage." Noëlle discussed working on collages with some children who were visiting her, and they came up with very unusual designs. She said how much kids love nature and are so enthusiastic, and it is fun for her to explore places with them. She also repurposes the labels from wine bottles to make hanging art, festooned with ribbons from candy boxes and gifts.
Noëlle is also motivated by music and spoke highly of Matt Herskowitz's performance the day before. "The love piece he played, I adored it. My skin had goosebumps!" Professor Cornett likes to present artists who bring something extra to the table, like Lemos, who has her own unique perspective on art, and is also a professional anthropologist. You can see some of her anthropology endeavors and artwork on Instagram: @noellemariederoolemos.
Verona Sorensen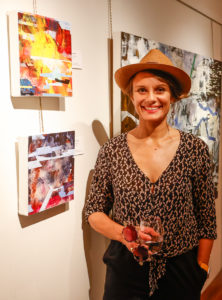 Montréal-based painter Verona Sorensen works in acrylic and oil, and is equally adept with wood, canvas, and paper. Sorensen's technique of blending wax, sand, and oil into her paintings was something she developed during time she spent in Mexico. She also explores physics through painting, with extraordinary results. She was invited to apprentice at Dormice Art Collective in Austria and Italy. Her late father, David Sorenson, was also an acclaimed artist, but Verona has a very different approach, and she has found her own artistic voice.
On her blog, she said the following about time during Covid-19, giving an artist's perspective on this strange period in history: "Even in the midst of a raging pandemic, where indulging in the normal enticing distractions of life is discouraged and external engagement is excused, I have more time, yet oddly enough, I seem to be struggling to find 'time' to do the things I really wish to do…It amazes me how hours can so easily get swallowed up by the everyday details of life; from trying to find a way to keep a home in order and clean, while learning to co-exist with another; to dealing with the continuous flow of tasks that the outside world sends my way…to attending to art applications that I am forever in pursuit of sending out; to extinguishing all the unexpected little and big fires that tend to arise in one's life."
Sorensen has had an extensive exhibition history, in Canada and throughout the world, including La Maison de la Culture du Plateau Mont-Royal in Montréal, Artfirm Gallery in Calgary, Wolff Gallery in London, and Gallery Ernst Hilger in Austria. In October 2022, she completed a 10-day residency in Toronto at the Arterial space. Her work can also be found in private and corporate collections worldwide. To learn more about this gifted artist, go to: www.veronasorensen.art or Instagram: @veronasorensen.
Vasile Trif, Jr.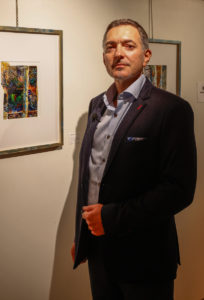 Vasile Trif, Jr. is a multi-faceted, modern-day Renaissance man who was born in Transylvania, and is now based in Canada. Trif grew up in his artist father's studio, and he was very influenced by his father's work. Vasile has degrees in theology, philosophy, and social work, and he is an ordained minister in the Romanian Orthodox Church. This is the first time Professor Cornett presented artwork by a clergyman, and he called it, "a marriage made in heaven." Vasile is a mixed-media artist who works in watercolors and lithographs on paper and canvas. He sometimes takes puzzle pieces of his own art and reassembles them into entirely new collages.
Trif has a strong spiritual element in his art. He said his personal challenge as an artist is to draw on the rich tradition of symbols and icons of orthodoxy, while reinterpreting them to create a contemporary twist. He aims for a synthesis between divine and human knowledge, and through a symphony of colors, he endeavors to represent the invisibility of the spiritual realm. Vasile noted that one of the great figures of modern art, Wassily Kandinsky, was much inspired by music, and he is as well. In his studio, Reverend Trif listens to music, including jazz and Byzantine choral music for inspiration for his art pieces. Of Vasile's work, Cornett said, "What we can't put into words, he puts into images."
When asked how he knows when a piece is finished, he said. "I have a feeling…If you put more and more, you can destroy the creation. So, I'm trusting my feeling. I know when I'm painting…'You got it, it's complete.'" Cornett stated that there must be something special in the DNA of the Trif family, since both father and son became ordained ministers as well as artists. In addition to all his other endeavors, Vasile is a poet, and his poetry also encourages him in his creation of his outstanding art. You can find out more about him on Facebook at: www.facebook.com/VasileTrifJrArtist.
Hélène Goulet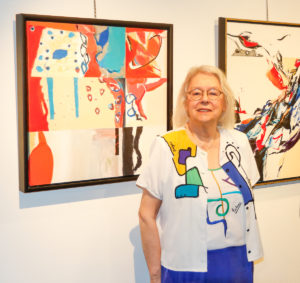 Artist Hélène Goulet's striking work is infused with color. She said that she is inspired by emotions like admiration, love, and sadness, and in general, the way her life is going. When a friend of hers died, it had a profound effect on her and it motivated her to create a very moving painting. Her media includes water pastel (which she learned at the former Graff Studio in Montréal), silkscreen, stained glass, plexiglass, paper, and wood. Professor Cornett said that Goulet has been a professional artist for 40 years, and added, "She is a living part of Quebec art history."
Hélène was very patient in pointing out different details of some of her art that was on display and spoke about what motivated her to make certain choices in the creation of these pieces. She said she is influenced by nature, like the beauty of mountains, oceans, lakes, and trees. As far as her approach, she said, "I just start, because my schema, my sketches are most of the time in my head." However, on occasion, she makes a preliminary sketch that gives her a general idea of the emotional tone she wants to achieve with the piece.
Goulet said that Matt Herskowitz's piano concert a few days earlier at Gesù really got her thinking about colors and ideas, and Matt told her that she should most definitely create that painting. In some ways, she works like a jazz musician, with a lot of improvisation. Hélène likes contrast in paintings that really makes the viewer think deeply about what they are seeing. Although she is strong in abstracts, she is also an incredible landscape artist. Professor Cornett said, "She always aestheticizes, beautifies, she mystifies her landscapes so that they become dreamscapes." Recently, Goulet was invited to be a part of a group exhibition in Paris, with many other accomplished artists, and she said it was a fantastic experience! For further information about Hélène Goulet, go to: www.art-helenegoulet.com.
Jazz Mass at Gesù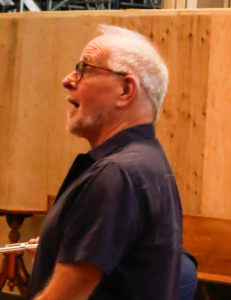 On Sunday, July 9, the day after the closing of FIJM, the week's events at Gesù culminated in a jazz mass. The service featured sublime music that included a gorgeous performance of "Hallelujah" by Jesuit priest Erik Oland, who had a 15-year career as an operatic baritone, including a stint with the Canadian Opera Company.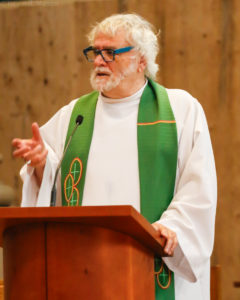 The mass was presided over with grace and gravitas by Daniel LeBlond, SJ. The François Bourassa Trio consisted of organist/keyboardist François Bourassa, bassist Guy Boisvert, and saxophonist/flautist/clarinetist André Leroux, and their music was a wonderful accompaniment to the service, expertly punctuating many points throughout. "Agnus Dei" was performed with passion and fervor. With muted, soft lighting, there was such a feeling of peace in the church. Although the jazz mass was in French, even those who did not understand could certainly bask in the spiritual essence that permeated Gesù, and of course, music is the universal language.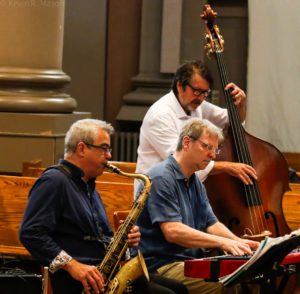 In a city that dedicates 10 days each summer to the inventiveness of jazz and the people who bring it to the audiences, Professor Cornett's music and art events at Le Gesù, Centre de créativité were wonderful additions to the official offerings of FIJM, contributing some vivid and dazzling artwork for the appreciation of the Festival attendees.
For more information about Professor Norman Cornett and his many activities, go to: www.professornormancornett.com.