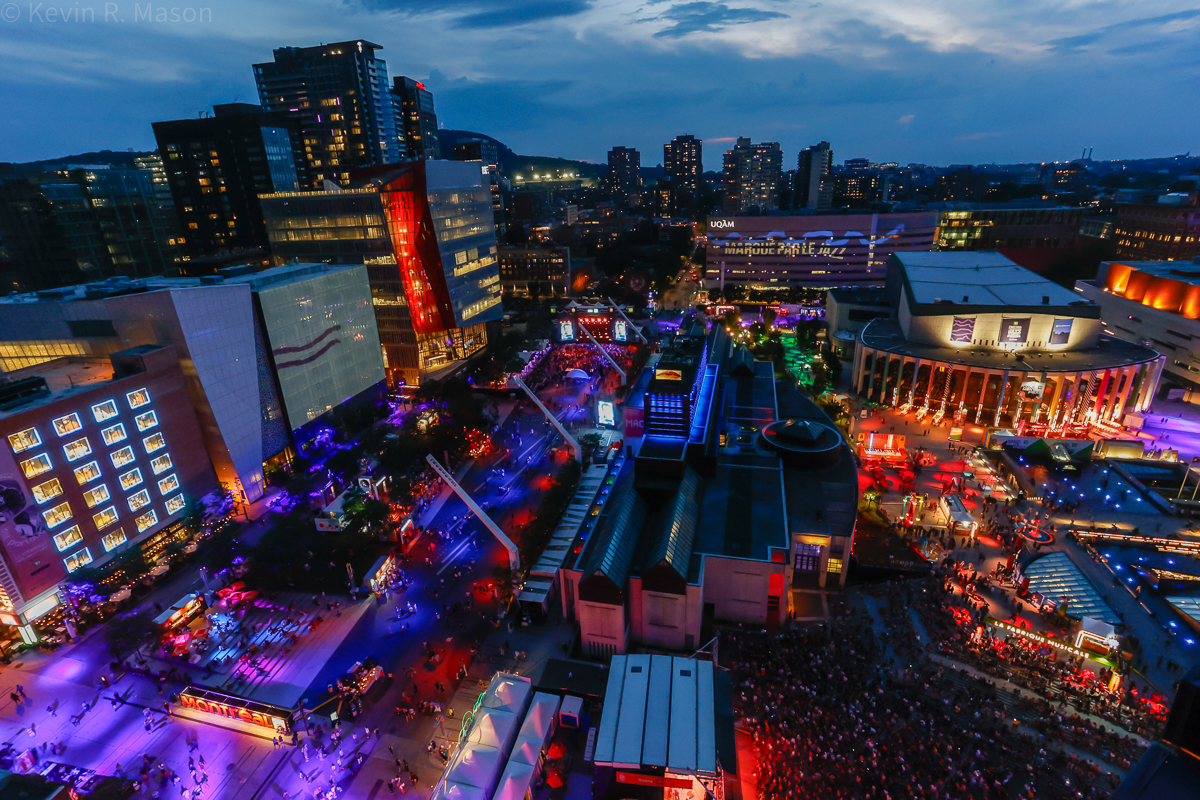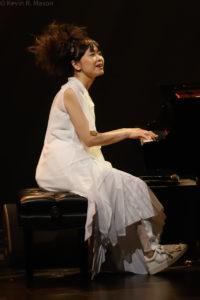 The 2023 Montreal Jazz Festival, officially called Festival International de Jazz de Montréal (FIJM) took place from June 29 to July 8, and it's one of the biggest and best-known festivals in the world.  FIJM presented a huge array of artists in hundreds of shows, including Diana Krall; Hiromi and PUBLIQuartet; Buddy Guy; Christone "Kingfish" Ingram; Ibrahim Maalouf; John Scofield; Snarky Puppy; Ranee Lee; Dawn Tyler Watson; Melody Gardot; Gretchen Parlato and Lionel Loueke; Sheila Jordan; Annahstasia; The Bad Plus; and Christine Jensen.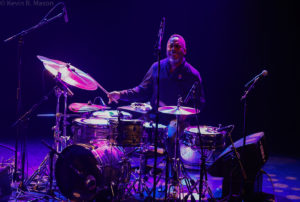 FIJM also featured the Nate Smith Invitation Series; Ron Di Lauro Sextet (Kind of Blue); Robert Plant and Alison Krauss; Stacey Kent, recipient of the Ella Fitzgerald Award; Avishai Cohen, winner of the Miles Davis Award; Marisa Monte, who was honored with the Antônio Carlos Jobim Award; and so many more! One of the best things about FIJM is that there are free daily outdoor concerts from noon until midnight. It was a real musical cornucopia!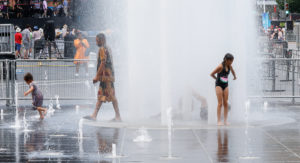 For the second year, Le Studio TD nightclub had FREE shows every night at 6:00 pm and 10:00 pm. The nightclub was packed for every show, making these some of the most popular events at FIJM! There were also several family-friendly activities on the Festival site.
With all the divisiveness and discord reported in the news, people can easily despair about the state of the world. However, jazz festivals can restore your faith in humanity. At FIJM, people of every race, religion, and background enjoyed a variety of concerts together in harmony. Festivals are more important than ever, showing that there are still places where divisions don't matter, and music is a unifying force.
George Benson
Opening Act – Melissa Errico
FIJM began strong with the legendary George Benson. Benson's opening act, vocalist Melissa Errico, was joined by Musical Director/pianist Randy Waldman, drummer Mark Simmons, and bassist Chris Walker. The glamorously clad Broadway star began with a lively "Watch What Happens" that segued into "Come Rain or Come Shine." Then came a warm, affecting "The Man I Love." Melissa was so happy to be at the Wilfrid-Pelletier Theater for the first time, and as a huge George Benson fan, she was thrilled to be opening for him. She also shares a love of Michel Legrand with Benson, and Legrand was her mentor when she worked on his Broadway show. The first song Michel ever wrote was a beautiful ballad, "Once Upon a Summertime" that the band morphed into "The Windmills of Your Mind." This emotional mash-up of Legrand's songs really engaged the audience. Melissa said she felt lucky as introduction to the effervescent "Luck Be a Lady Tonight," where Errico's big voice and stage presence were fully on exhibit. Her finale was a moving interpretation of Legrand's "What Are You Doing the Rest of Your Life?" She asked if the audience was looking forward to seeing George Benson, adding, "I can't wait!"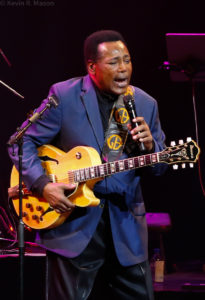 George Benson was joined by some of the same personnel from Melissa Errico's set – Musical Director/pianist Randy Waldman, drummer Mark Simmons, and bassist Chris Walker, along with keyboardist Tom Hall, singer/percussionist Lilliana de los Reyes, and guitarist Michael O'Neill. Sharply dressed Benson began with "Feel Like Makin' Love," and his voice has retained most of its power. Then George picked up his guitar for a soulful "Don't Let Me Be Lonely Tonight." Benson's fine guitar licks started "Love Times Love," and the accompanying musicians kept up marvelously. Things slowed down for the sentimental "Nothing's Gonna Change My Love for You," with the band played providing fine back-up vocals along with great instrumentals.
George reminisced about performing in Montréal since the early part of his career, including several appearances at FIJM, and expressed how glad he was to be back. He was joined by vocalist/percussionist Lilliana de los Reyes on an impressive duet that included stellar scatting. Benson gave Lilliana the spotlight for her sensational performance of Chaka Khan's "Ain't Nobody." George amazed the crowd with an impromptu a cappella song he first sang at seven years old, and he was smooth as silk on "Turn Your Love Around." This show was like a live jukebox of George's top-10 hits that often displayed his jazz roots, and "Breezin'" revved up the crowd! Although George is now 80 years old, and his voice is more burnished, his on-stage excellence remains undiminished. Benson poured himself into Michael Masser/Dan Hill's "In Your Eyes," one of his favorites. A rousing "Give Me the Night" had the crowd dancing and giving an exhilarating ovation.
George was given FIJM's Spirit Award, in recognition of the quality of his work and his impact on global music. Benson talked about recording with Miles Davis and recalled that Frank Sinatra once singled him out in the audience at Carnegie Hall. "This Masquerade," went over so well, that the group's brilliant encore "On Broadway," with an incendiary drum solo by Mark Simmons, blew the roof off the place! This was a great opening night at FIJM!
Mark Guiliana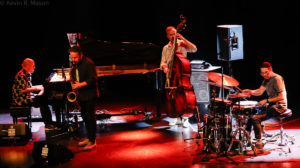 Grammy-nominated drummer Mark Guiliana was accompanied by pianist Jason Lindner, bassist Chris Morrisey, and tenor saxophonist Jason Rigby. They started with an introspective song that was a perfect balm for the spirit. The band took their time, making every note meaningful. Next was a rapid change of pace that opened with Guiliana's superb drumming, then each musician jumped in with great contributions. "Jersey" was named after Mark's home state, with powerful solos aplenty. He said FIJM is one of the best festivals in the world, having appeared there several times. Guiliana asserted how much he loves the venue, Le Gesù, Centre de créativité, and thanked everyone for being there.
Next was a swinging, syncopated "Our Essential Nature," where the players connected very well. Mark immersed himself in his extended drum solo, and the crowd burst into enthusiastic applause. "Mischief" began with Chris Morrissey's driving bass, then Jason Rigby added some appealing sax notes. Again, the group performed seamlessly. Guiliana and Rigby left the stage, and Lindner and Morrisey played a moving duet. "The Most Important Question" was a compelling, beguiling, avant garde piece. After thunderous applause, the encore was "Family First," which Mark introduced by saying the audience was full of family – some by marriage and some by friendship. The beautiful, emotive song evoked all kinds of family ties. Mark Guiliana and his talented cohorts performed an excellent night of jazz.
Chris Botti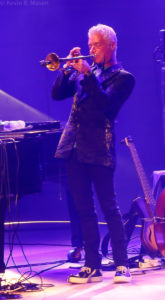 Trumpeter Chris Botti is a great showman, while maintaining his jazz roots, and he's very generous with the spotlight. Botti was joined by drummer Lee Pearson, pianist Julian Pollack, bassist Zach Moses, violinist Caroline Campbell, saxophonist Andy Snitzer, and vocalist Sy Smith. A piercingly lovely "Oh Danny Boy" included an excellent piano solo by Pollack, and Caroline added an exquisite, uplifting violin piece that could bring you to tears. Next, the rock-infused "When I Fall in Love" morphed into a ballad with a whimsical piano solo, then turned funky with hot bass lines. Before "Emmanuel" started with a breathtaking violin section by Caroline, Chris joked that Campbell sometimes misses his gigs to play with Andrea Bocelli. It's obvious they have a real friendship and a fabulous musical collaboration.
On the rapid-paced "You Don't Know What Love Is," the musicians did not miss a step! The song slowed down with a touching bass solo by Zach Moses (who also sang and scatted very well), backed by Botti's superb trumpet. Lee Pearson began the next piece playing incredible tricks with his drumsticks! Saxophonist Andy Snitzer joined Chris for a mesmerizing collaboration on "Bewitched, Bothered, and Bewildered." Vocalist Sy Smith added her powerful, multi-octave voice, and encouraged people to take photos and videos, joking, "If we mess up, don't put it on YouTube!" The way she sang "In the Wee Small Hours of the Morning" in such a charismatic way with dazzling backing, there was no worry about them messing up. Sy wanted to be a DJ when she was younger and asked the crowd's indulgence. She revealed impressive hip-hop vocals and skilled scratching on "Feeling Good," quite an original take on Nina Simone's classic.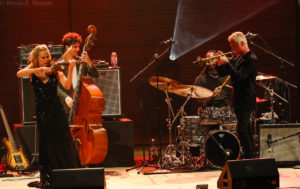 Campbell and Botti went into the audience for a heart-tugging "My Funny Valentine," thrilling the crowd with their proximity and stunning musicianship. The group followed with "Hallelujah," another emotional tour de force. Botti introduced guitarist/vocalist John Splithoff with high praise. John quipped that the anticipation of visiting Paris was quite different from the reality, as introduction to the breezy, island-themed "Paris" that Splithoff called ironic. "Raye" was John's beautiful tribute to his late friend, who loved to sing and dance. Then, Botti introduced vocalist Veronica Swift with effusive accolades, which she lived to up on "There Will Never Be Another You." It started as a tender ballad, then she broke into a masterful swing section, scatting with ease. Before her standing ovation ended, Veronica jumped into an impressive "Moanin'" and surprised the crowd by taking Chris' trumpet for a short, mind-blowing riff! On a much-deserved encore, Botti asked the audience to sing along to "What a Wonderful World," where Lee Pearson did a magnetic impression of Louis Armstrong. Chris Botti's concert was one of the highlights of FIJM!
Samara Joy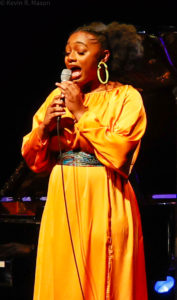 After winning the Sarah Vaughan International Jazz Vocal Competition (The SASSY Awards) in 2019, rising star Samara Joy has received other accolades, including Best New Artist by both JazzTimes Magazine and the Grammy Awards. Samara entered the Monument-National stage in a vibrant gold ensemble, joined by pianist Luther Allison, bassist Felix Moseholm, and drummer Evan Sherman. The vivacious "If You Never Fall In Love With Me" got things started. Samara spoke about her recent Grammy experience, and how she's been traveling a lot. She was happy her travels included Montréal, which is one of her favorite festivals.
Joy sang Antônio Carlos Jobim's "No More Blues" in Portuguese, having learned the words while visiting Rio de Janeiro. She performed with an ease and style that belies her youth, in her seasoned, multi-octave voice. She talked about the challenges of recording her first CD, Samara Joy, when she was a college senior during the pandemic. Samara's gorgeous version of "Stardust" from that first CD had the crowd's rapt attention. She asked couples how long they'd been together, then spoke about trumpeter Fats Navarro, who only lived to be 26. When she wrote words to his composition, "Nostalgia," she imagined Navarro's life if he had lived long enough to have experienced a great love. Joy hoped the song would inspire people to enjoy their romantic relationships.
Betty Carter's "Tight" was dedicated to all the single people, followed by Thelonious Monk's "Worry Later," which transitioned into a spellbinding "Round Midnight." When Samara discovered the lyrics to "Worry Later," she felt the words provided a great antidote to all the unsettling things happening in the world. The "Round Midnight" section was darkly intense and beautifully presented. "Linger Awhile," the title song from her latest CD, was a high-energy frolic. Samara showed considerable storytelling skills on "Guess Who I Saw Today," and she included lyrics from Stevie Wonder's "Lately," to great effect, bringing the audience to their feet. She praised Stevie Wonder's genius, saying how much she admired him. "Just Squeeze Me" was an aminated, jubilant tune, and "Sweet Pumpkin" was the encore that the audience clamored for. When they called for still another song, even Samara was surprised. "This is my first second encore!" The crowd's reaction was completely understandable at this great concert.
Brandee Younger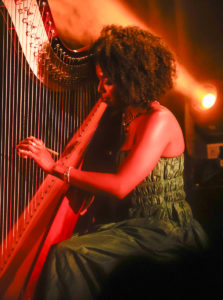 It was standing room only at Le Studio TD for harpist Brandee Younger. Brandee said this was her first time in Montréal, and before this appearance, she had been staying in Toronto. This got playful boos, due to the long-standing rivalry between the ice hockey teams the Montréal Canadiens and the Toronto Maple Leafs. Younger replied jokingly to the boos, "Oh, it's like that?" with a smile. However, all was forgiven once she started playing. She was joined by bassist Rashaan Carter and drummer Allan Mednard. The first song was by Alice Coltrane, which Coltrane used to teach her students at an ashram. They followed with a piece Brandee composed during the height of the pandemic, "Unrest," when she heard sirens, ambulances, and protests. It was suitably melancholic, while still very beautiful, and it touched on the many emotions that were felt during the worst of Covid-19. Alice Coltrane's "Rama Rama" was surreally gorgeous.
Brandee has a subtle sense of humor, and an easygoing stage presence. She said that her parents were selling her CDs after the concert, as a cute inducement to buy, but with her level of talent, there was really no incentive needed. "You're A Girl for One Man Only" by pioneering harpist Dorothy Ashby, was simply sublime, and so was "Moving Target." Stevie Wonder's "If It's Magic" continued the beauty that abounded in this concert. Harps are often associated with angels, and Younger's harp playing was certainly angelic in this heavenly set. People clapped so enthusiastically that the group returned for a Latin-infused encore. This trio's communications were sometimes exhilarating, but more often soothing and calming, which was really appreciated after a full day of shows.
Endea Owens & The Cookout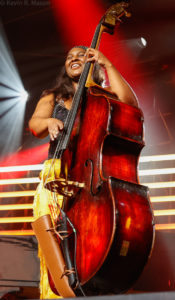 The weather was perfect at the Scène Molson stage for the first of two shows on July 3. Gifted bassist Endea Owens was dressed in a sparkling black top and hat, with gold fringed pants. At her first time at FIJM, Endea was accompanied by pianist Corey Bernhard, trumpeter Kris Johnson, saxophonist Louis Fouché, drummer Ahmad Johnson (who filled in at the last minute), and vocalists Shenel Johns and J. Hoard. This was Endea's first tour as leader, and she said it was great to see the packed outdoor audience and thanked everyone for being there. The powerful, spiritual "The Creator Has a Master Plan," showcased outstanding vocals by Shenel Johns and J. Hoard, and featured striking sax and trumpet sections by Louis Fouché and Kris Johnson. Owens had the audience sing along at the end, and the crowd sounded pretty fine!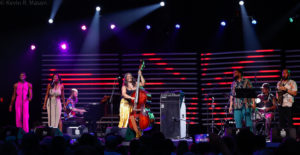 Next came "Moanin'" where Endea's bass prowess was superbly supported by her band. Owens' facial expressions went from smiling to intense, showing how much she was into the music. A stirring version of Nina Simone's "Four Women" was sung by Shenel Johns with great depth of feeling, taking the audience through the dramatic story, and ending on an explosive high note! Endea's "Where the Nubians Grow," was written to inspire people to believe in themselves, and composed when she was struggling with self-confidence. The arrangement and tempo certainly lifted the audience's spirits.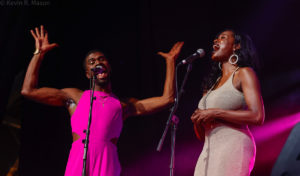 J. Hoard delighted the crowd, singing a deeply felt "God Bless the Child," and really doing justice to the Billie Holiday classic. "For the People" was the final song, another piece that Endea wrote to give inspiration. It really got the audience going, with a section of "Lift Every Voice and Sing," ending this admirable set with distinction.
Emmet Cohen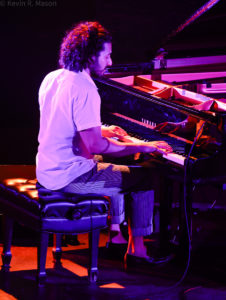 Emmet Cohen's free concert at Le Studio TD was one red-hot ticket at FIJM! So many people wanted to get in, that there were at least 100 folks waiting outside the club after the space had filled. Joining Cohen were drummer Kyle Poole and bassist Philip Norris, and Emmet said, "Thank you for waiting hours in advance to get into this venue." The trio started with a lively number, and Kyle Poole's drum solo took things even higher. Next came some whimsical ragtime where the musicians were really in the groove. Emmet said he was so glad to be back in Montréal with "some of the best musicians in the world." The concert continued with the energetic songs "Without a Song" and "Spillin' the Tea," followed by a sublime performance of Bud Powell's "Keep Loving You," played with delicate restraint. Emmet's piano trills and runs were beautiful.
There was only one unfortunate aspect to this otherwise excellent show. Some fellow musicians from earlier concerts were sitting on the stage stairs and kept yelling comments to drummer Kyle Poole. Had it been only an occasional call out, which happens at concerts, it would have been okay. However, this was an almost non-stop running commentary that showed no regard for the audience. It was also quite disrespectful to Philip Norris and Emmet Cohen (as group leader), and especially to Kyle Poole, for surely it was a distraction. Although some of the comments could be considered encouragement from colleagues, others were like heckling. Poole appeared to take it in stride, and fortunately, the music was so good that the crowd seemed to enjoy it despite the jeering. Jazz is interactive and improvisational, and shouting affirmations during an ovation or a high point is normal, but this was something else altogether. Anyone at a jazz concert should be courteous to the artists and the audience.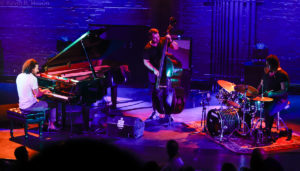 The next song featured Philip Norris' entrancing bass solo. Emmet thanked everyone who has listened to the online broadcasts "Emmet's Place" for the last three years, and he talked about the healing power of music. The following number showed off the musicians' splendid skills, especially Emmet's. FIJM was filled with excellent music, and Emmet's concert was one of the best. For an encore, the trio played a delightful version of Duke Ellington's "Satin Doll" that sent the audience away utterly exhilarated!
Rafael Zaldivar Trio with Special Guest Luis Deniz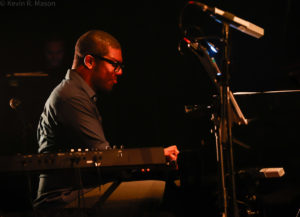 Talented Cuban-born, Montréal-based pianist/composer/educator Rafael Zaldivar has worked with Kenny Barron, Herbie Hancock, Roy Hargrove, and Terri Lyne Carrington, just to name a few. Zaldivar's fellow musicians at Le Studio TD were bassist Rémi-Jean LeBlanc and drummer Louis-Vincent Hamel. They started with a sensuously syncopated piece that melted the crowd. The trio continued with the touching ballad, "Blame It On My Youth," that was so mellow, it would be perfect for listening to in front of a fireplace. Rafael greeted the crowd in at least four languages, making many feel welcome. "Alma" began as an introspective ballad in minor key, evoking yearning and longing, then picked up the pace, with the musicians blending their talents in an exciting way. Alto saxophonist Luis Deniz joined the group and added stellar sax notes to a Latin-infused piece that was reminiscent of beaches at sunset.
Zaldivar introduced Luis Deniz's haunting "Bolero" by saying that he has played with so many saxophonists in Montréal, he's lost count, but Deniz is definitely one of the best! Luis' performance proved him worthy of the praise. The next song was a bit avant garde, with many emotive points, and some high-level artistry. Sandra Ruel, an attorney who plays saxophone for her own enjoyment, joined the band for a scintillating song where Rafael alternated between piano and synthesizer, his fingers rapidly negotiating the keys. The musicians gave it their all in this raucous and electrifying show.
The Curtis Nowosad Trio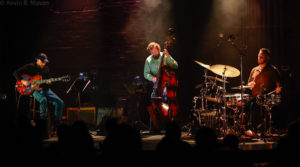 Juno Award-nominated drummer Curtis Nowosad, who has worked with Ron Carter and Kenny Barron, was joined by bassist Matt Dwonszyk and guitarist Andrew Renfroe for his third time at FIJM. They started with the serene, relaxing "Road" by Nick Drake, that had a riveting bass solo by Dwonszyk. They continued with Pete Seeger and Lee Hays' folk classic "If I Had a Hammer," with Andrew Renfroe taking the lead on this gently swinging performance. "Hard Time Killin' Floor Blues" was a mournful tune that expressed going through sorrowful times. Next was a bluesy charmer where the guitar intro was wonderfully funky and flowed into a soulful experience.
Curtis appreciated people being there in person, and the wonderful vibes from the audience. He emphasized that it's much more fun on both sides when there's a great exchange of energy. Stevie Wonder's "Heaven is 10 Zillion Light Years Away" was played in such a winning way, that even though it's not one of Stevie's better-known songs, it was still a marvelous experience. This trio played like a well-oiled machine, with their individual solos demonstrating great virtuosity. Nowosad noted that the audience could have gone somewhere else, and he thanked them for being there. They closed with Jimmy Webb's "By the Time I Get to Phoenix," a beautifully contemplative interpretation, and a lovely denouement for this elegant concert.
Chucho Valdés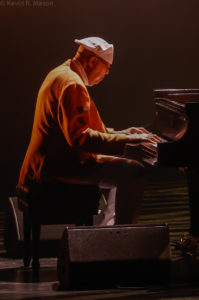 Multiple Grammy Award winner, pianist/bandleader/composer/arranger Jesús Valdés Rodriguez, better known as Chucho Valdés, played at Théâtre Maisonneuve. Chucho shared the stage with percussionist Roberto Vizcaino, drummer Horacio "El Negro" Hernández, and bassist Jose Gola. At 81 years old, Valdés walked to the piano slowly, but once he started playing, he showed that he is as nimble as ever on the 88 keys! Things got off to an energizing start with blistering Cuban jazz, and continued with a dark, meditative piece featuring sterling support from Chucho's bandmates.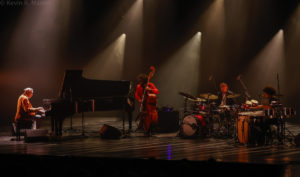 They continued with a sexy, danceable number that had people swaying, then Valdés switched to a stirring classical jazz piece. Chucho joked with the audience in Spanish, and whatever he said really tickled people. Even those who didn't understand him still got the sense of how personable he is. Valdés played a song that started with snippets of well-known classical pieces that he performed solo. The other musicians jumped in and segued into a sumptuous Latin piece. It had been a scorching day, and Chucho's music was just as hot! Chick Corea's "Armando's Rhumba" was performed with such passion, surely Corea was smiling in heaven. The audience showed appreciation for Valdés' group with a wildly enthusiastic ovation. The encore was a romantic mash-up of "My Foolish Heart," "My Romance," and "But Not For Me," and the musicianship made a powerful final impression.
Thundercat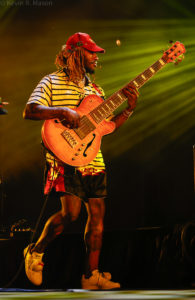 Bassist/singer/producer/composer Thundercat started with a hybrid song with many influences – rock, jazz, and electronica – and his back-up musicians included drummer Justin Brown. The performance received huge applause from the outdoor audience. The next song had such a rapid tempo that Thundercat's fingers were a blur. He followed at a much slower pace on a sentimental ballad that Thundercat sang very tenderly. The set continued with a throw-back to 1970s/1980s soul with some jazz riffs and a touch of psychedelic vibes.
Thundercat's voice soared on the next piece. The audience was quite enamored with this multi-hyphenated artist and his charming, relaxed demeanor. He said, "You guys are absolutely beautiful!" Thundercat likes crossing and blending genres, and his next piece was a unique mixture of electronica and free jazz. He mentioned working with Flying Lotus and dedicated the next song to "all the anime fans out there." Thundercat's eclectic set included "Interstellar Love," "Funny Thing," and "Existential Dread."
Guest star Louis Cole added high-energy drumming to the fiery-paced "I Love Louis Cole." Thundercat did at least one straight-ahead jazz piece, which the crowd loved! On a rollicking tune, he encouraged people to dance, making this a true party. A tune was dedicated to Montréal-born singer/songwriter Gino Vannelli, and the crowd went wild! The thrilling encore was a tribute to late pianist Austin Peralta, who died much too soon. However, Thundercat feels that his friend is still with us in spirit, and it was a wonderful remembrance of Peralta.
Matthew Whitaker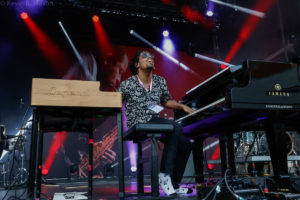 Gifted pianist/organist Matthew Whitaker's backing musicians were percussionist Ivan Llanes, drummer Johnny Steele, guitarist Marcos Robinson, and bassist Liany Mateo. It was a beautiful evening after earlier threatening rain. At the start of Matthew's outdoor show, he yelled out, "Montréal, Canada!" then played an engaging number with an insistent beat and an excellent bass solo by Liany Mateo. The band performed a wondrous rendition of Chick Corea's "Spain" with brilliantly improvised syncopation that put Whitaker's own spin on the classic.
He said, "I am really honored to be here for the first time!" Matthew's "Freedom Jazz Dance" was a funky pleasure, and at only 22 years old, this young artist has made quite a name for himself! Dave Brubeck's "Blue Rondo a La Turk" was so appealing that people started clapping and whistling. Whitaker even threw in parts from "Wade in the Water" and Dr. Lonnie Smith's "Pilgrimage," since Smith had been his mentor. The song started with a distinctly church-like feeling, then transformed into a soulful lament with Marcos Robinson's guitar solo as perfect punctuation. Matthew exclaimed, "Y'all are an amazing audience!"
On Charles Turner's darkly impressive "Harlem Harlem Harlem," the interplay between the musicians was exceptional. Johnny Steele began a supple "Mas Que Nada" with an extended drum section, then the band joined in for a remarkable version of this iconic Latin piece. Matthew's original "Take a Break" had an irresistibly hypnotic beat, and without a break, Whitaker compellingly performed Marvin Gaye's "What's Going On." Near the end, Matthew played the piano and organ at the same time! It's great that this concert was not rained out, or Montréal really would have missed something special.
Sarah Kang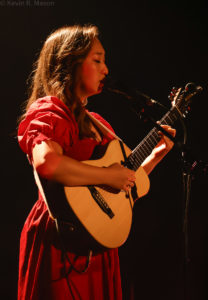 Singer/songwriter/guitarist Sarah Kang performed with keyboardist Takahiro Izumikawa for her first time in Canada. In her beautifully delicate voice, she sang "About Time" and continued with "Corner Cafe." Sarah is a gifted storyteller, and her songs vibrantly illustrate personal tales. Kang composed "Hopeless Romantic" about how she's become cynical and jaded, but deep down wishes to be the innocent dreamer she used to be, thus the name of her CD, Hopeless Romantic, Part 1. This song was so full of yearning, that it could bring a tear to your eye. She said that despite some terrible things happening in the world, there is still beauty. She followed with "Adventure With You," another intimate, touching story. She hoped people felt encouraged by Fred Rogers' uplifting "It's You I Like," a tune about unconditional acceptance.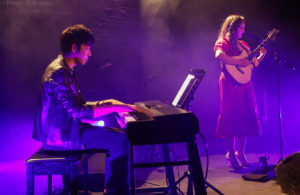 "Once in a Moon" told the sad tale of a romance gone wrong, where the loved one is still missed. The playful "Cheeze" changed the tone with whimsical lyrics about love. "Time Traveling," a poignant piece about long-distance love, was performed by the duo with great fervor. Sarah's favorite composition is "End Credits," a longing, reflective number about looking back at the end of your life. Sarah and Takahiro left the stage to roaring applause and calls for an encore. First, Takahiro returned and played a gorgeous piano prelude, then Sarah came back and sang a captivating "Now I Know." She thanked the crowd for coming, and thanked FIJM for the invitation. "The reason I get to do what I love is because there are people who listen, and I will forever be grateful." For a second encore, the duo played "Summer Is For Falling In Love," an entrancing finish for this charming concert.
John Pizzarelli 
Opening Act: Sophianne Girard
The opening act for John Pizzarelli was Montreal-based vocalist/composer Sophianne Girard. Sophianne was joined by guitarist Jean-Michel Leblanc and pianist Yannick Anctil. The trio started with a plaintive, melancholy tune, but most of the set was lighthearted, due to the lilting, clear tone of Sophianne's vocals. The tight-knit group played very well and served as a fine introduction to the main act.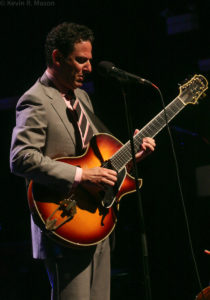 Acclaimed singer/guitarist John Pizzarelli began with a lively "Too Close For Comfort," backed by pianist Isaiah J. Thompson and bassist Mike Karn. He performed songs from his latest album, Stage & Screen, including the upbeat "I Love Betsy," with lots of effective scatting. John continued with "I Want to Be Happy," showing his astonishing dexterity on the guitar, and the other players adding excellent touches. "Tea for Two" was languid and romantic, highlighted by Pizzarelli's unique voice.
Randy Weston's "High-Fly" featured Thompson's excellent piano, meticulously accompanied by Pizzarelli and Karn. "Baubles, Bangles, and Beads" was an engaging samba in the style of the Sinatra/Jobim recording, and Rogers and Hart's "Where or When" was sweetly gentle. "Some Other Time" from the musical On the Town had a gorgeous guitar solo. Pizzarelli amusingly reminisced about his first time at FIJM, almost 30 years ago, and meeting Pat Metheny at Club Soda as introduction to his tribute to Metheny, "Better Days Ahead." The trio continued with the thoughtful "Last Train Home." John discussed what is considered one of the greatest jazz recordings, Oscar Peterson Trio at the Stratford Shakespeare Festival, and played the fanciful "Swinging on a Star" from that recording as a solo. When his sidemen returned, they performed a jazzy version of "Oklahoma."
They continued with "People Will Say We're in Love," "As Time Goes By," and a hilarious performance of Kander and Ebb's "Coffee in a Cardboard Cup" that had people in stitches. Pizzarelli said, "I can't thank you enough for coming," and he also thanked the crew, stressing their importance. The encore was an entertaining "They Can't Take That Away From Me," followed by a second encore, the truly lovely "Letter From Home" that was a fabulous finale!
Herbie Hancock
The day before his sold-out show on July 3 at Salle Wilfrid-Pelletier, the legendary Herbie Hancock visited the vintage Théâtre Beanfield (formerly Théâtre Corona), in Oscar Peterson and Oliver Jones' old neighborhood, Little Burgundy, for a master class presented by TD's Session FIJM. This event revealed Hancock's thoughts about his career, spiritual life, and some advice for young musicians. Hancock discussed the progression of jazz from America to the international stage. He lauded Canadians in jazz and said he wouldn't be on the Beanfield stage without Oscar Peterson's influence. After becoming a UNESCO Jazz Ambassador, Herbie was involved in the creation of "International Jazz Day," April 30, and believes the spirit of that day embodies the kind of world we want to live in. A practicing Buddhist for 50 years, Hancock spoke of how Buddhism has helped his focus and discipline as a musician and in his relationships. He said, "Being a musician is not what I am but what I do. What I am is a human being like everyone else."
Hancock spoke of the importance of order and rules during a jazz performance, and the conversation that's happening between the musicians. First coming to Montréal in the 1960s while touring with Donald Byrd, he said Byrd taught him about giving another musician a chance to grow. Two young local pianists each played a piece for Herbie. The first only learned to play by ear, and thought it wasn't necessary to read music, referencing Art Tatum as a successful pianist who largely played by ear. The second musician could read music. Hancock liked both offerings, but encouraged the musician who played by ear to learn to read music. Then Herbie played "Misty" a few ways, giving examples of how reading music expands an artist's view, including improvisation. He also noted that Art Tatum was a rare and exceptional talent, and musicians are still trying to figure out what he did. So, Tatum's not a good example of what others can do, just playing by ear, and Tatum did learn to read sheet music. Herbie stated many advantages of reading music, including sharing ideas and going over music while traveling.
Hancock played a few chords from his classic "Maiden Voyage" and shared how he got the title. After seeking many opinions, he played some chords while visiting his sister. She said the music made her think of traveling by water, a maiden voyage. When Herbie heard her say maiden voyage, he jumped up laughing because he knew that was the title!  At 83, Herbie Hancock is mentally sharp, creative, engaging, and still going strong. He said, "Every human being on the planet is one family." His goal is to be a better person each day, and to treat all people like they are a part of his family.
Braxton Cook
Braxton Cook is a stellar alto sax player who adds his soulful vocals to his message. Cook was joined by drummer Curtis Nowosad, bassist Henoc Montes, and guitarist Andrew Renfroe. They started with the driving pace of "No Doubt," carried by Nowosad and Cook, while allowing space for a beautiful solo from Renfroe and steady bass licks by Montes.  They flowed into "Never Thought," which allowed Braxton to showcase his vocal skills then moving back to the sax to close the song's crescendo. Cook's social consciousness was displayed on "MB (For Ma'Khia Bryant)," dedicated to the memory of a teen killed by police. Braxton started this moving song with a sax solo, without band support, fully capturing the crowd's attention, then the band chimed in. This thoughtful and engaging piece had superb changes and harmony that allowed everyone to stretch, including an extended solo by Renfroe, before returning to the melodic coda.
Braxton's vocals began "The Same," before moving to his alto lead and closing with Renfroe's short riff. Cook then spoke of the union of jazz and soul, which he believes cannot be limited to the time we associate with the creation of this music. He said, "All the music you're hearing today is coming from a beautiful soulful place and is ultimately connected to the same source." The song "FJYD" from Cook's first album Somewhere In Between, bridged Braxton's love of jazz and R&B. They closed the set with an excellent jazz and neo soul medley.
Short Takes
Julius Rodriguez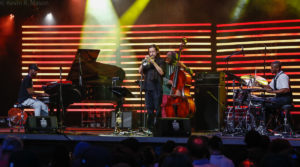 This was pianist Julius Rodriguez's first tour as leader, and after apologies for this brief first set that was delayed by rain, he introduced his friend and special guest Samara Joy. The patient crowd was cheering and buzzing with anticipation before the first note. The pair performed "In Heaven," a collaboration from his 2022 album Let Sound Tell All. Samara's singing was exquisite on this beautiful ballet, and Julius' subtle accompanying touches were perfect.
After the applause subsided from Ms. Joy's surprise visit, Rodriguez was joined by his rhythm section cohorts, bassist Jeremiah Edwards and drummer Brian Richburg Jr., and they played Rodriguez's swinging composition "Blues at the Barn." This short but sweet set gave jazz fans a lot to look forward to at his later show.
Orchestre National de Jazz de Montréal with Miranda Joan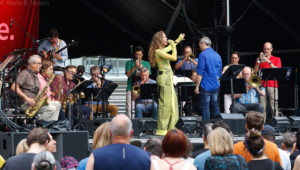 Although Orchestre National de Jazz de Montréal, which includes some of Montréal's most accomplished musicians, is known for big-band jazz, the audience really appreciated this nostalgic departure through classic soul music, led by guest vocalist Miranda Joan. The outdoor concert included saxophonists Jean-Pierre Zanella and André Leroux on vivid interpretations of "Ain't No Mountain High Enough," "Let's Stay Together," "My Cherie Amour," and "Tell Me Something Good." The Scéne Rogers attendees were grooving to Miranda's big-voice chops on Aretha Franklin's "Think."
There were first-rate solos on Bill Withers' "Use Me," and an animated performance of   "Something's Got a Hold On Me" kept this party going! They finished with an electrifying rendition of Chaka Khan's "Ain't Nobody," making this a wonderfully exciting event.
Theon Cross
Tuba player Theon Cross was accompanied by guitarist Nikos Ziarkas, and they started with a mysterious, surreal song that cast a spell over the crowd. The next piece celebrated Theon's late father, and Cross said it meant a lot to him to play it in Montréal. The whole set had an experimental feel, and although it wasn't everyone's cup of tea, it was good to see FIJM embrace artists who push musical boundaries.
Although there's a limit to what just a tuba and guitar can accomplish, the crowd at Le Studio TD appreciated Theon's mastery of his instrument. Cross' genre-expanding music has a place in jazz, like all the innovations that came before.
The Nduduzo Makhathini Quartet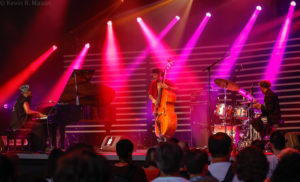 South African-born pianist/composer/educator/philosopher Nduduzo Makhathini was backed by bassist Zwelakhe-Duma Bell le Pere and drummer Francisco Mela. First came swinging, straight-ahead jazz, followed by a rhythmic song with Nduduzo singing and performing intense spoken word in the isiZulu language. Makhathini noted there were only three musicians on stage, though they were listed as a quartet. He joked, "Our ancestors worked so hard, we started booking them on these gigs!" More seriously, he noted the importance of ancestors and how they're always around. He also discussed language, peaceful co-existence, and music's spirituality.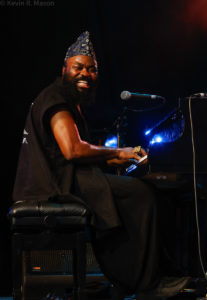 He invited everyone into his realm of music, which "has a place for all of us." Nduduzo's artistry has deep meaning for him. Through his masterful piano playing and Zwelakhe-Duma and Francisco's superlative solos, that meaning was imparted to the receptive listeners. Makhathini said, "I hope the music continues as we leave this place."
DOMi and JD Beck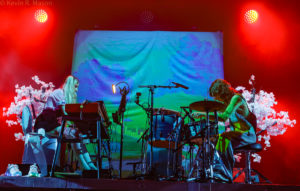 French keyboardist Domi Louna and American drummer JD Beck, who met in 2018 and recently received two Grammy Award nominations, have worked with Thundercat, Herbie Hancock, Anderson Paak, Bruno Mars, Kurt Rosenwinkel, and many more. The plaza at Scène TD stage was filled to overflowing for their show. "Bowling," which they wrote with Thundercat, was a real crowd pleaser, and this duo manages to sound like several instruments on stage. They played music by Wayne Shorter and Jaco Pastorius, demonstrating respect for jazz musicians who came before them – admirable in up-and-coming artists. Their concert also included "Not Tight" and "Jump," performed with verve and passion. Domi and JD Beck are quite accomplished young musicians, and we'll certainly be hearing more from them.
RJ LeBlanc with Special Guest Erika Angell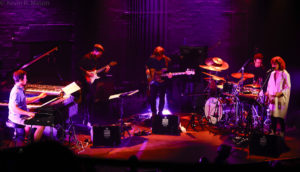 Canadian bassist Rémi-Jean LeBlanc, whose stage name is RJ LeBlanc, was backed by drummer Kevin Warren, keyboardist Jérôme Beaulieu, and guitarist Nic Ferron for a very interesting set that blended several types of music, including progressive jazz, techno, and island influences. Guest Erika Angell's ethereal voice was featured during the often otherworldly concert. They played songs from LeBlanc's album Heyday, including "Chanson pour Marguerite" and "Childlike." Erika also did some spoken word on a mournful tune. The music was very atmospheric, like a dream-state stream-of-consciousness set to music.
Édelène Fitzgerald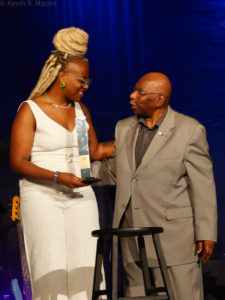 Vocalist Édelène Fitzgerald received the 2023 Oliver Jones Award, named after the legendary Canadian pianist for his successful career and dedication to mentoring. The award goes to university-level musicians from minority or indigenous communities. Édelène accepted the award at Le Studio TD, and the audience was thrilled when Oliver Jones came on stage to do the honors. Jones said, "We have established a new wonderful artist, another Quebecer." Fitzgerald expressed joy at winning the award, then sang an intense jazz piece. She followed with a rousing "Night in Tunisia," scatting with sparkling fluidity. Next came a heartfelt performance of George Benson's "This Masquerade." Fitzgerald said her feet hurt, taking off her high-heeled shoes, and the crowd chuckled in understanding. For her encore, she played trombone on a smoking reggae-style "Summertime." The gifted Édelène is bound for success in Canada and beyond.
Bivouac Restaurant in the DoubleTree Hotel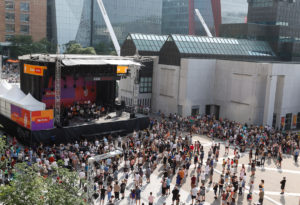 DoubleTree Hotel is FIJM's official hotel, located at the entrance to Place des Festivals. The hotel houses Bivouac Restaurant, which boasts a lovely indoor space and a beautiful outdoor terrace with a great view of the Festival site. On a gorgeous afternoon, Bivouac hosted a press reception, which was a welcome respite for busy journalists. The restaurant has delightful ambiance, and offered several delicious hors d'oeuvres, tasty beverages, and scrumptious desserts. If you're in Montréal for FIJM or any other events, be sure to check out Bivouac Restaurant.
In Conclusion
The 2023 Festival International de Jazz de Montréal was another triumphant musical presentation to visitors from around the world! In 2024, FIJM will be held from June 27 to July 6. For more information, go to: www.montrealjazzfest.com.