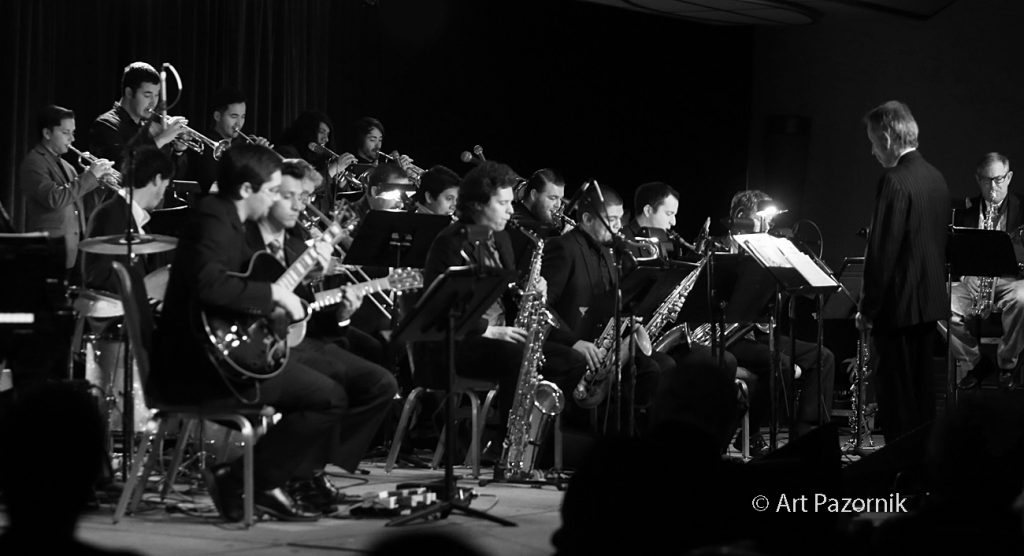 © Glenn A. Mitchell, LA Jazz Scene
The annual Newport Beach Jazz Party, always a huge success, was a four-day affair, February 23-26, and featured  over 100 of the finest jazz musicians.  On February 25, I had the pleasure to attend Champagne Brunch and second tribute to famous piano store owner, David L. Abell , and a remarkable set of afternoon Pool Concerts.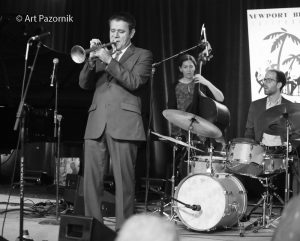 Before the Abell tribute, we heard excellent jazz from an amazing quartet led by trumpeter Gilbert Castellanos, with Tamir Hendelman (piano), Katie Thiroux (bass), and Matt Witek (drums).  They played a lovely version of "On the Trail" from Ferde Grofe's Grand Canyon Suite.  The audience loved this opener, giving very good applause.  The quartet performed several additional numbers before the piano tribute, all excellent and well received.
As in last year's first tribute to Abell, we again were afforded the gift of five exceptional performing pianists, led by the great Bill Cunliffe, along with Shelly Berg, Larry Fuller, Tamir Hendelman, and Bill Mays.  Cunliffe started the show by asking the audience for three songs that he could put interpretively into one performed piano piece.  The audience picked "Emily," "Moonlight Sonata," and "Eleanor Rigby."  The result was a lovely medley enjoyed by all.  Next, Cunliffe introduced Larry Fuller, and the two shared playing "Yesterdays" on two pianos with some exceptional musical exchanges. The great Bill Mays graced the stage and played the beautiful "Skylark," getting a lot of applause.  Hendelman and Mays played "Dance of the Infidels" and Shelly Berg played a medley from "Guys and Dolls."  For a closing number, all five pianists played, taking turns on both pianos to perform the jazz standard, "Woody N' You." They received a huge standing ovation from a delighted audience.
The afternoon Pool Concerts, normally held poolside, were moved inside to the Grand Pacific Ballroom due to cool and windy weather.  The first duo segment, including some comedy and vocals by bassist Jay Leonhart with pianist partner Bill Mays, was excellent!  These two did a miraculous job with stories, songs, and piano for a good portion of an hour.  Leonhart sang a song about not being recognized by Dizzy Gillespie –even though they worked together a number of times– a good comedic story and some good lyrics. He also sang a comic number about attempting to put a bass on a plane, very funny story.  Their playing was together and very cohesive.  The audience was well entertained and gave them much deserved applause.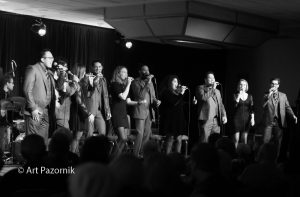 A novel and very interesting vocal group, Pacific Standard Time, appeared at NBJP for the first time.  They are led by Director, Christine Helferich Guter, who has been with them at Cal State University Long Beach for the last fifteen years.  There are eleven vocalists, both men and women, and they are exceptionally good!  They are backed by their own fine musical trio of piano, bass and drums, also from CSULB.  They performed seven tunes in the short space of time allotted for their group. This musical organization is definitely worth seeing anytime they perform. Their members also do some well-placed scatting in many songs. They began with "Groovin' Hard," a composition by Don Menza. Their voicings were beyond belief.  Their set included "So in Love" (Cole Porter), "Michelle" (Lennon/McCartney), "Painted on Canvas" (Gregory Porter), and "Shining Star" (Earth, Wind and Fire).  The audience gave a big standing ovation. Absolutely great!
Pianist Billy Mitchell brought his musical band Circle of Friends to the Grand Pacific Ballroom.  His show ran almost an hour, and included Kimo Cornwell (keyboards), Michael Saucier (bass), David Cowen (drums), Yu Ooka (guitar), Jock Ellis (trombone), Andrew Carney (trumpet), Robert Kyle (tenor sax). They opened with "Bye, Bye Blackbird," continued with a great version of "Georgia on My Mind"  featuring Rob Kyle. Many good solos were given by all of the band throughout Mitchell's impressive show.  Mitchell sang a fine version of Jobim's "Dindi," made famous by Willie Bobo many years back.  He then introduced his new pianist friend, Yuko Mabuchi. She has been making exceptional strides forward in her young developing career and played the Brazilian standard, "So Danco Samba," bringing out the best of her fantastic piano playing.  The Mitchell band backed her to a tee.  Continuing their show, Mitchell and band did an inspirational tune, "What a Wonderful World."  This audience of jazz patrons gave many rounds of applause as the band closed with a dynamic rendition of "Boogie Woogie," a great mover that garnered another standing ovation.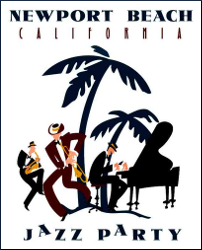 The final afternoon concert in the Grand Ballroom was the Cal State Fullerton Jazz Orchestra's salute to Woody Herman's Thundering Herd, conducted by Bill Cunliffe featuring Joe LaBarbera and Keith Bishop. Cunliffe gave some important history of this very popular organization that dates back to 1936,  and also made mention of differences between blues, swing, and improvisational factors in several big bands of the same era.  The Cal State Fullerton Jazz Orchestra has excellent student players all playing on a professional level.  They began with "In The Mood," a Glenn Miller standard.  They played "Wood Choppers Ball" and "Early Autumn," among several other important numbers. Special guest drummer, Joe LaBarbera, was a member of the Herman band, earlier in his long career.  He sat in and was a wonderful treat  for all of us as he told several stories of his time on the road with Herman. A big surprise was seeing Jeff Hamilton, also a former member of the Herd early in his career and longtime friend of La Barbera's as well.  Hamilton also told some interesting funny stories about the Herman band and did his usual fine job sitting in – a delight for us with both guest drummers.  Longtime Herd member on clarinet, Keith Bishop, was also on hand and interviewed while playing with Cal State Fullerton Jazz Orchestra.  He had several great stories for the Herman band tribute.  A truly remarkable afternoon of jazz music!
Special mention should go, in capital letters, to hosts Joe Rothman and John McClure for all the tireless work they have put into making phenomenal jazz celebrations over many years.   They are always a big success.
Note: Coming soon will be the summer series, Sunset Jazz at Newport, running eleven Wednesdays, July 12 – September 20, 2017 in the Marriott's Rose Garden, Newport Beach, CA.  See their excellent website: http://www.westcoastjazzparty.com . 
Adapted with permission from article posted on the L.A. Jazz Scene website, March, 2017