For a quarter century, the JazzMN Orchestra has provided the Twin Cities area (and beyond) with the best of classic and modern big band music, presented by some of the best jazz musicians in the Upper Midwest. Under the baton of renowned saxophonist/bandleader Pete Whitman and the artistic direction of performer/curator/big band leader Andrew Walesch, the JazzMN Orchestra will launch its 25th season and Chanhassen Concert Series on May 23rd, featuring special guest, renowned trumpeter Byron Stripling, at Chanhassen's Dinner Theater.
Founded  in 1998 by Dr. Douglas Snapp, JazzMN followed its original mission for its first 20 years—"to promote, preserve, and perpetuate America's [original art form],  jazz." In 2019, JazzMN reformulated its mission "to cultivate the love of jazz by delivering a relevant, meaningful and vibrant jazz experience that is attractive to a wide variety of audiences." Following the model of the classical orchestra, JazzMN performs at a high level of musicianship, featuring the best of local professional jazz musicians and world-class guest artists. Each season, JazzMN presents a broad range of jazz repertoire spanning classic and contemporary styles, included works in Swing, Bebop, Fusion, R&B, Latin, Rock, and even Rap genres.  This effort to program works from Classic to Contemporary ties with JazzMN's efforts to present jazz as an American art form that crosses age and race barriers.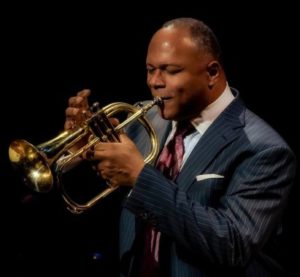 The New Season and Chanhassen Concert Series
The 2023 season includes a three-concert series at Chanhassen Dinner Theater, bringing three outstanding guest artists to the metro, including trumpeters Byron Stripling (May 23) and Randy Brecker (October 2), and bassist John Clayton with Bruce Henry and Connie Evingson (December 11 holiday show).  Also in 2023, JazzMN will feature acclaimed vocalist Diane Schuur in two shows at The Dakota on August 12.
Byron Stripling (May 23) launched his career touring with Clark Terry, Lionel Hampton, and Woody Herman before landing the role of lead trumpeter/soloist with the Count Basie Orchestra under the direction of Thad Jones and Frank Foster. He's played and recorded with bands of Dizzy Gillespie, Woody Herman, Dave Brubeck, Louis Bellson, and Buck Clayton, and has played with the Lincoln Center Jazz Orchestra, Carnegie Hall Jazz Band, and GRP All Star Big Band. His Carnegie Hall debut with Skitch Henderson and New York Pops led to soloist gigs with Boston Pops, Dallas Symphony, Minnesota Orchestra and more, as well as solo appearances at the Hollywood Bowl and on the PBS Special "Evening at Pops." Currently he serves the Columbus (OH) City Jazz Orchestra as artistic director and conductor.
JazzMN Music Director Pete Whitman notes that "Byron Stripling will be doing a New Orleans/Louis Armstrong-themed concert on May 23 at the Chanhassen Dinner Theater. Byron used to be the lead trumpeter for the Count Basie Orchestra and performed the lead in the Broadway show "Satchmo". He is an amazing musician and will thrill Louis Armstrong and Basie Big Band lovers!" Extending the Armstrong/New Orleans theme into the modern jazz era, JazzMN will also present compositions by Charles Mingus, Thad Jones, Gordon Goodwin and more.
Regarding the rest of the JazzMN concert series, Pete notes that "Randy Brecker  (October 2) is a wonderful composer as well as performer. I am sure we will be performing arrangements of his tunes, including some made famous by the Brecker Brothers. Randy is a very versatile player. He can play straight ahead, fusion, Latin etc. We will probably use his versatility to program a very diverse program that focuses on his wide range of abilities."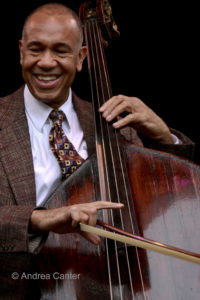 The JazzMN Holiday (December 11) features John Clayton " who is a great arranger and bass player." The holiday bonus includes renowned Twin Cities vocalist Connie Evingson and former Twin Citian, now Chicago vocalist Bruce Henry.
In addition to the Chanhassen series, JazzMN will perform "A Night of Count Basie" in two shows at The Dakota (August 12) with multi-Grammy winning vocalist/pianist Diane Schuur. Blind from birth, Schuur was gifted with perfect pitch and three-and-a-half-octave vocal range. Noted mentor and collaborator Stan Getz, "She's taking from the tradition, and what comes out is her own conception and advancement of the tradition."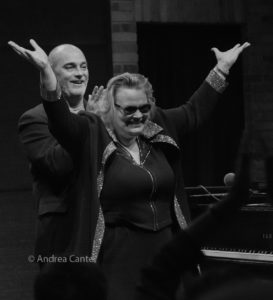 The Area's Premiere Jazz Orchestra
What makes a JazzMN concert special? Notes Pete Whitman, audiences "can expect to hear a compelling, groove-based jazz orchestra that will roar and whisper. They will hear a band made up of individuals who bring their unique approach to their solos while still augmenting the ensemble. They will hear familiar standards and new arrangements that will surprise and delight!"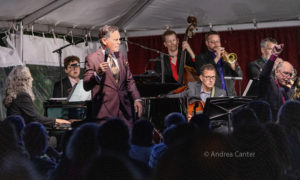 The orchestra has always included the best of area musicians, "musicians with skill sets as ensemble players and soloists, players that are versatile enough to work with a wide range of guest artists," notes Whitman."Although JazzMN has the caliber of musicians to put on a show by themselves, it is the only jazz ensemble in the area that puts on a series of concerts in collaboration with internationally known artists. This usually generates a focus and excitement for the audience and the band members. Band members are inspired and challenged when collaborating with the acclaimed artists who are invited to perform with JazzMN." Many of JazzMN's musicians also have reputations well beyond  the Twin Cities area, including among their credentials touring with the likes of Doc Severinsen, Buddy Rich, Glenn Miller, Prince, and the Four Freshmen, and serving as first-call musicians for Broadway shows and major recording sessions.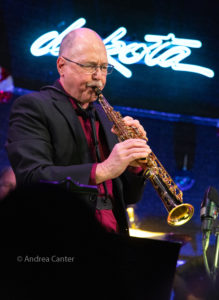 Pete Whitman is no stranger to JazzMN, having been a long-time member of the band as well as a renowned leader of his own bands and frequent collaborator with a long list of area musicians.  "As a longtime member of the ensemble, I have a pretty good idea of how I like things to be coordinated and how to approach the music," says Pete. "Whatever music we might be working on, I know as an ensemble member what I need from the music director in order to facilitate a successful performance. So as the music director, I know what needs to be provided to the musicians so that rehearsals and performances go smoothly."
Maintaining and Building the Big Band Audience
Current goals of JazzMN include maintaining as well as building new audiences for big band music. Notes Whitman, "If we play great music, we will attract a wide ranging audience!  That is the nice thing about Art– it stays relevant through many generations. We need to stay up on modern trends in big band music while still paying homage to the past icons. Since the band is versatile, we can change and adapt as needed. JazzMN has never been an ensemble that can be narrowly pigeon-holed. We have had great success performing everything from early jazz to the music of young creative composers who are envisioning new ways to orchestrate for a big band. If we continue to seek out and perform the very best music for Jazz Orchestra, sourcing the history of jazz, we will continue to build our audience."
You can contribute to JazzMN's mission while also enjoying an exciting evening of big band music featuring one its top performers, Byron Stripling, May 23 at 7:30 pm at Chanhassen Dinner Theater.
Chanhassen Dinner Theater is located at 501 West 78th Street, Chanhassen. For tickets, call 952-934-1525 or online at https://chanhassendt.com/jazzmn/  Concert at 7:30 pm, dinner (optional) at 5:30 pm. More about JazzMN, how to donate, and to purchase tickets at www.jazzmn.org