This article is the first in a series that looks back at 2022 festivals, before the 2023 summer jazz festival season gets underway. In 2022, the Newport Jazz Festival (NJF) returned live for the second year since the pandemic started. It took place from July 29 to 31, presenting well-established and emerging talent, and it was the first NJF since the passing of Festival founder, impresario George Wein, in 2021. Wein certainly cast a large shadow during his storied life, accomplishing many great things in jazz over more than seven decades. Although he is gone, he has definitely not been forgotten.
All over Fort Adams State Park there were signs in tribute to George. Before the beginning of the first day's concerts, the Jumbotron at the Fort Stage showed an early interview with Wein discussing his wish to hold the NJF one day at Fort Adams State Park, and that obviously came true.
There was also a clip from one of George's last public performances as a pianist at his "One More Once" concert in 2019. There were two quotes: "In Love and Memoriam: Our Founder and North Star, George Wein – 1925-2021" and "The Newport Festivals Show America at its best – George Wein." Due to his foresight in creating the Newport Festivals Foundation, Wein's legacy is being continued in style by Executive Director Jay Sweet and Artistic Director Christian McBride.
Friday, July 29
The Mingus Big Band
Celebrated bassist Christian McBride welcomed the crowd on a hot, sunny morning, saying "2022! We made it, everybody! Thank you for coming." McBride continued, "When you talk about Charles Mingus, we're talking about a legacy that is so deep, so heavy, it's one that can't be broken, can't be shaken, and this band up here has been carrying on that legacy…This band, without question, still feels exactly like Mingus…I don't know how they do it, but God bless you for keeping that vibe going! It is my honor, to introduce to you to kick off the 2022 Newport Jazz Festival, The Mingus Big Band. Give it up!"
The band consisted of Musical Director/bassist Boris Koslov; pianist Helen Sung; saxophonists Scott Robinson, Brandon Wright, Ron Blake, Abraham Burton, and Wayne Escoffery; drummer Donald Edwards; singer/trombonist Ku-umba Frank Lacy; trombonists Earl McIntrye and Robin Eubanks; and trumpeters Dr. Alexander Pope Norris, Philip Harper, and Tatum Greenblatt. They started with a swinging "Hora Decubitus" that featured splendid musical interplay and excellently gruff vocals by Ku-umba Frank Lacy. They continued with the rousing, "Please Don't Come Back From the Moon," that had several fine solos. The haunting "Weird Nightmare" from the recording Mingus Sings, was played beautifully and sung with passion by Frank Lacy. Next was the galvanizing protest by Mingus, "Fables of Faubus," inspired by segregationist governor of Arkansas, Orval Faubus. It featured spoken word by Frank Lacy with strong anti-racist lyrics, and an impressive trumpet solo by Dr. Alexander Pope Norris.  The whole set was arranged by the great composer/arranger/pianist Sy Johnson, who had recently passed away. It was a fine beginning set from an excellent band whose talent and creativity was in keeping with the legacy of the legendary bandleader/multi-instrumentalist/composer Charles Mingus.
Nate Smith & Kinfolk
Executive Director Jay Sweet introduced Nate Smith and Kinfolk. Although the band's name sounds like a down-home country group, they are all purveyors of jazz with several influences. Drummer Nate Smith controlled the flow of this seamless set, and was joined by guitarist Brad Allen Williams, saxophonist Jaleel Shaw, bass guitarist Fima Ephron, pianist Lawrence Fields, vibraphonist Joel Ross, and vocalist Amma Whatt. The pulsating "Skip Step" had strong musical refrains with the band's cohesive conversation in total harmony. Their second offering, "Street Lamp," was percussive and emotive, with all the players sharing solo duties, including an smooth sax rendering by Jaleel Shaw on this effective blend of jazz, funk, and rock. The Fort Stage crowd enjoyed their fire, and the standing-room area in front of the stage was already packed for this second show of the day.
The third cut "Altitude" explored a stirring exchange between Ross' vibe skills and pianist Fields' extended accents, with Williams adding an exquisite guitar solo. Alto wizard Shaw was turned loose on the next two tunes and Amma Whatt added her strong vocals on "Morning and Allison" and "Disenchantment: The Weight." On these, the band cleverly intermingled the funky rhythms and altered tempos without missing a beat! The selections had a throwback vibe to the sweet sounds of 60s and 70s soul. Guest guitarist Vernon Reid came to the stage and began "Rambo/I Burn For You" with a brash, exhilarating solo on this exciting, avant garde piece that closed this set with a thrilling guitar and drum crescendo.
The Nicholas Payton Trio
Christian McBride said, "Nicholas Payton is one of the greatest musicians of all time…Put your hands together for the one and only Nicholas Payton!" The Quad Stage tent was filled to overflowing, where talented multi-instrumentalist Payton started on the keyboard, then picked up the trumpet and periodically played both instruments at the same time! Nicholas was accompanied by drummer Bill Stewart and bassist Ben Williams, and they played "Hangin' in and Jivin'" from the CD Smoke Sessions. "F (for Alex Foley)" was mellow with a moving bass solo by Williams, with Payton demonstrating his excellent trumpet breath control. "Big George," a tribute to iconic saxophonist George Coleman, was a charmingly relaxed tune where the trio performed like a well-oiled machine. Nicholas jumped octaves with ease on his trumpet, and the arrangement was a fine honor to the esteemed George Coleman.
Payton wrote "Q," about the great Quincy Jones. Nicholas obviously has a lot of respect for the elder statesmen of jazz, and this gently swinging number touched a lot of emotional notes. The next melody, "Jazz is a Four-Letter Word," was inspired by the revered drummer/composer Max Roach. It included spoken word, and Payton added some fine vocals. He held a piercing trumpet note that was so long, the audience broke into spontaneous applause. It was an intense meditation on the meaning of the word "jazz." This set reverently paid respect to some jazz legends and showed off the talents of Nicholas Payton and his cohorts.
The Baylor Project
On their website, there is the following quote:
"What is "The Baylor Project? A husband. A wife. An astonishing duo built on love, family, faith, culture, and community."
Drummer Marcus Baylor and vocalist Jean Baylor are NAACP Image Award winners, and they've been nominated for several Grammy Awards. The Baylors took the stage, along with bassist Yasushi Nakamura, pianist Terry Brewer, trumpeter Freddie Hendrix, and saxophonist Keith Loftis. Marcus and Jean are both children of pastors, and Marcus discussed growing up in the church, calling out to the packed audience, "Let the church say Amen!" On their first jazz-infused selection, Jean effortlessly scatted in a multi-octave range.  The band really seemed to be having a wonderful time, shouting encouragement to one another. Their second offering, "Great is Thy Faithfulness," started with an emotional, church-inspired piano solo by Terry Brewer, and brilliantly blended jazz and gospel to create a sublime, inspirational performance. By this set, the weather had cooled down a bit, with balmy breezes from Narragansett Bay. Between the exquisite music and the beautiful atmosphere, it was one of those perfect harmonious moments that jazz festivals are known for presenting.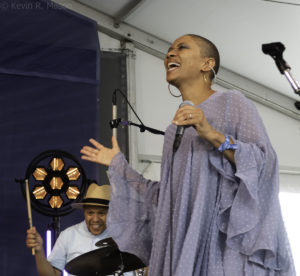 Next was a gorgeous, romantic ballad that featured an outstanding trumpet solo by Freddie Hendrix, and the band members blended beautifully with Jean Baylor's singing, that seemed to dance over the octaves. Following was an elegant "Tenderly" where Jean's vocals were so affecting, that an audience member (who was obviously enamored with her) relentlessly called out endearments. She kept singing and played it off with grace. Although none of the other musicians had such obvious audience crushes, they were also highly appreciated. "Hallelujah (You're Worthy)" was a passionate duet with Jean and pianist Terry Brewer, where Jean's voice swooped and soared. The emotional crowd shouted compliments and gave a resounding standing ovation! Yasushi Nakamura's insistent bass started the next offering, accompanied by hand claps from the audience. The mournful lament was about loss, and Keith Loftis' saxophone phrasing punctuated the sadness. The group's last stirring performance was an impeccable finale.
McBride's Newport Jawn
This super group was filled with jazz all-stars, headed by bassist Christian McBride, who shared the stage with pianist Vijay Iyer, drummer Makaya McKraven, harpist Brandee Younger, guitarist Mike Stern, and saxophonist Chris Potter. The slang word "jawn" is from McBride's hometown of Philadelphia, meaning "anything." Christian looked absolutely thrilled with the group he had assembled, and he smiled throughout the concert.  He said, "What's up, y'all? This is the Newport Jawn. Probably the most fun part of the gig, being Artistic Director of the Newport Jazz Festival, is that I get to put together some groups. We don't know what's going to happen, but these are great musicians, so whatever happens, we know it's going to be good…What a pleasure it is to play with these cats and to play for you. Thank you very much, ladies and gentlemen."
They started with John Coltrane's "Africa," and the second tune was so improvised that Christian said, "Call it what you want."  After a lengthy, sultry piece with excellent solos, McBride said "How 'bout these cats? Honestly, we got 10 minutes; we're gonna make the last 10 minutes good!" McBride saw an audience member wearing one of his hats, and he gave him the opportunity to pick a song. The hat-wearer called out "Spain." Christian replied, "That's kind of involved," but then he played a superb riff from the Chick Corea classic.
Then, McBride called out for more choices, which quickly became a free-for-all. He joked, "Y'all getting too rowdy, so we're just gonna play some blues." The group pulled out all the stops on the last tune, ending this marvelous set on a really high note!
Norah Jones
Christian McBride told the crowd, "We sincerely hope that you have enjoyed the first day of the 2022 Newport Jazz Festival! Can you believe it? We've already come to the final act on the Fort Stage today…We've had such a wonderful time, and we sincerely hope you have, too. Coming up right now, someone who is part of the Newport family, both Folk and Jazz. The whole world loves her…she's one of the greatest in the entire world. Put your hands together for the one and only Norah Jones!" Singer/songwriter/pianist Norah Jones took the stage with Dan Iead on guitar and pedal steel, drummer Brian Blade, and bassist Chris Morrissey. They began with a saucy and sensuous tune, "Just a Little Bit," and continued with "Thinking About You" and "Sunrise."
Norah is a consummate storyteller, and her genre-crossing music includes country, blues, and jazz influences, all performed in her easily recognized style. She said, "I'm so happy to be here. The last time I was here, it was much hotter!" The next performance, "What Am I to You?" was full of yearning and stellar improvisations. Brian Blade looked especially joyful throughout the set, compared with his more intense-looking cohorts. Then, Norah picked up a guitar to accompany herself on a leisurely, bluesy number. Next came the country/jazz ballad, "To Live," where the band was completely enjoying the moment. Another beautiful ballad, "I Knew It Was You," began with an enchanting piano intro by Jones, and her vocals were infused with intense emotions. The group followed with the plaintive "She's Alive," about perseverance despite the tenuous state of the world.
When Jones sung "Come Away With Me," she received a huge ovation. The melancholy "Flame Twin" lamented about the sensations involved in love. Norah said, "Thank you. I love my band. Don't you love my band?…they're blushing." The gentle performance of "Nightingale" really touched the audience. Norah closed with a heartfelt rendition of her mega-hit, "Don't Know Why," and the audience ate it up!
Saturday, July 30
Makaya McCraven
Drummer Makaya McCraven welcomed the crowd and introduced the clever "Frank's Tune" from the CD Deciphering the Message. With splendid support from vibraphonist Joel Ross, harpist Brandee Younger, bassist Junius Paul, trumpeter Marquis Hill, alto saxophonist Greg Ward, and guitarist Matt Gold, the set continued with the percussive "Dream Another" that grew in intensity. It put a spotlight on each artist, especially Brandee Younger on a wonderful harp solo that swept the audience off their feet! The melody changed tempos several times, but the musicians were in sync throughout, and Joel Ross offered up some impressive vibraphone grooves. They followed with the title cut from the CD In These Times, a lovely, minor-key ballad that began with Makaya's strong drum intro. The rest of the band chimed in with excellent riffs of their own.
The next lighthearted melody began with a delightful guitar section by Matt Gold, and it really matched the beautiful summer weather. This was another occasion where a jazz festival's music and atmosphere were perfectly synchronized. They closed with "A Slice of the Top," an eclectic rendition where the group went all out and closed their concert with a real bang! Makaya told the audience goodbye, saying, "Thank you very much. See you next time. Peace."
Samara Joy
Christian McBride introduced chanteuse Samara Joy with high praise. "If you have not heard her…I will guarantee…you're going to be spellbound…Get ready ladies and gentlemen, Samara Joy!"
Samara got the audience going from the start with the swinging, crowd-pleasing "Sweet Pumpkin."  She said, "This is my first time at Newport Jazz Festival," and she thanked Christian McBride for such a great introduction. Her musical associates were bassist Neal Caine, guitarist Pasquale Grasso, drummer Keith Balla, and pianist Ben Paterson, and their second offering was the Sarah Vaughan-inspired, "Can't Get Out of This Mood." It was sung by Samara with ease and grace, and the musicians backed her with equal grace. The performance had special meaning for Joy, since she was the winner of the 2019 Sarah Vaughan International Vocal Competition (The SASSY Awards).
The romantic "Stardust" showed Samara's wide vocal range and skill in expressing the emotions behind the lyrics. Joy said, "Performing that song, especially being here, knowing that so many legends have been here…it's just totally an honor to be here in this space." "Linger Awhile" was a fast-paced fun fest that featured Pasquale Grasso's guitar as perfect accompaniment to Joy's octave-leaping vocals. "Too Close for Comfort" was so natural, that it felt like Samara was born singing, and her band was totally in step with her.
Thelonious Monk's "San Francisco Holiday (Worry Later)" started a cappella, with Samara    holding the audience spellbound with just her voice. Then her band joined in with impeccable backing, including a stellar drum solo by Keith Balla. Joy started 'Round Midnight" with some rarely heard introductory lyrics, then the band played a beautifully haunting performance of the jazz classic that ended on an exquisite high note. "Social Call" was a finger-snapping, joyful rendition of the standard, with some excellent piano phrases by Ben Paterson. Then, Samara quoted Carmen McCrae, who notably said, "You can't lose if you sing the blues," as introduction to some electrifying blues that Joy sang with all her power. For her finale, the recent winner of the "Best New Artist" Grammy got some enthusiastic audience participation, with one side of the crowd competing against the other. It was a fun finish to an exceptional set by this up-and-coming star!
Esperanza Spalding
Christian McBride said, "This next artist, an icon, a force, just a 'beyond' musician, words escape me. You love her, we love her, she's so important to…the Newport Jazz Festival. George Wein loved her so; I love her so. One of the greatest musicians and life forces in the world, put your hands together – the one and only Esperanza Spalding!" Bassist/composer/vocalist Esperanza Spalding started out on stage all alone, beautifully scatting a cappella to fervent applause. Then, she was joined by pianist Leonardo Genovese and saxophonist Shabaka Hutchings. She talked about a sign at the park that said, "We're Still Stronger When We Sing Together," and got the audience to sing along in the spirit of that sign. The set included "Formwela 8," a jazz-funk tune that the group performed with style and energy, and a beautifully rendered "Formwela 7" (both songs are from Spalding's CD Songwrights Apothecary Lab).
Esperanza talked about this information age and the function of the brain vs. the body as introduction to a stream-of-consciousness tune with spoken word, singing, and much food for thought. Then she did some superb scat runs, but she said she messed up and started over a couple of times. This part was rather surreal, and although no one would have known that she'd made an error, she tried a couple of different approaches with pianist Leonardo Genovese.
Next came an avant garde collaboration between Esperanza and Shabaka Hutchings. Throughout the set, Esperanza gave effusive praise to her band members. The group followed with Genovese's "Chacarera Liliana," that featured some delicate scatting, accompanied by Leonardo's passionate piano licks. Then Genovese pulled out an accordion and displayed his dexterity on that instrument on "Wild is the Wind" with Spalding singing along in her multi-octave voice. The languid, emotive "Cinnamon Tree" was a beautiful, calming melody. Esperanza gave an emotional shout out to George Wein, saying that she loved him. She finished her set with a moving tribute to the person she called "the great, and the wonderful, and the glorious, and the intergalactic Wayne Shorter!"
Cécile McLorin Salvant
This NJF was packed with outstanding singers, and one of the best was vocalist Cécile McLorin Salvant, whose expressive storytelling skills have entranced her fans for over a decade as her prominence on the jazz scene continues. She was wonderfully supported by her band, bassist Yasushi Nakamura, drummer Keita Ogawa, multi-instrumentalist Alexa Tarantino, guitarist Marvin Sewell, and pianist Sullivan Fortner. The moving "Obsession" was an emotional tour de force with powerful vocals by Cécile and subtly effective support from the band. The next tune was an ethereal number, where Salvant's excellent voice soared.  The third piece was her humorous "Obligation," about people's expectations that lead to misunderstandings. "Barbera Song," from Kurt Weill's The Threepenny Opera, was very dramatic, with cynical lyrics that Cécile really sold to the crowd, and comic touches from pianist Sullivan Fortner. Salvant highly praised Dianne Reeves, and sang Reeves' "Mista," which was about a man who needed to be encouraged to give up his gloomy outlook and embrace joy in life. Marvin Sewell's guitar and Alexa Tarantino's flute playing added many special touches.
Cécile's performance of Gregory Porter's "No Love Dying" was a poignant work of inspiration, and she poured feeling into every word. "Doudou" was sung in French, and it was a sprightly beauty. Even those who did not know French could appreciate this whimsically delightful tune by Cécile, wonderfully punctuated by Fortner's charming piano. "Star Eyes" was another example of a vocalist and band coming together in a perfect collaboration. "Until" was played with the backdrop of some unexpectedly loud music from another stage (which rarely happens). Despite the distraction, Cécile and band gamely persevered. Even with the disruption of competing music, it was still a beautiful performance. "Ghost Song" was the finale, a lament about lost love that completed one of the sparkling gems of the day.
Sunday, July 31
The Emmet Cohen Trio
Christian McBride introduced The Emmet Cohen Trio with much praise, saying about Cohen, "He's a great piano player, an entrepreneur…his hustle skills are very good! We just couldn't be any prouder of what he's doing for the jazz community…He cares very much about tradition and keeping that tie, that bond with the elders…That's what we need, because in order to go forward, you have to know where you've been. Put your hands together for Mr. Emmet Cohen!" Emmet was joined by bassist Yasushi Nakamura and drummer Kyle Poole. Cohen started with a sparkling, original performed with zeal. Emmet said it was an honor to be there, he and called NJF "one of the greatest festivals of all time." The second tune, "Spillin' the Tea," had a ragtime flavor where Yasushi Nakamura really went to town on his bass, while Cohen's fingers passionately danced over the 88 piano keys. They followed with a lovely original by Emmet that was really a balm for the spirit, and Yasushi played the most calming bass lines. Cohen must have been in a wonderful mood while writing this, because it was utterly charming.
"Toast to Lo" was a fitting tribute to the late Grammy Award winning drummer Lawrence Leathers, who was taken from this world way too soon in 2019. The song was upbeat at times, and introspective at others, covering a wide range of emotions, and Kyle Poole's adroit drumming perfectly navigated the tune's changes. The next richly mellow number moved the crowd so much, that people gave several spontaneous ovations and calls of approval. Emmet told the crowd, "It's a great honor to play this music. I've learned in my travels…that it truly has the power to change the world, and one of the true forces of good that we have to fight all the evil." "Finger Buster" was some amazing ragtime with brilliant contributions from each musician that ended in an explosive coda!
Jason Moran and The Bandwagon
Christian McBride introduced Jason Moran and The Bandwagon as "one of the most important bands out there today." Pianist Jason Moran, wearing a striking black and white outfit, said that the band had been around for 23 years, "So we're about to show you some 23-year-old flavor!" Backed by drummer Nasheet Waits and bassist Taurus Mateen, they began a stirring tune with a percussive beat, and some avant garde touches. The set included tributes to Thelonious Monk, Wes Montgomery, and Fats Waller. "Feed the Fire" by the late Geri Allen, (who Moran said was one of his favorite musicians) was a beautifully syncopated tune where the trio melded in a wonderful fashion. Jason thanked everyone for coming out to listen to live music, and he praised the staff of NJF for all their hard work. They followed with Moran's meditative "For Love," that had the audience enjoying the groove. That segued into a more dramatic song that prominently displayed the group's versatility, and Jason's solo resembled a mystery film's soundtrack.
Jason then spoke glowingly about musician/bandleader James Reece Europe being 100 years ahead of his time, how he was so famous after playing at Carnegie Hall, and that he formed a musician's union named The Clef Club. In addition to his musical endeavors in the U.S., James Reece Europe enlisted for World War I as part of the heroic Harlem Hellfighters, and had to fight for the British, since discrimination in America wouldn't allow their participation. During the war, Europe created a band so big in scope and talent, that the music is still influencing jazz musicians today. Jason called Mr. Europe "the big bang of everything that is happening here." Although James Reece Europe may be largely forgotten, Moran stressed his importance as part of the foundation of jazz, and Jason's newest CD, From the Dancehall to the Battlefield, is a compilation of Europe's music.
Angélique Kidjo's Remain in Light
Once again, Christian McBride took introduction duties and said about Angélique Kidjo, "Our new Mama Africa!…I've learned so much from her about life, about music. I've had the great honor of recording with her many, many times. Everywhere she goes, she never fails to rock the house all the way down to the ground!" The Benin-born icon's set had music from her 2018 re-interpretation of Talking Heads' 1980 landmark album, Remain in Light, along with other pieces that combined for a truly breathtaking concert. Kidjo, draped in colorful African clothing, was joined by guitarist Dominic James, drummer Edgardo "Yayo" Serka, keyboardist Etienne Stadwijk, and bassist Michael Olatuja, and they started with a pulsating performance where Angélique sang compelling vocals and danced with grace and vigor. She is a real force of nature on stage, and an outstanding musical ambassador for the continent of Africa. Even when she isn't singing in English, her music is so captivating, that it transcends language.
The enthralling "Meant for Me" was about unconditional love where she got the audience to sing along. Kidjo said, "The next one is to pay tribute to the one and only, the Queen of Salsa, Celia Cruz!" and it was a delicious serving of salsa performed with exuberance. "Once in a Lifetime" had a thrilling tempo, and the audience was spellbound. Next, she told the crowd, "I wrote this song to celebrate our shared humanity…I'm dreaming that one day, we're gonna be smarter than how we are now," expressing the hope that love will overcome hate among people of all colors. She taught the audience the refrain of "Afrika" and it was an inspiring musical love fest at NJF. The set closed with an exciting rendition of Miriam Makeba's "Pata Pata" that had the whole crowd dancing!
Celebrating George Wein
For the last set of the 2022 NJF, Christian McBride introduced the all-star band assembled in honor of George Wein. "We all know none of this would have happened without our leader…the late, great George Wein. George loved the city, he loved the music, he loved jazz." The group included trumpeters Jon Faddis and Randy Brecker, saxophonist Lew Tabackin, clarinetist Anat Cohen, pianist Christian Sands, drummer Lewis Nash, and bassist Christian McBride, the hardest working artist at NJF! Audience members held up signs that said, "Thank you, George Wein," as well as photos of George. The group started with Mercer Ellington's swinging "Things Ain't What They Used To Be," that took full advantage of all the talent on the stage. As expected, the improvisations from this band were wonderful. They had fun and communicated so well with each other that it was like they were trying to reach George's ears in heaven. You could picture George and Joyce Wein smiling down on this concert.
Bassist Jay Leonhart and vocalist Cécile McLorin Salvant were special guests. "Thou Swell" started slowly, with just Christian Sands' electrifying piano accompanying Cécile's winning vocals. Then, they picked up the pace and the rest of the artists joined in with some exceptional harmonies. Christian McBride introduced another guest, saying, "She's been a friend of this festival, on stage and off…Put your hands together for Hiromi!" Hiromi came on stage carrying a "Thank You, George" sign, and the pianist started with a virtuoso, riveting, rapid-fire post-bop/ragtime blend. Jon Faddis, Jay Leonhart, and Lewis Nash joined Hiromi for a poignantly beautiful "Over the Rainbow."
Another big surprise was Trombone Shorty, who played a superb "On the Sunny Side of the Street" where he did double duty on trumpet and vocals, with Christian McBride returning on the bass. Trombone Shorty picked up his trombone for an elegiac, mournful rendition of "St. James Infirmary," and Christian Sands added his piano flair on this classic.
Anat Cohen returned to the stage and stunned the crowd again with her flute skills. She was joined by Christian Sands, Lewis Nash, Christian McBride, Jon Faddis, and another special guest, trumpeter Giveton Gelin. Then, Lew Tabackin and Randy Brecker came back for a spirited duet, backed brilliantly by the group. At one point, Jon Faddis did a short riff on John Coltrane's "A Love Supreme," singing "I Love George Wein!" This gathering of greats was a big musical hug and tribute to the memory of the extraordinary, visionary jazz impresario, who created and nurtured NJF and other festivals. Long may George Wein's legacy reign!
Short Takes
Jazzmeia Horn
Gifted singer/songwriter Jazzmeia Horn was joined by tenor saxophonist Craig Jackson, pianist Andrew Wilcox, bassist Eric Wheeler, and drummer Russell Carter. Horn put her unique spin on "Willow Weep for Me" with excellent scatting. She continued with her composition, "Free Your Mind" a lively, captivating song about mental wellness, and Jazzmeia put everything into her performance. Next, the swinging "When I Say," was dedicated to Jazzmeia's children, introduced with a cute anecdote about the challenges of raising kids, and how they embarrass you sometimes. Craig Jackson added some engaging sax phrasing, and the audience loved it. The group finished their concert with a jumping, improvised big-band number (with only four musicians!), playing with real verve.
Sons of Kemet
British jazz group Sons of Kemet, Theon Cross on tuba, multi-instrumentalist Shabaka Hutchings, drummer Edward Wakili-Hick, and percussionist Tom Skinner, started with a melody filled with Middle Eastern influences, performed with enthusiasm up to the fiery finish. Next came a mysterious song with a hypnotic flute solo by Shabaka Hutchings. Following was a up-tempo piece where the band seemed to be in a race to get to some far-off destination, and they swept the audience along with them. The Jumbotron focused on Theon Cross' tuba reflecting the crowd, it was a uniquely stunning shot! This set was all music, all the time. Except for introducing the band members, not a word was spoken. However, since music is the universal language, they communicated very well, indeed, and exemplified the expression, "leaving it all on the stage."
The Fearless Flyers
This genre-bending group, The Fearless Flyers, consisted of drummer Nate Smith, bassist Joe Dart, and guitarists Mark Lettieri and Cory Wong, and the band was Saturday's final act. Their red-hot set included a blistering version of Stevie Wonder's "Signed, Sealed, Delivered," and a scorching performance of the group's original "Ace of Aces." The band was such a hit, they did a much-called-for encore that had everyone dancing! This incendiary band really gave the people what they wanted, and they closed their set with real fireworks!
The Ron Carter Quartet
Renowned bassist Ron Carter started the Sunday concerts with his Foursight Quartet. Although the set started late, it was worth the wait. Christian McBride said, "No better way to get started than to have a true living legend…I had this man's photo on my bedroom wall…from the time I was 11 years old…No matter what I did, I just could not sound like Ron Carter, but then again, nobody can!" Elegantly clad Ron Carter and his bandmates came out to thunderous applause. Pianist Rene Rosnes, saxophonist Jimmy Greene, and drummer Payton Crossley were also sharply dressed, and the solos on their rich, straight-ahead jazz were quite skillful. It was exactly what you'd expect from these seasoned pros, and they didn't disappoint. Their set included "595" and "Mr. Bow-Tie." They finished with Miles Davis/Victor Feldman's "Seven Steps to Heaven," that wowed the audience with their musicality, making a fine beginning to the Sunday concerts.
Digable Planets
Digable Planets gave an eclectic, expansive set full of jazz-infused funk, with thought-provoking, socially conscious lyrics. Ishmael "Butterfly" Butler, Mariana "Ladybug Mecca" Vieira, and Craig "Doodlebug" Irving were backed by bassist Ben Williams, Darrius Willrich on keyboards, guitarist Thaddeus Turner, and drummer D'vonne Lewis. "Pacifics" was so riveting, that the crowd rapped fervently along. The concert also included a driving "What Cool Breezes Do," the smooth "Nickel Bags," the chilled-out "Jettin,'" and "Rebirth of Slick (Cool like Dat)." This show was a big hit with the NJF crowd.
In Conclusion
Recorded music is undeniably important because it captures performances for posterity. However, there's something very special about the immediacy of live music. Every live concert is unique, with distinctive interaction between the musicians and their audiences. Newport Jazz Festival, known as "The Grandaddy of Jazz Festivals," is one of the oldest and most renowned presenters of live music, also hosting notable live recordings over the years, as well as the 1959 documentary, Jazz on a Summer's Day. NJF has a rich history of offering jazz's best and brightest, and has a fabulous future ahead, largely to the unwavering efforts of the remarkable George Wein.
The upcoming 2023 Newport Jazz Festival will take place from Friday, August 4 to Sunday, August 6. The line-up will include Kamasi Washington, Lakecia Benjamin, Jon Batiste, Herbie Hancock, Vijay Iyer, Christian McBride, Bill Charlap, Samara Joy, Charles Lloyd, Orrin Evans, and Diana Krall. For more information, go to www.newportjazz.org.