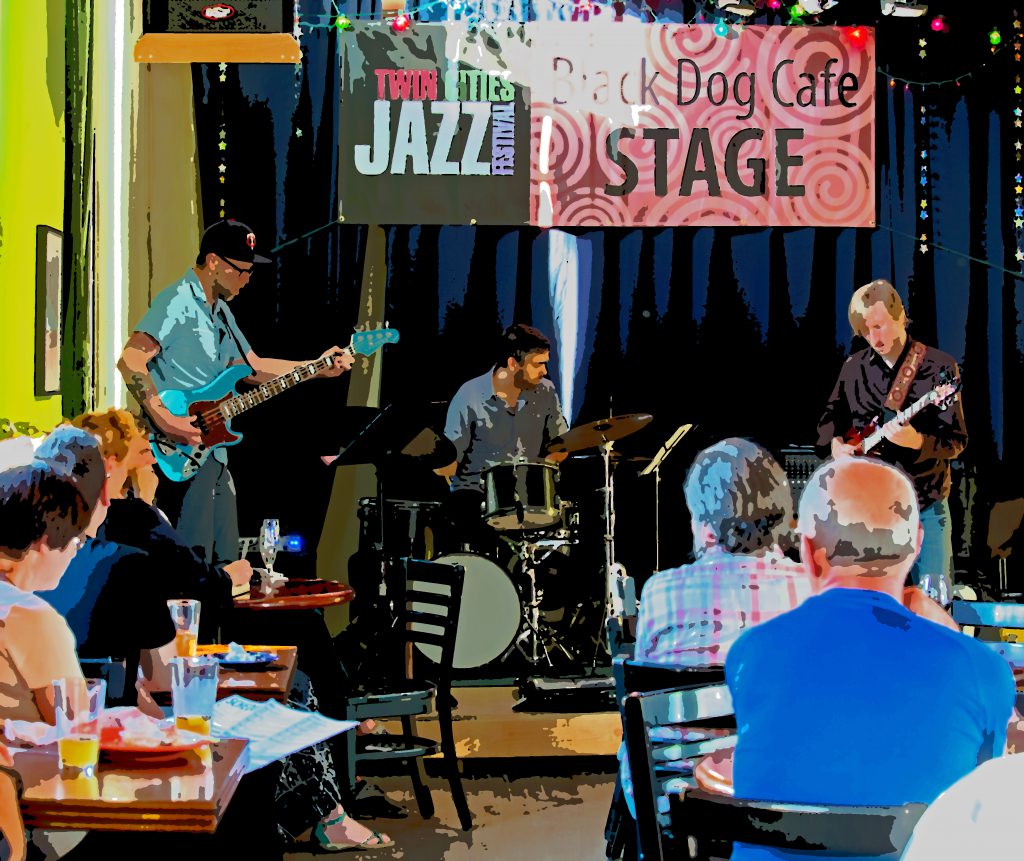 [Updated November 1, 2019]
I hear these questions a lot: Where does one find live jazz in the Twin Cities? And how do you learn about it? Look no farther! This is your Jazz Police guide to Twin Cities jazz venues and resources!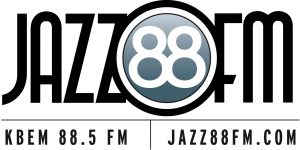 Learning about area jazz offerings is pretty easy online. Check out Jazz Police of course. particularly the Live Jazz Calendar; venue websites often have frequently updated music calendars an an invitation to sign up for their newsletters and other mailings; KBEM posts a live jazz and blues calendar on its home page; KBEM and KFAI radio announce jazz events throughout their broadcasts. Want print? Music gigs at clubs and concert venues are listed every Friday in the Star Tribune's Variety section and sometimes appear as highlights in City Pages; and Pamela Espeland's Artscape column in MinnPost, published Tuesdays through Fridays, frequently includes previews of jazz events.
The following is not an exhaustive list of area venues catering to jazz, but provides a listing of venues that routinely can fill your needs for swing, bop and beyond, many without requiring a significant investment. And remember that, during the summer, there are more options for outdoor music, including city and suburban parks, winery events,  the free Twin Cities Jazz Festival in June (in Mears Park, St Paul), music at the Minnesota State Zoo, and smaller festivals in the metro area. Keep in mind that clubs and restaurants come and go. Note that the venues listed here offer at least some jazz on a regular basis, many for little or no cover charge.
318 Cafe (318 Water Street, Excelsior). Looking for music out in the west burbs? This little joint has good food and drink, a small stage, and a calendar with of some of the best local music in the metro. Reynold Philipsek is a frequent performer. The music is very eclectic so check the website to find something to your liking.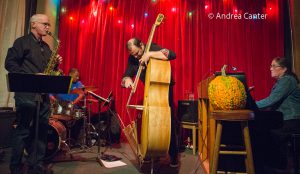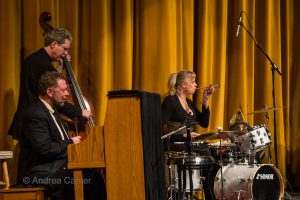 Artistry (Bloomington Center for the Arts, 1800 W. Old Shakopee Rd, Bloomington). Bloomington's centerpiece for the arts includes the mid-size Schneider Theater, which includes a couple jazzcentric shows each season (such as revues from Arne Fogel, Maud Hixson and others), as well as a small Black Box Theater which presents one or more shows per season highlighting one of our jazz vocalists or small ensembles.
Black Dog Coffee and Wine Bar (308 Prince Street, St Paul). Aside from Lowertown's growing reputation as the place for avant culture and after-work socializing in St Paul, the Black Dog has long been a hot spot for both. Every Saturday night, Steve Kenny curates the Saturday Night Jazz at the Black Dog series, with an opening set (often young artists or veterans in new configurations) followed by such headliners as Dave King, Anthony Cox, Dean Granros, Zacc Harris, JT Bates, Pete Whitman, Steve Kenny, Dave Karr and more. First Tuesdays, it's Dean Magraw and Davu Seru, often with very compatible and creative guests. Third Mondays, the trio Red Planet goes into Orbit.  There's music of some sort most every night of the week. Often no cover, rarely over $10; the Saturday Night Jazz series seeks donations ($10 suggested) to support the music. Most often music is in the bar/dining side of the venue, but big bands appear periodically on the other side.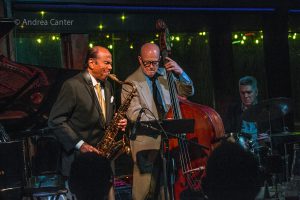 Crooners Lounge/Dunsmore Jazz Room (6161 Highway 65 NE, Fridley). In the space once occupied by the Shorewood, this supper club in the north burbs has expanded its music program to include two listening spaces–a 200+-seat "main stage" and the 85-seat Dunsmore Jazz Room, one of the most intimate and listener-friendly rooms in the area if not the Midwest. The Dunsmore Jazz Room boasts an elegant 9-foot Steinway piano on stage, modern sound system, and a line-up of top area and national artists– recent stars include Sheila Jordan, Kenny Barron, Dave King, Bobby Lyle, and more. Crooners has also transformed its large lounge into a first-class performance space, providing better sightlines, and a larger stage for larger ensembles like the Acme Jazz Company or Andrew Walesch Big Band.  The main stage can also accommodate big crowd pleasers like Moore by Four. While the Dunsmore Jazz Room primarily schedules jazz, the main stage features a wide range of music from blues to pop–and often, jazz acts like Joey DeFrancesco and Marilyn Maye. Some nights, there are at least two shows between the two rooms, and in summer, sometimes three as Crooners sets up an outdoor tent.  Most shows in either room are priced at $15-$20, with some national acts $30+.  And yesm Crooners has a mighty fine kitchen as well–you can dine during the show. Advance reservations are highly encouraged online or via the box office.
Dakota (1010 Nicollet Mall, Minneapolis). It looks incredibly pricey and it can be, but often it's a bargain. One of the most acclaimed jazz clubs in the country and known for its schedule of national jazz and blues acts as well as for its kitchen, the Dakota is a glittering gem on Nicollet Mall that draw visitors like a magnet. National acts tend to fall on weeknights and can run anywhere from $15 to over $60 per ticket. But the late sets are usually cheaper, and on weekends, you often can hear some of the best in the region (Ginger Commodore, Patty Peterson, Nachito Herrera) for $10-$20—and never a minimum food or drink order.  Parking? After 4 pm, the adjacent Target Ramp is $6, no special event rates. And after 6, you might find a free spot on the street. Reservations recommended for national acts, weekends, and special local shows.
Hell's Kitchen (80 S. 9th Street, Minneapolis). In the old Rossi's space with its own kitschy decor, Hell offers live music most nights, with a jazz act like Joel Shapira or the Parisota Hot Club at least one night per week. If you are going to Hell, this is a great way to go! Usually no cover.
Hopkins Center for the Arts (1111 Mainstreet, Hopkins). Tickets here are not usually cheap, but the Hopkins Center for the Arts has an impressive concert season which always includes one or two high profile jazz acts–like Joshua Redman, Hudson, Dianne Reeves, Karrin Allyson, etc.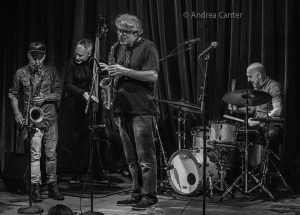 Icehouse (2528 Nicollet Av South, Minneapolis). JT Bates ran the Monday night "implosion" series for a long time, but his legacy continues with alternating curators on Monday nights featuring the likes of Dave King, Fat Kid Wednesdays, and other like-minded, ear-blowing ensembles from near and sometimes far–Tim Berne has been a recent guest. Weekend dinner sets (no cover) often feature a piano/bass duo like James Buckley and Bryan Nichols or solo guitarists like Zacc Harris and Tim Sparks. Other nights might bring in a nationally or regionally renowned jazz ensemble. Covers range from $5-$12 as a rule; a really special show like Tim Berne might have a $20 ticket. Quirky but fine bar and food menus. A night owl's delight as many shows start at 9:00 pm or later.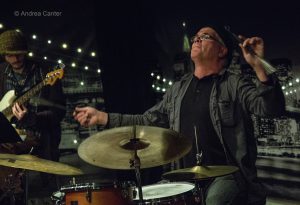 Jazz Central Studios (407 Central Av NE, Minneapolis). Yes, Minneapolis has its own underground jazz club. Formed in 2010 by Tanner Taylor and Mac Santiago, and now operating as a nonprofit, Jazz Central is located in an old basement recording studio with a small but warm performance space for Featured Artist Nights and jam session (Mondays), Tuesday Night big bands (yes, the big band takes up about half the space), Wednesday night series of new and improvised music, Thursday Vocal Jazz nights, Friday's "Illicit Jazz Workshop" curated by Steve Kenny, and often late night sets with young performers testing their wings. More and more, music is also booked on Saturdays; Sundays have a B-3 jam session. Most nights,  donation of $10 requested to pay the rent as well as musicians. This is a great opportunity to hear combinations of musicians that don't otherwise come together and to focus in on some of our top sidemen. Many performers from the old Artists Quarter are presenting their music at Jazz Central.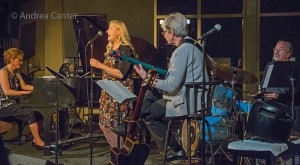 Jazz @ St. Barneys (St. Barnabas Church, 15600 Old Rockford Rd, Plymouth). The Art Center of St Barnabas Church has sponsored a monthly (or more frequent) jazz series for years, and for $10 you can hear the best instrumental and vocal artists in the region in an intimate context (typically duo or trio). Frequent guests have included Maud Hixson, Rick Carlson, Connie Evingson, Travis Anderson, Mary Louise Knutson, Laura Caviani and more. See the website for the complete listing of the current season.
Lexington (1096 Grand Av, St Paul). The Lex is legend among St Paul restaurants, and now boasts jazz three nights per week (Thurs-Sat) in the Williamsburg Room. Joel Shapira, Benny Weinbeck, Zacc Harris and more perform regularly. No cover.
MacPhail Center for Music (501 S. Second Street, Minneapolis). The region's largest community music school also includes several beautiful performance spaces and there's an unending array of free and inexpensive music throughout the year. You can hear MacPhail faculty or student recitals; master classes in all genres (usually $5 for nonstudents); and a special series of weekend concerts that typically run higher ($20). Parking at meters or adjacent ramps. Past jazzy guests have included trumpeter Ron Miles, percussionist Dosh, the Dave King Trucking Company, and various combinations of jazz faculty.
Minneapolis Parks summer concerts. Some of the Minneapolis city parks have summer concert series such as the Lake Harriet Bandshell concerts series. Always free, the concert seasons are eclectic but jazz is frequently on the schedule, which is generally listed in the Star Tribune as well as individual park websites.
Orchestra Hall (1111 Nicollet Mall, Minneapolis). Most of the jazz at Orchestra Hall is well beyond the definition of "cheap" — there are concerts by the likes of Doc Severinsen and Wynton Marsalis in the main hall at $40 and up. But sometimes you can be treated to a solo artist like Chris Lomheim or a small ensemble in the lobby before a concert, at no charge and no requirement to hold a concert ticket. In the summer, there is often free music, sometimes jazz, on adjacent Peavy Plaza.
Riverview Wine Bar (3747 42nd Av South, Minneapolis). This is a small neighborhood cafe and club space offering live jazz at least weekly. The Zacc Harris Trio has been the Sunday night treat for more than a decade — no cover.
Saint Paul Hotel, Lobby Bar (350 Market Street, St. Paul). One of the most elegant spots in the city, the Saint Paul Hotel's Lobby Bar now sports live music every Saturday night (and Fridays during winter months), and the gig belongs  now to vocalist Erin Livingston and her trio, who replaced the long-running JoAnn Funk Trio a year ago.  From 7-11 pm, you can sip wine, order from an extensive bar menu, and just sit back and enjoy music far more sophisticated than what one generally finds in similar settings.
Studio Z (275 E 4th Street, #200, St Paul). Home to the new music ensemble Zeitgeist, Studio Z hosts other gigs of improvised music as well, such as Insurgent (Pat Moriarty, Ellen Lease, Phil Hey) and visiting avant garde musicians and composers. "Jazz at Studio Z" is a long-running Saturday night series curated by Zacc Harris and featuring top innovators from the Twin Cities, with the performance often preceded by an hour presentation about the music from the performers. In the summer, Steve Kenny curates an "All Originals" jazz series on selected Thursday nights.
Walker Art Center (725 Vineland Place, Minneapolis). As a mainstay of modern culture in the Twin Cities, of course the Walker presents cutting edge jazz! Part of their annual Performance Series, the Walker typically presents 2-3 concerts of jazz innovators each season, including such stars as Vijay Iyer, Waddada Leo Smith, Mary Halvorson, native Twin Citian Craig Taborn, and more. Tickets generally under $30.
Walker West Music Academy (760 Selby Av, St Paul). A long-time community education center dedicated to the promotion of music, including jazz, Walker West not only provides lessons and ensembles, but also live concerts on its performance stage. Often WWMA has offered a jazz season, and minimally presents several concerts per year featuring jazz faculty and local (and sometimes national) artists at very reasonable ticket prices.
And More!
For more jazz in your neighborhood, check out the following, where jazz will sometimes appear, often  free or cheap!
• 56 Brewing, 3055 NE Columbia Av #102, Minneapolis
. Aster Café, 125 SE Main Street, Minneapolis
. Boom Island Brewing, 5959 Baker Rd, Minnetonka (note new address; MN Hard Bop Collective every Wednesday night)
. Imminent Brewing, 519 Division Street, Northfield
• Ingredients Cafe, 4725 Hwy 61 North, White Bear Lake
. Ordway Theater, 345 Washington Street, St Paul
. Palmer's Bar, 500 Cedar Av, Minneapolis
. Rebel Room, 205 Water Street, Excelsior
. Stacked Deck Brewing, 421 Cedar Av., Minneapolis (Mn Hard Bop Collective every Tuesday happy hour)
. Wabasha Street Caves, 215 Wabasha Street, St Paul (big band swing nights!)
. Whitey's Old Town Saloon, 400 E. Hennepin, Minneapolis (jazz jam every Tuesday night curated by Graydon Peterson)
Are we missing a venue that presents jazz? Contact Andrea at Jazz Police (canterjazz@aol.com) with information.