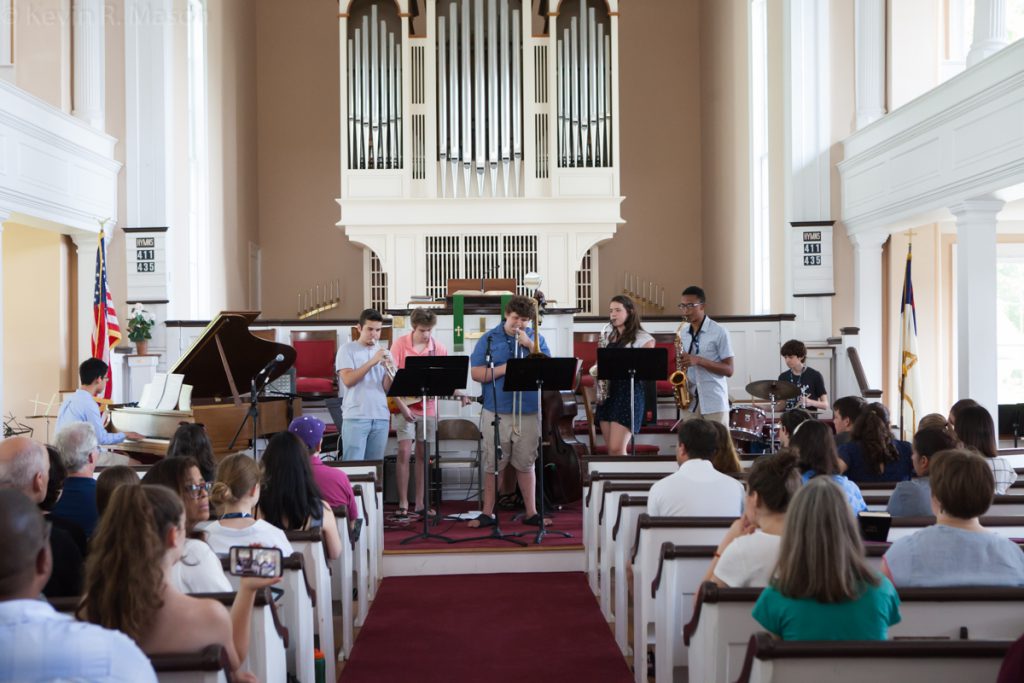 The 2019 Litchfield Jazz Festival took place from July 26 to July 28, 2019. There were some big changes this year. The Festival moved from their longtime location of Goshen Fairgrounds to The Gunnery School in Washington, CT. The impetus behind this move was to more closely combine the events of the Litchfield Jazz Festival (LJF) with the Litchfield Jazz Camp (LJC).
Friday, July 26, 2019
Opening Night Gala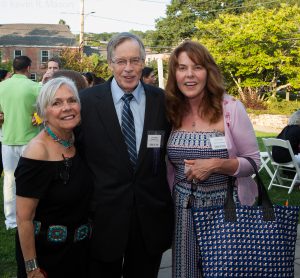 The festivities started with the Opening Night Gala at the Judy Black Memorial Park and Gardens, on the most gorgeous summer night. When you think of jazz festivals, this was the ideal kind of weather that your mind conjures. Delectable appetizers were provided by Litchfield eatery Meraki, Vandoren supplied exquisite French wine, and Fascia's Chocolates of Waterbury, Connecticut served mouthwatering chocolate delicacies. The event was a fundraiser for the LJC. The entertainment for the Gala was provided by LJC students who were mentored by professional musicians who make up the LJC faculty. The music was coordinated by LJC faculty member, and former Jazz Camper, bassist/composer/educator Zwelakhe-Duma Bell le Pere.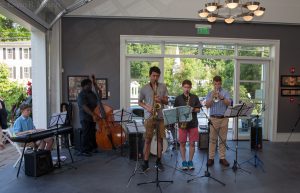 Trumpeter Russ Johnson's group, Pascal's Triangle, started the music with a great set that included "Daahoud" by Clifford Brown, "Butterfly" by Herbie Hancock, and  a stellar version of "Night in Tunisia," all played with excellent musicality by Jazz Campers Jeffrey Wilcox on trumpet, alto saxophonists Daniel Naiman & Ben Gardner, Patrick Johnson on bass, Avery Allen on piano, and Jonah Weinstock on drums.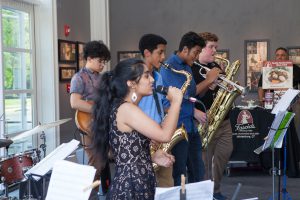 Guitarist Dave Stryker's group, The Empire Strykes Back, came next, and they started their set with "What a Difference a Day Makes," and continued with "Autumn Leaves" and "There Will Never Be Another You." The group had Advika Krishnan on vocals, Thomas Hasselberger on baritone sax, Laura Martin on bass, Ike Moemeka on tenor sax, Dereck Sanguino on guitar, Daniel Portuondo on trumpet, Joel Evans on drums, Isiah Nygard on piano, and Ben Gardner on alto saxophone, and their virtuosity was quite impressive.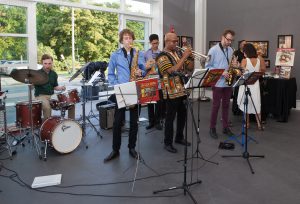 The third group was the whimsically named The Tri-State Lynard Skynard Tribute Band, Featuring No One in Particular, mentored by bassist Avery Sharpe, and their swinging set included an original composition called "Truckzilla," and another original, "Robin's Nest." The group was made up of tenor saxophonist Elijah Smith, trumpeter Conrad Roach, pianist Sam Mayer, guitarist Zakaria Antifit, and alto saxophonist Harry Pershing. They finished the Gala entertainment in excellent fashion.
Concert at The Emerson Performing Arts Center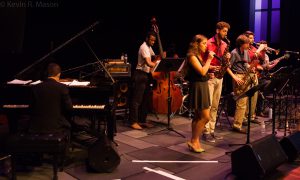 Opening Act: Litchfield Jazz Campers. The Friday evening festivities moved to The Emerson Performing Arts Center at The Gunnery School. Festival founder Vita West Muir welcomed the crowd, and talked about this being a transitional year, with the new location. Their ultimate location is a new performing arts center that is in the process of being built. The first set was a combo of Jazz Campers who were mentored by trumpeter Dave Ballou, and included wunderkind 13-year-old pianist Brandon Goldberg, vocalist Anson Jones, saxophonist Noah Yontef Mathog, guitarist Devlin Tenney, trumpeter Jimmy Dukeney, and bassist Conway Campbell, Jr. The level of excellence of their playing was astonishing. If you closed your eyes, you could easily imagine that you were listening to people who were three times their ages. They sounded like they had been playing together for years, instead of being teenagers at the beginning of their love affair with music. The set included Wayne Shorter's "Yes or No," a delightful "Lullaby of Birdland," as well as the original compositions "Damage Control" "Weightless," and "Eternal Hexagon." This was a stellar opening act, performed by some gifted young musicians.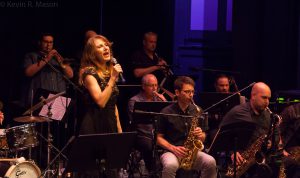 Alexis Cole and the Litchfield Jazz Orchestra. The second act of the night was singer Alexis Cole and the talented Litchfield Jazz Orchestra, which included bassist Avery Sharpe, alto saxophonist Kris Allen, tenor saxophonist Albert Rivera, pianist Julian Shore, baritone saxophonist Andrew Hadro, trombonists Peter McEachern and Joe Beaty, trumpeters Dave Ballou and Russ Johnson, and drummer Ian Carroll. Alexis Cole said, "Welcome to the Litchfield Jazz Festival. I'm so honored to be here." She talked about honoring the 50th anniversary of the moon landing, and joked about how many songs there were about the moon. She performed a swinging version of "Moon River," followed by "Fly Me to the Moon." Next came "All Blues" and an unexpectedly fresh rendition of Billy Joel's "Uptown Girl." The set continued with a beautiful performance of "I've Grown Accustomed to Her Face," and Alexis said that one of the things she loved the most about the song was the way it describes how someone can come into your life and shake it up in the best way. She talked about what a big influence her grandmother was in her life, and the first song her grandmother taught her was "Pennies From Heaven." She dedicated the song to the memory of her "Nana."
Alexis introduced another Billy Joel song, "New York State of Mind," and discussed the many years she traveled, and didn't even have an apartment. Whenever she got homesick, this song reminded her that she did have a home, even if it was just the idea of a home. Cole also spoke movingly of her time as a jazz singer in the army, and all her memorable experiences during that time. In honor of those experiences, she sang a lovely "America the Beautiful." For their finale, the group did a rousing, "Our Love is Here to Stay. What a fantastic opening night at the new location of the 2019 Litchfield Jazz Festival!
Saturday, July 27, 2019
OuterFest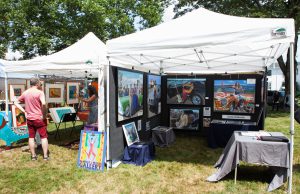 The second day of the LJF opened on another beautiful summer day. The new event, the free OuterFest, took place all day, and included some delicious food vendors, as well as some outstanding arts and crafts. Esteemed artists Chris Osborne and Danielle Mailer had booths, as well as henna artist Elyse Stadler, Carnelian Knoll Jewelry, Gemini Dream Jewelry, Woodbury Music Shop, and the Women's Peace Collective that featured handmade products by marginalized artisans. LJF's Visual Artist of the Year, Steve Soklin created the 2019 Festival's official T-Shirt, a block print of Charlie Parker. Swinging music was provided by Jazz Camp bands throughout the day at First Congregational Church-On-the-Green, right near the vendor booths. Many combos sounded so professional, they could have gone straight from the LJF to the road. Litchfield Jazz Camp does some great work!
Duchess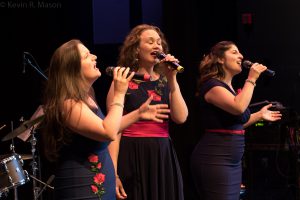 The first concert of the day, hosted by WZBG Radio's Mike Gow at The Emerson Performing Arts Center, featured the jazz vocal trio, Duchess. Amy Cervini, Melissa Stylianou, and Hilary Gardner showed off outstanding harmony, and the brilliance of their individual voices. They were superbly backed by Musical Director/pianist Oded Lev Ari, bassist Matt Aronoff, and drummer Paul Wells. The group started with "P.S. I Love You," and it continued with "The Sunny Side of the Street." The trio displayed a lot of charm and wit in their banter between songs, telling hilarious anecdotes to the audience. They next performed "Three Little Sisters," and "A Little Jive Is Good For You." In a nod to the Rat Pack, they sang "Here's to the Losers," a saucy tribute to all those who are down on their luck. The ladies of Duchess are so much fun, and cool under pressure, too. When one of their microphones ran out of battery charge, they didn't miss a beat, vamping until the battery was replaced.  For their last song, they did a catchy tune by The Boswell Sisters (who were a big influence on them), "Everybody Loves My Baby." It was a quirky crowd-pleaser that had a real tongue-twister of a section, and even featured the trio playing kazoos! This show had audience tapping their feet and brought smiles to their faces.
The Chad LB Quartet Featuring Randy Brecker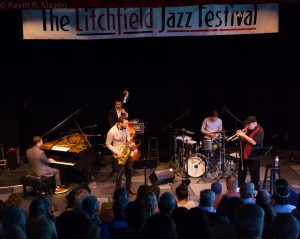 Saxophonist Chad Lefkowitz-Brown, now known as Chad LB, welcomed the crowd, and the band began with a composition by Randy Brecker, "Dirty Dog." The group included pianist Steven Feifke, bassist Raviv Markovitz, drummer Jimmy Macbride, and the famed Randy Brecker on trumpet and flugelhorn. Next came a tribute to Brazilian singer/songwriter/guitarist and bossa nova pioneer, João Gilberto, who recently passed away, and it was a beautiful, Latin-flavored homage. They followed with a song that Chad LB composed for Randy Brecker, titled "Blues for Randy." This song had a lot of drive and swagger, and the group played hearts out, with some great solos. The back-and-forth between Randy and Chad was riveting. Steven Feifke started a meltingly romantic "The Nearness of You" with a gorgeous piano solo that was followed by equally gorgeous solos by Chad and Randy. Chad introduced "The Dipshit," a song Randy wrote about a particular person who wasn't named. It was actually quite a great song, despite being inspired by such an apparently deplorable person. The finale, "Donna Lee," was played in acknowledgement of what Chad called one of the indisputably greatest trumpet/sax pairings, Randy Brecker and his brother Michael Brecker.
Tribute to Herbie Hancock's Speak like a Child Album with the Carmen Staaf Sextet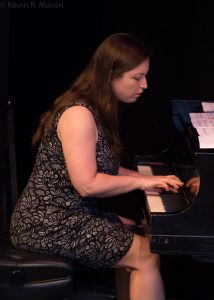 Vita West Muir spoke about pianist Carmen Staaf's background, her experiences at the Thelonious Monk Institute of Jazz (now the Herbie Hancock Institute of Jazz), and how a year ago, Vita and Carmen discussed the idea of this concert. Then, Carmen came on stage and talked about Herbie Hancock's album, Speak Like a Child, which inspired this re-imagining of the recording. Staaf was joined by Don Braden on flute, Avery Sharpe on bass, Dave Ballou on trumpet, Jennifer Wharton on trombone, and Steve Johns on drums. The song "Speak Like a Child" featured an excellent extended solo by Don Braden. The set also included "Riot," "First Trip," and "Goodbye to Childhood." On the lovely minor-key "Toys," Jennifer Wharton exhibited her wonderful trombone skills. Carmen's composition "Evergreen" included a fine solo by Dave Ballou, and Staaf said that she later realized that the song had been greatly influenced by Speak Like a Child. Carmen thanked the audience for being there, and she said it was a pleasure to play for such a group of music lovers. She thanked Herbie Hancock for the inspiration, and marveled how he is still out there playing so much. She also thanked Vita West Muir for everything she does. Vita briefly took the stage and thanked Don Braden for being Musical Director of the LJC all these years. When she added that she hopes that Don will continue indefinitely, he replied, "I'll be here, every summer!" In closing, the group played "The Sorcerer." The show was a wonderful homage to Herbie Hancock, an icon who is certainly worthy of the honor.
The Mike Stern Band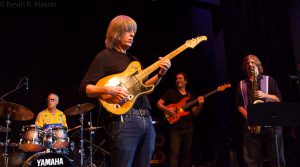 Saturday's music ended in high style with a concert by the Mike Stern Band. Guitarist Mike Stern was accompanied by bass guitarist Edmond Gilmore, drummer Richie Morales, saxophonist Danny Walsh, and Mike's wife, vocalist/guitarist Leni Stern. Mike introduced his wife, Leni, and discussed how she travels a good bit, and that she brought back an n'goni from Africa, which is an instrument in the guitar family. Leni started one of her own compositions with a solo on the n'goni and followed with a beautiful vocal. Mike beamed proudly, which is understandable, since she is very talented. Next, the band played "Out of the Blue," an energetic jazz/funk/rock song that really got the place jumping. "Avenue B," a sultry, bluesy number, allowed Mike's considerable musical skills to shine. On an island-influenced song, Stern effectively scatted throughout. He also moved around the stage continuously through the set, full of energy, like the music was bursting out of every pore! For the finale, they slowed it down with a gorgeous lament of a ballad that was truly emotional.
Sunday, July 28
Sunday Brunch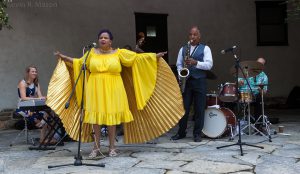 The Sunday Brunch was held at the beautiful Bourne Courtyard at The Gunnery School. All proceeds went to scholarships for the LJC. There was a delicious brunch served, with scrumptious beverages. Vita West Muir welcomed the crowd, then introduced saxophonist Don Braden. Vita also introduced saxophonist Albert Rivera from the audience and talked about how he started as a Jazz Camper 20 years ago, and he is now Director of Operations at LJC, as well as being a professional musician. Don Braden then took the mic and introduced his LJC faculty cohorts:  drummer Steve Johns, pianist Jen Allen, and bassist Avery Sharpe. They started with a song from Braden's CD, Earth, Wind, and Wonder, "Can't Help It," which was written by Stevie Wonder and made famous by Michael Jackson. Braden sang the praises of saxophonist Eddie Harris, and they performed "Eddieish" which was composed by Don as an accolade to Harris. The song started with a fine bass solo by Avery Sharpe, and it was an excellent remembrance of Eddie Harris.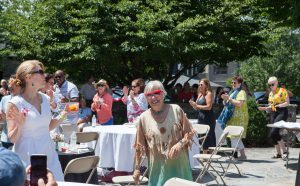 Braden introduced guest vocalist Antoinette Montague, who danced to the stage, looking like the embodiment of summer in a lemon-yellow dress that was as sunny as the day. She started with a saucy, lively performance of "On the Sunny Side of the Street." Next came a song about New Orleans' Bourbon Street, where she did a winning impression of Louis Armstrong. Antoinette said, "We love the standards, and ballads," as an introduction to a passionate "I Loves You Porgy." Montague said she had created a jazz superhero, and asked, "Would you like to meet her?" Then she put on a gold fringed cape, and sang a song called, "Jazz Woman to the Rescue," which was interspersed with snippets of Ella Fitzgerald's "A-Tisket, A-Tasket." She followed with Louis Armstrong's "What a Wonderful World." She talked about Sister Rosetta Tharpe and called her "The Godmother of Rock and Roll." She noted that many performers had imitated Rosetta, including Elvis Presley, and that Tharpe did the duckwalk with her guitar, long before Chuck Berry ever did. The set ended with a high-energy "When the Saints Go Marching In" and Antoinette got people up for a dance line. The song segued into "This Little Light of Mine," and the dance continued. Don Braden, Jen Allen, Avery Sharpe, Steve Johns, and guest vocalist Antoinette Montague were so much fun together, and they made the Jazz Brunch a big success.
Mike Gow of WZBG radio returned to host the indoor concerts at The Emerson Performing Arts Center.
Wycliffe Gordon & Friends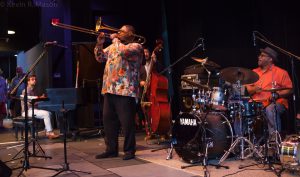 At the beginning of the set, Bill Milkowski of DownBeat Magazine presented Wycliffe Gordon with the 2018 Award for Best Trombone. Wycliffe was backed by drummer Alvin Atkinson, Jr., pianist Chris Pattishall, and bassist, Yashushi Nakamura. Gordon invited everyone to have a good time, and to stay for the Mike Stern show afterwards. He joked, "If you're not having a good time, I feel safe in saying that it's your fault!" Things got started with "It Don't Mean a Thing (If It Ain't Got That Swing)" which had a great back-and-forth riff between Wycliffe and Alvin and some effective raspy-voiced singing by Gordon. Things continued with John Coltrane's "Impressions" followed by "On The Sunny Side of the Street," with Wycliffe once again doing double duty, singing and playing the trombone. Fats Waller's song, "Black and Blue," was written by Fats as a torch song, but Louis Armstrong changed some words, and it became a protest song against racism.  Gordon's original composition, "Hello Pops!" is a tribute to Louis Armstrong. Wycliffe encouraged the audience to sing along several times. He said he liked to do more than perform; he liked to interact with the audience and have them be a part of the show. Then he stepped aside to feature his fellow musicians as a trio on a lovely, "Willow Weep For Me." A sweet, sentimental rendition of "Stars Fell on Alabama" had a spectacular solo by Gordon, displaying the talent that won him the DownBeat Critics Poll Award multiple times.  Duke Ellington's "Caravan," highlighted Alvin Atkinson, Jr., not only playing drums but singing, and he was in great voice. The group closed the concert with an abbreviated version of "Down By the Riverside," played during the audience's standing ovation.
Mike Stern Band Encore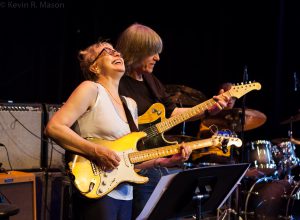 Guitarist Mike Stern is so popular at Litchfield, that he did a second performance on Sunday. Mike's wife, Leni, started with an African love song where she once again played the n'goni that she brought back from her travels to Africa. Once more, Stern was accompanied by bass guitarist Edmond Gilmore, drummer Richie Morales, and saxophonist Danny Walsh. The set included "One Liners" and "KT." The show was a bit different from the one the previous day. But it was just as high-energy, filled with great solos and vocal harmonies, and Mike Stern is very generous about sharing the spotlight. It was a brilliant follow-up concert.
Sponsors
Sponsorship is an essential part of presenting the yearly LJF. The 2019 sponsors include New England Foundation for the Arts (NEFA), Vandoren Paris, Litchfield Magazine, The Les Paul Foundation, Northwest Connecticut Community Foundation, DownBeat Magazine, Connecticut Department of Education, Fascia's Chocolates, Torrington Savings Bank, Regional Hospice & Palliative Care, Black Hog Brewing Company, WPKN 89.5 FM Radio, RS Berkeley, Litchfield Distillery, Heritage Hotel, Lagunitas Brewing Company, 88.9 WNDA Radio, and Telefunken Elektroakustik, who also did the sound for the entire Festival.
Conclusion
Despite the change of venue this year, LJF more than lived up to the promise that great music would be offered. Indeed it was! Upcoming events include Jingle & Mingle on December 7, 2019, a fundraising event in support of the Litchfield Jazz Camp. The evening will feature hors d'oeuvres and an open bar, followed by a delicious dinner and a musical performance. For more information about Litchfield Jazz Festival, go to www.litchfieldjazzfest.com.