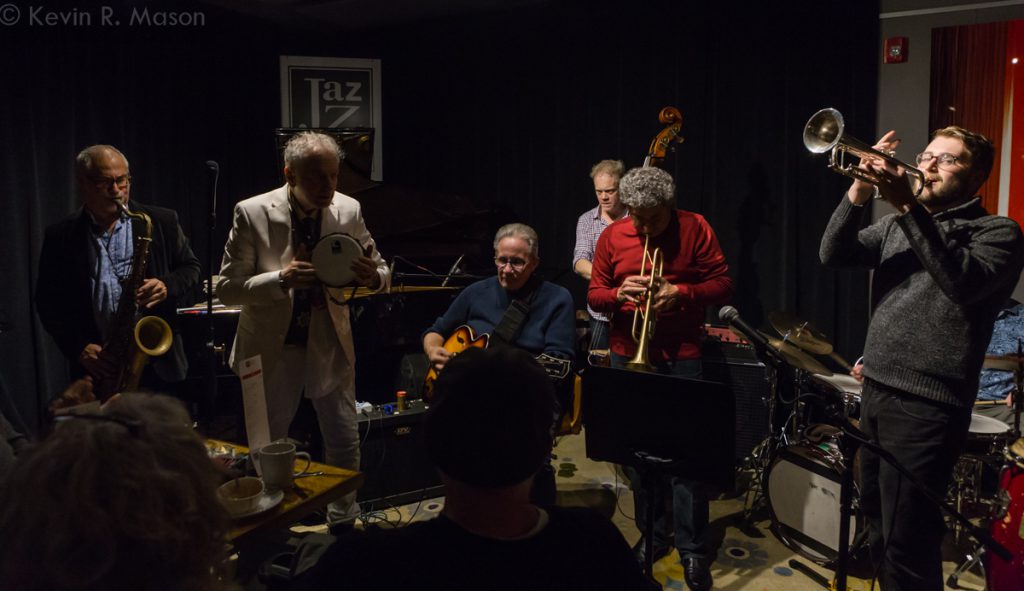 On November 17, 2018, the Jazz Forum nightclub hosted the celebration of the 88th birthday of legendary multi-instrumentalist/composer David Amram.
The Jazz Forum opened in 2017 in Tarrytown, New York, and the website has the following quote: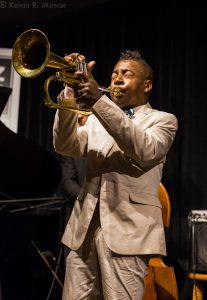 "On June 9th, 2017, Mark Morganelli and his wife, Ellen Prior opened the Jazz Forum as the only dedicated Jazz club in Westchester County, New York. This 90-seat weekend-only live music venue is an intimate listening room with a warm and welcoming mood, affordable ticket prices and clear sightlines from all seats. The Jazz Forum was launched with sold-out performances by the Roy Hargrove Quintet and has been presenting internationally renowned and master musicians to enthralled audiences, including "regulars" and newcomers every week since the opening. One patron commented, "There are gods among us! The talent is inspiring to see performed and heard live!"
The list of top names in jazz that Jazz Forum has presented since the 2017 opening includes Toshiko Akiyoshi, Wallace Roney, Theo Croker, Monty Alexander, Catherine Russell, Renee Rosnes, Monika Oliviera, Marquis Hill, Nanny Assis, Paquito D'Rivera, Gary Smulyan, Christian Sands, Joey DeFrancesco, Sonny Fortune, John Patitucci, Nilson Matta, Roberta Gambarini, Houston Person, George Coleman, Sheila Jordan, Larry Willis, Ravi Coltrane, Russell Malone, Jeremy Pelt, Jon Faddis, Ann Hampton Callaway, Bill Charlap, Donald Harrison, Randy Brecker, Chris & Dan Brubeck, Vincent Herring, Barry Harris, and John Pizzarelli.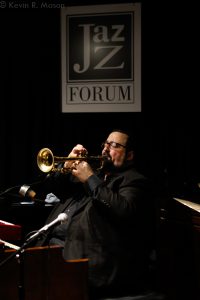 Mark Morganelli started the evening by discussing the Jazz Forum Arts organization, which the Jazz Forum club is part of, and which is now in its thirty-second year. Morganelli had two other Jazz Forum clubs in Manhattan, and there are recordings, videos, and radio broadcasts documenting performances by such greats as Art Blakey, Dizzy Gillespie, Philly Joe Jones, Woody Shaw, Wynton Marsalis, and Carmen McRae. Morganelli then had residencies at the Village Gate, Entermedia Theater, and a stint as music coordinator at New York's Birdland club for five years. The forming of Jazz Forum Arts followed, and it's become one of the country's premier not-for-profit jazz associations, with a mission to bring top-quality, live jazz to the New York area, and it is committed to promoting appreciation for this distinctly American art form. It has hosted established, emerging, and under-recognized artists, as well as regional, national, and international performers. The organization is also dedicated to presenting jazz in all of its multi-faceted styles; Progressive, Bebop, Latin & Brazilian, World Music, Rhythm & Blues, New Orleans, Traditional, Swing, and Contemporary Jazz. Under the auspices of Jazz Forum Arts, Morganelli produced the Jazz at the Tarrytown Music Hall series for twenty-two years, featuring concerts by Billy Taylor, Lionel Hampton, Betty Carter, Dianne Reeves, Gerry Mulligan, Sonny Rollins, Clark Terry, Dave Brubeck, the Count Basie Orchestra, and many others.
Mark also produced the Berkshire Jazz Festival, the Sunnyside Jazz Festival, the Tarrytown Arts Festival, and the Dizzy Gillespie 75th Birthday Concert at Carnegie Hall, as well as concert series at Jazz at Lincoln Center and the Free Summer Concert Series in Westchester County, New York.
As a prolific artist himself, trumpeter/flugelhornist Morganelli has performed at the Montreux Jazz Festival, the Syracuse Jazz Festival, the Saratoga Jazz Festival, JazzFest White Plains, several tours of Italy, and festivals and concerts in Europe, Japan, Brazil, and the Caribbean. He continues to perform with his Jazz Forum All-Stars, and he is about to release his fifth CD as a leader, Brasil!
Before Amram's celebration got underway, Ellen Prior talked about the Steinway Jazz Forum Arts 88 Keys Campaign to help purchase the beautiful Steinway B Classic Grand piano that is on loan to the club. She also discussed other fundraisers they are participating in, as well as all the excellent artwork on display that is for sale at the club.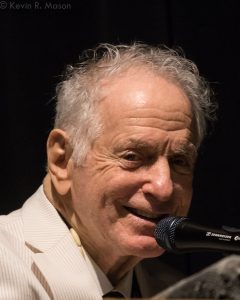 Mark Morganelli then introduced David Amram, who looked resplendent in an ivory suit. Amram sang the praises of the club, and the entrancing Tarrytown area. He thanked the crowd for sharing his birthday and started the music with Duke Ellington's "Take the 'A' Train." He was joined by his son Adam Amram on congas, drummer Kevin Twigg, guitarist Vic Juris, bassist Rene Hart, trumpeter Alex Miller, and saxophonist Erik Lawrence. David did double duty on piano and flute, with a flute solo that was utterly charming, and at one point, he astonished the crowd by playing two flutes at once, and later added some percussion. The man really hasn't lost a step, and has stamina that belies his 88 years.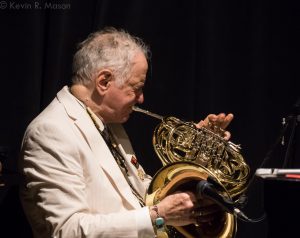 Amram has collaborated with many great artists over the years, including Leonard Bernstein, Thelonious Monk, Dizzy Gillespie, Mary Lou Williams, Pete Seeger, Betty Carter, Arlo Guthrie, and Jack Kerouac, and he told several anecdotes about his career experiences throughout the night. Among his many notable achievements is his score for the 1961 film, Splendor in the Grass, and the unforgettable score of the 1962 film, The Manchurian Candidate. He has also traveled all over the world and has picked up and learned to play instruments from everywhere, which he incorporates into his orchestrations and shows. He is a gifted storyteller, recounting events with impeccable memory and great wit. Amram talked about "The University of Hang-out-ology," where he said he was a lifetime student. He added, "Everyone has a story, and everyone can be a teacher, if you listen." He talked about the short 1959 film by Robert Frank and Alfred Leslie, Pull My Daisy, based on the poem of the same name by Jack Kerouac, Allen Ginsberg, and Neal Cassady. Amram started snapping his fingers and did the spoken-word poem. The drummer, Kevin Twigg also played the glockenspiel, and Amram added a delightful scat to the proceedings.
Then, he pulled out a Chinese reed instrument, a hulusi, and played it in a haunting beginning to a Woody Guthrie song, "Pastures of Plenty." He showed off another talent, singing, and quite winningly, too. Really, Amram is a one-man band! He followed by playing flute with guitarist Vic Juris on a truly beautiful rendition of "Red River Valley."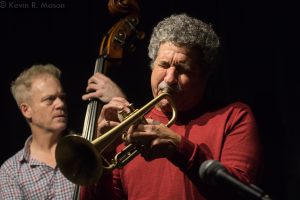 Amram played a few songs inspired by writer Jack Kerouac, and had a friend, poet/actor Frank Messina, recite one of Kerouac's poem about Denver, Colorado. For the finale, Mark Morganelli sat in with his trumpet on a Thelonious Monk song, "Blue Monk," and David played the French horn. What a vast array of instruments Amram plays! He encouraged the audience to "Keep being creative and to encourage others to do the same."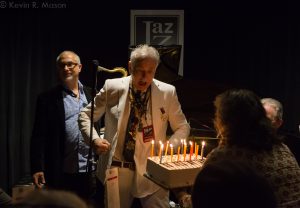 At the end, Ellen Prior brought out a birthday cake while the band played a jaunty "Happy Birthday" and Amram chimed in on a mini djembe drum, showing yet another instrument he plays. This was not only a celebration of David Amram's 88th birthday, but also a celebration of his music and life. He is energetic, upbeat, and positive, with a very optimistic approach to living. If you get a chance to see Amram live, it is an experience not to be forgotten. He is a consummate performer!
The Jazz Forum is open every weekend, and some of the upcoming artists are the T.S. Monk Sextet, the Tom Harrell Quartet, Nilson Matta & Brazilian Voyage – 70th Birthday Celebration, the Houston  Person Quartet, the Fred Hersch Trio, the Bob James Trio, and Vincent Herring Quintet Featuring     Jeremy Pelt – Tribute to Freddie Hubbard. For more information about events at Jazz Forum, go to: www.jazzforumarts.org