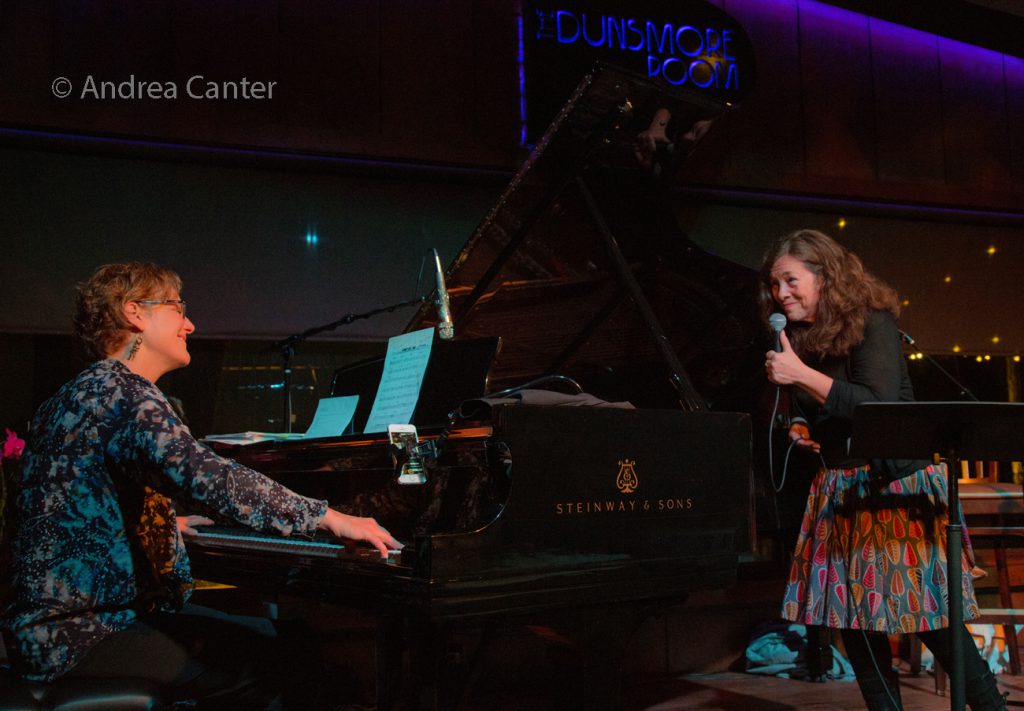 © Andrea Canter
[Note: New posts monthly with updates weekly. Post updated 3-30-18]
March kicks off with Delfeayo Marsalis at the Dakota, where this month also brings Monk Competition and Grammy winning vocalist Cecile McLorin Salvant and a four-night 80th birthday bash with Charles Lloyd; Walker Art Center hosts a "Sonic Universe" of artists connected to the AACM, organized by Douglas Ewart; JazzMN Orchestra performs commissioned works; the Dunsmore Room hosts a local ensemble of Brazilian music masters; Vieux Carre' brings Claudia Villela with Kenny Werner as well as Monk Saxophone competition winner Melissa Aldana; and other favorites perform on ongoing series at Jazz Central and the Black Dog.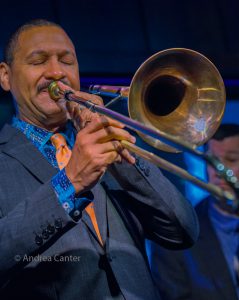 Thursday, March 1. Delfeayo Marsalis returns to the Dakota, this time with his Uptown Jazz Orchestra saluting his home town of New Orleans. At Vieux-Carre', pianist Ted Godbout launches the evening, followed by vocalist Maud Hixson.
Friday-Saturday, March 2-3. UW-River Falls presents back-to-back concerts on campus with special guest Sam Newsome, one of the top purveyors of modern reed jazz. Friday night in the Falcon's Nest at University Center, Newsome tangles with the talents of the UWRF Jazz Faculty. Saturday in the Abbot Concert Hall (Kleinpell Fine Arts Building), Newsome performs with the student jazz ensemble directed by David Milne. All free!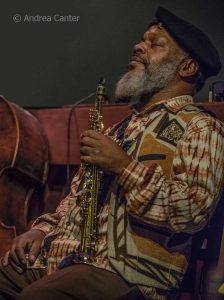 Saturday, March 3. In the McGuire Theater at the Walker, it's the world premiere of a new "all-star lineup of master jazz innovators:  visionary trumpeter/composer Wadada Leo Smith, a transformative figure in jazz; powerhouse saxophonist/composer Roscoe Mitchell, a founding member of the Art Ensemble of Chicago; Hamid Drake, one of the great drummers working in jazz and global music today; Oliver Lake, longtime member of the World Saxophone Quartet; bassist Anthony Cox, one of Minnesota's most in-demand musicians for years; and composer/flutist/saxophonist (and metro resident) Douglas Ewart, who helped bring these master musicians together."
At the Black Dog, a student ensemble from Carleton College, directed by Zacc Harris ("Unstablemates") warms up the stage for Zacc's  American Reverie, featuring  the leader on guitar, Matt Peterson on bass and Lars-Erik Larson on drums.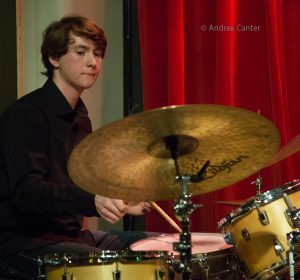 Monday, March 5. Young drummer Carter Pearson (just a high school junior) heads a quartet of older (if youngish) veterans at Jazz Central–Omar AbdulKarim on trumpet, Javi Santiago on piano, and Graydon Peterson on bass.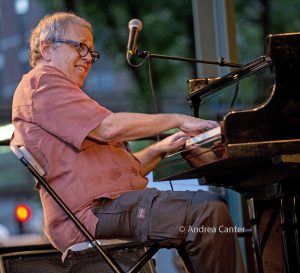 Tuesday, March 6. Among pianists in the 21st century, few are as respected as both performers and teachers as Kenny Werner. Tonight he's on stage at Vieux Carre' with acclaimed Brazilian vocalist Claudia Villela. Large ensembles are also in the spotlight tonight, as the Acme Jazz Company with Arne Fogel holds their monthly bash at Crooner's Lounge, while Bill Simenson's Orchestra similarly plays their monthly gig at Jazz Central.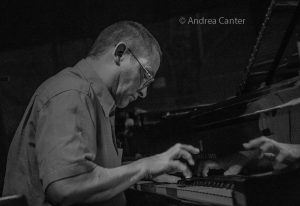 Wednesday, March 7. Something for everyone attuned to modern jazz tonight: At the Dakota, Grammy-winning vocalist Cecile McLorin Salvant returns with her unique interpretations of jazz from every era; in the Dunsmore Room, piano genie Bill Carrothers is back with Red Planet (Dean Magraw, Chris Bates, Jay Epstein); and at Jazz Central, piano genie-in-the-making Patrick Adkins fields a strong quartet for New Music night at Jazz Central.
Thursday, March 8. More Brazilian vocals: In the Dunsmore Room, it's a reunion of "Alma Brasileira"–vocalist Lucia Newell, guitarist Joan Griffith, and recorder specialist Clea Galhano, with support from bassist Gordy Johnson.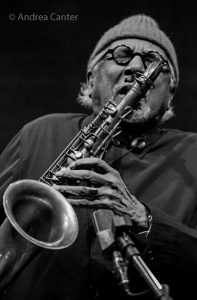 Thursday-Sunday, March 8-11. A long-time favorite at the Dakota, saxophonist/flautist Charles Lloyd celebrates #80 with four nights, three configurations. Thursday night, it's a reunion of the Sangam trio–Lloyd with tabla master Zakir Hussein and drummer Eric Harland; Friday and Saturday is a unique collaboration with Lloyd joining forces with guitar legend Bill Frisell and pop vocalist Lucinda Williams. The finale on Sunday night brings back Lloyd's touring "new" quartet with Harland, Jason Moran, and Reuben Rogers.
Friday, March 9.  The Illicit Jazz Workshop helps launch a new project, the Wall Smashers Organ Trio featuring Steven Hobert on organ.
Saturday, March 10. Modern hard bop gets its due at Boom Island Brewing when the Minnesota Hard Bop Collective presents the music of Steve Davis, Eric Alexander, Joshua Redman and Peter Bernstein. Tonight's ensemble includes Jeff Rinear (trombone), Cole Mahlum (guitar), Javier Santiago (piano), Graydon Peterson (bass) and Jesse Simon (drums).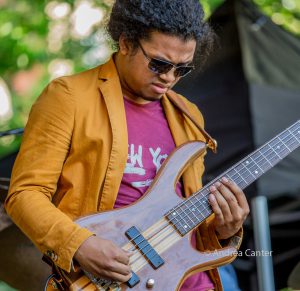 At the Black Dog, Dave Graf, Peter Vircks,  Josh Granowski and Rick Nair play an opening set as the new "Three Faces", followed by a band of young monsters led by bassist Jax Ravel. His cohorts include Nelson Devereaux on saxes, Joe Strachen on piano, and Miguel Hurtado on drums.
JazzMN Orchestra performs a unique concert at Hopkins High School as the band performs commissioned works by nationally acclaimed jazz composers David Berger (Lincoln Center Jazz Orchestra), Michael Philip Mossman (sideman with Dizzy Gillespie, Art Blakey, Michel Camilo and Mario Bauza), John Wasson (Stan Kenton, Woody Herman), and others. This project, in collaboration with Dr. Rich MacDonald of Winona State University, will result in compositions published for bands across the nation.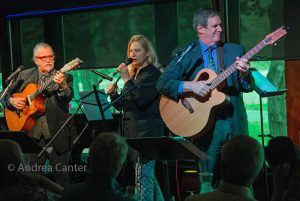 Sunday, March 11. Since reuniting about two years ago, Rio Nido has performed a number of times at the Dakota, Vieux Carre' and Dunsmore Room. Prudence Johnson, Tom Lieberman, and Tim Sparks entertain with their signature takes on classic jazz and swing, as vibrant today as in their early days on the West Bank.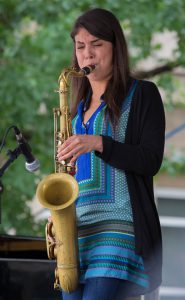 Tuesday, March 13. It might as well be dubbed the Twin Cities One-Day Jazz Festival. Some of the best of national touring artists as well as top local performers will make it a tough night of decisions for area jazz fans: At Vieux Carre', Monk Competition-winning saxophonist Melissa Aldana takes the bandstand, a few years since headlining the Twin Cities Jazz Festival. Local stars Maud Hixson and Rick Carlson return to the Dunsmore Room with "Moon River and Mercer." The Cedar Avenue Big Band holds their monthly gig at Jazz Central. And in the first of a two-night stand, acclaimed vocalist and South High alum Jose' James returns to the Dakota to honor Bill Withers, and backed by a stellar band–  Brad Allen Williams, guitar; Sullivan Fortner, keys; Ben Williams, bass; and Nate Smith, drums.
Wednesday, March  14. Sometimes three Cs is a good report card! Tonight at Jazz Central, bassist Chris Bates joins forces with guitarist  Chris Graham and drummer Cory Healey as the CCC Trio.
Thursday, March 15. Khyber Pass Cafe's avant garde music continues every Thursday night, and tonight the spotlight falls on Blood Quantum  with Eric Fratzke (Zebulon Pike, Happy Apple), bass and Tim Glenn (Pentacene, Squid Fist), drums. Blood Quantum is "fractal doom for strings and percussion, dissecting simultaneities within drone grids and folkloric electronics."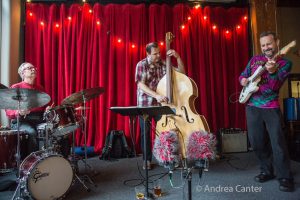 Monday, March 19. Red Planet (Dean Magraw, Chris Bates, Jay Epstein) make their monthly orbit around the Black Dog, with their inventive brand of mayhem. At Jazz Central, trombonist Nick Syman leads a quartet with Ted Godbout, Ted Olsen and Mac Santiago. JT's Jazz Implosion hosts a duo double header tonight, starting off with Brandon Wozniak and Joey Van Phillips, followed by the (Josh) Harlow/(Joe) Suihkonen Duo. Homecoming for Joe who studied jazz trumpet at Oberlin after graduating from South High. Their style? Where free jazz intersects with acoustic noise!
Tuesday, March 20. Big Band Night at Jazz Central features the monthly blowout with the Explosion Big Band, led by Doug Haining and Scott Agster. At Vieux Carre', Chris Lomheim leads off with solo piano magic, followed by "jazz for people who don't like jazz," aka Fuzzy Math.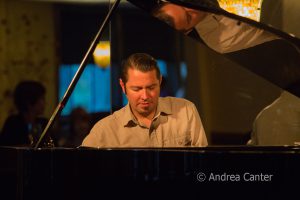 Tuesday-Wednesday, March 20-21. They had so much fun last month, they are back! Connie Evingson with Tanner Taylor, Dave Karr and Gordy Johnson return to the Dunsmore Room, this time celebrating Gershwin via the Ella Fitzgerald Songbooks. After a long absence from the local scene, it's cool to have Iowa-based Tanner again on keys.
Wednesday, March 21. New music night at Jazz Central features saxophonist Clay Pufahl and a trio with Ted Olsen on bass and Joey VanPhillips on drums.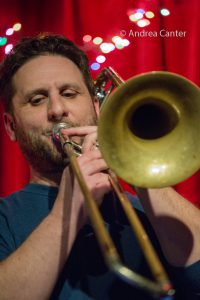 Thursday, March 22. Khyber Pass Cafe continues its weekly focus on the far side of modern jazz with JC Sanford's Triocracy.  JC launched this trio back in Boston and continued the music through his 16 years in New York, and now that he has relocated to the Twin Cities, he's found compatible partners in Brandon Wozniak (sax) and Bruce Thornton (reeds).
Friday, March 23. The Illicit Jazz Workshop continues at Jazz Central, this week featuring Acoustic Concussion in the headline slot–Brad Holden (sax), Joe Strachan (piano), Chris Bates (bass), and Lars-Erik Larson (drums). Stick around as the late set features some young lions in the band Shells–Kevin Tim (sax), Brandon Xue (piano), Tyler Wagner (bass) and Simon Petrick (drums).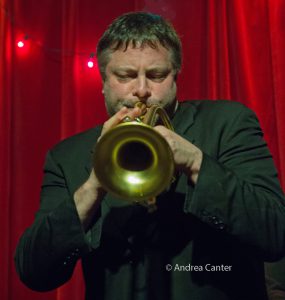 Saturday, March 24. It's not just Saturday Night Jazz at the Black Dog, it's the 200th consecutive Saturday Night Jazz at the Black Dog! And who better to lead the celebration than curator/trumpet master Steve Kenny, headlining with his quintet featuring a cross-generational list of local stars– Aaron Hedenstrom on saxes, Levi Schwartzberg on vibes, Charlie Lincoln on bass, and Babatunde Lea on drums. The opening set also offers some hefty talents– "Smashing Carp" is Noah Ophoven-Baldwin on trumpet, George Cartwright on saxes, Michelle Kinney on cello, Davu Seru on drums and Joe Horton on vocals.
Monday, March 26. Three of the area's most reliably smoldering young musicians converge as Generic Vibes, led by Levi Schwartzberg who is anything but generic. He's joined by bassist Drew Stinson and drummer Alex Burgess.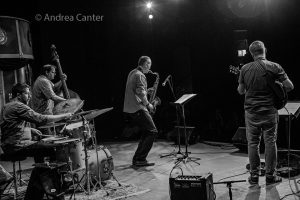 Tuesday, March 27. They've played just about everywhere so it's time for the Atlantis Quartet (Zacc Harris, Brandon Wozniak, Chris Bates, Pete Hennig) to play in the Dunsmore Room at Crooner's. Even without a piano, the ensemble will fill the listening space with its inventive original compositions, and we'll be able to hear every nuance.
Wednesday, March 28. One of the most interesting, original artists in jazz, Patricia Barber returns to the Dakota. Her voice will haunt you, her piano will intrigue you, and her original lyrics will tickle your brain.
Thursday, March 29.  Since relocating to Northfield from New York two years ago, trombonist/composer JC Sanford has been growing his reputation locally, in part thanks to the success of his JC4 (Zacc Harris, Chris Bates, Pete Hennig). And it was very cool to see JC's name on the ballot for a couple categories in the 2018 Downbeat Critics Poll! Catch the quartet tonight at Vieux Carre'.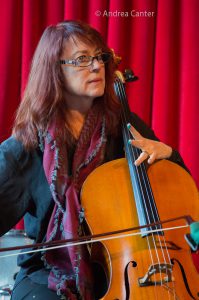 Friday, March 30.  The Illicit Jazz Workshop at Jazz Central hosts a new ensemble led by cellist Michelle Kinney– What We Have Here. And what we have here are some of the area's most inventive improvisers– Kinney, Pat O'Keefe, Noah Ophoven-Baldwin, Laura Harada, Greg Schutte and Adam Zahler.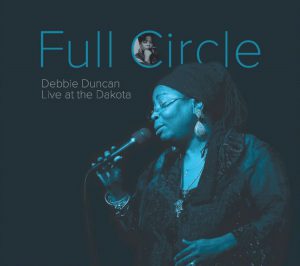 Friday-Saturday March 30-31. The first "live at the Dakota" recording was made over 25 years ago by our "First Lady of Song" Debbie Duncan. Now she's come "Full Circle" — the title of her new CD, recorded live at the Dakota last August. This weekend, celebrate this long-awaited release with Debbie and her usual partners–pianist Adi Yeshaya (also arranger and producer) and bassist Jay Young, along with Jake Baldwin on trumpet, Aaron Hedenstrom on saxes, Nathan Norman on drums, and Darryl Boudreaux on percussion.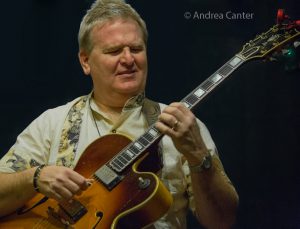 Saturday, March 31. Guitar hero Joel Shapira brings two projects to the Black Dog: The opening set features his long-standing duo with vocalist Charmin Michelle expanded to a "Charmin and Shapira Quartet" with Tom Lewis and Phil Hey. Lewis and Hey stick around for the prime time sets with Shapira and Pete Whitman.
Sunday, April 1. Connie Evingson's "Jazz at the Jungle" returns with "Blue Skies: Songs of Spring", featuring her usual cohorts Jon Weber on piano, Gordy Johnson on bass, and Dave Karr on sax, two shows at the Jungle Theater.  At the Aster Cafe', pianist/vocalist Larry McDonough reprises his "You Must Believe in Spring" show (celebrating the Bill Evans/Tony Bennett recordings) with his quartet.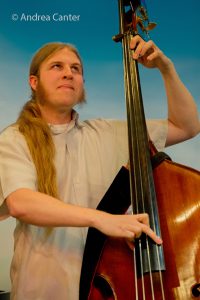 April 4-8. Brian Courage will be back in town briefly and has already lined up four gigs: a quartet on 4/4 at Vieux Carre' with Chris Thomson, Park Evans and Jay Epstein); a solo opening set at Khyber Pass on 4/5; a reunion of Courageous Endeavors (with Nelson Devereaux, Joe Strachan and Miguel Hurtado) at the Black Dog on 4/7; and a reunion of the original Mountain King bass trio with Graydon Peterson and Jeremy Boettcher at Jazz Central on 4/8.
Coming Soon!
. March 30, Michelle Kinney's What We Have Here at Jazz Central
. March 30, Chris Olson at the Icehouse
. March 30, Choro Borealis at the Black Dog
. March 30-31, Debbie Duncan CD Release ("Full Circle") at the Dakota
. March 31, Joel Shapira Quartet/Charmin & Shapira Quartet at the Black Dog
. March 31, Zacc Harris and Chris Bates at the Icehouse
. March 31, Caprice Saxophone Quartet/Graydon Peterson Quintet at Studio Z
. April 1, Natania and Ticket to Brasil at the Icehouse
. April 1, Larry McDonough Quartet "You Must Believe in Spring" at the Aster Cafe'
. April 1, Connie Evingson "Blue Skies– Songs of Spring",  with Jon Weber, Gordy Johnson and Dave Karr, Jazz at the Jungle (Theater)
. April 2, Peter Schimke Trio at Jazz Central
. April 2, Le Voyage at the Icehouse
. April 3, Sam Miltich and Briand Morrison Jazz Guitar Duo at the Icehouse
. April 3, Bill Simenson Orchestra at Jazz Central
. April 4, Dennis Spears at the Dakota
. April 4, Claudia Schmidt and Laura Caviani in the Dunsmore Room at Crooners Lounge
. April 4, Brian Courage Quartet at Vieux Carre'
. April 4, Noah Ophoven-Baldwin Duo with Michelle Kinney at Jazz Central
. April 5, Brian Courage (solo)/Pool Party Round 6 at Khyber Pass
. April 5, Jana Nyberg Group at Jazz Central
. April 6, Donnie Norton Quartet at Jazz Central
. April 6-7, University of MN Morris Jazz Festival
. April 7, Jazz Mn Orchestra with Bill Evans at Hopkins High School Auditorium
. April 7, Carter Pearson Quartet/Courageous Endeavors (original edition with Brian Courage!) at the Black Dog
. April 7, Chino Latino Jazz Project at Jazz Central
. April 8, Emmet Cohen with Tootie Heath in the Dunsmore Room at Crooners Lounge
. April 8, Mountain King (original edition with Brian Courage!) at Jazz Central
. April 9, Ben Link at Jazz Central
. April 10, Kavita Shah and Francois Moutin at Vieux Carre'
. April 10, Cedar Avenue Big Band at Jazz Central
. April 11, Corky Siegel and Randy Sabien in the Dunsmore Room at Crooners Lounge
. April 13, Jazz in the Target Atrium "First Instrument" (Atrium Jazz Ensemble with Bruce Henry) at Orchestra Hall
. April 13, Chris Bates' Good Vibes Trio at Jazz Central
. April 13, Nachito Herrera (solo) at the Dakota
. April 14, Mary Louise Knutson Trio, Jazz @ St Barneys at St Barnabas Lutheran Church
. April 14, Dakota Combo/Firebell CD Release at the Black Dog
. April 15, MacJazz Spring Concert (directed by Joan Griffith) in Mairs Concert Hall, Janet Wallace Fine Arts Center, Macalester College
. April 15, Larry Ochs/Dave Rempis/Darren Johnston at Jazz Central
. April 16, Abdullah Ibrihim at the Dakota
. April 16, Dave Brattain at Jazz Central
. April 17, Explosion Big Band at Jazz Central
. April 17, Andrew Green Notet CD Release at the Icehouse
. April 19, Adam Larson Quartet at Jazz Central
. April 20, Cory Healey's Beautiful Sunshine Band at Jazz Central
. April 21, Adam Meckler Orchestra with Rex Richardson at Vieux Carre'
. April 21, Amethyst 3/Chris Bates' Red 5 at the Black Dog
. April 23, Jen Shyu/JT Bates at the Icehouse
. April 24, John Scofield/Joe Lovano Quartet at Hopkins Center for Arts
. April 25, Christian Sands at Vieux Carre'
. April 26, Le Voyage at Khyber Pass
. April 27, No Room for Squares at Jazz Central
. April 28, Chronic Icecream/Graydon Peterson Quartet at the Black Dog
. April 29, Nick Syman's Northing at Cadenza Music Studio 20
. April 29, Soul Cafe' in the Gallery, Hennepin Avenue Methodist Church
. April 30, Pops and Jazz Ensembles Concert (directed by Pete Hennig), Mairs Concert Hall, Janet Wallace Fine Arts Center, Macalester College
. May 1, Eliane Elias at the Dakota
. May 2, Corky Siegel and Howard Levy at the Dakota
. May 2, Ellen Lease-Pat Moriarty-Davu Seru Trio at Jazz Central
. May 3, Keiko Matsui at the Dakota
. May 4, Dean Sorenson Sextet at Jazz Central
. May 5, Jon Batiste Solo at the Varsity Theater
. May 6-7, Nellie McKay at the Dakota
. May 14, Arturo Sandoval at the Dakota
. May 15, Lynne Arriale Trio in the Dunsmore Room at Crooners Lounge
. May 15-16, Terence Blanchard E-Collective at the Dakota
. May 16, John Raymond's Real Feels at Vieux Carre'
. May 18, Jason Moran and Bandwagon at the Walker Art Center
. May 19-20, Freddy Cole in the Dunsmore Room at Crooners Lounge
. May 22, Maud Hixson and the Wolverines in the Dunsmore Room at Crooners Lounge
. May 31-June 1, Vijay Iyer and Teju Cole at the Walker Art Center
. June 12, Diana Krall at Ordway
. June 12, Go-Go Penguin at the Dakota
. June 13-16, Bobby McFerrin at the Dakota
. June 22-23, Twin Cities Jazz Festival at Mears Park
. June 28, Vinicius Cantauria at the Dakota
. June 29-July 1, Iowa City Jazz Festival
. July 24, John Pizzarelli at the Dakota
. October 24, Karrin Allyson at the Dakota