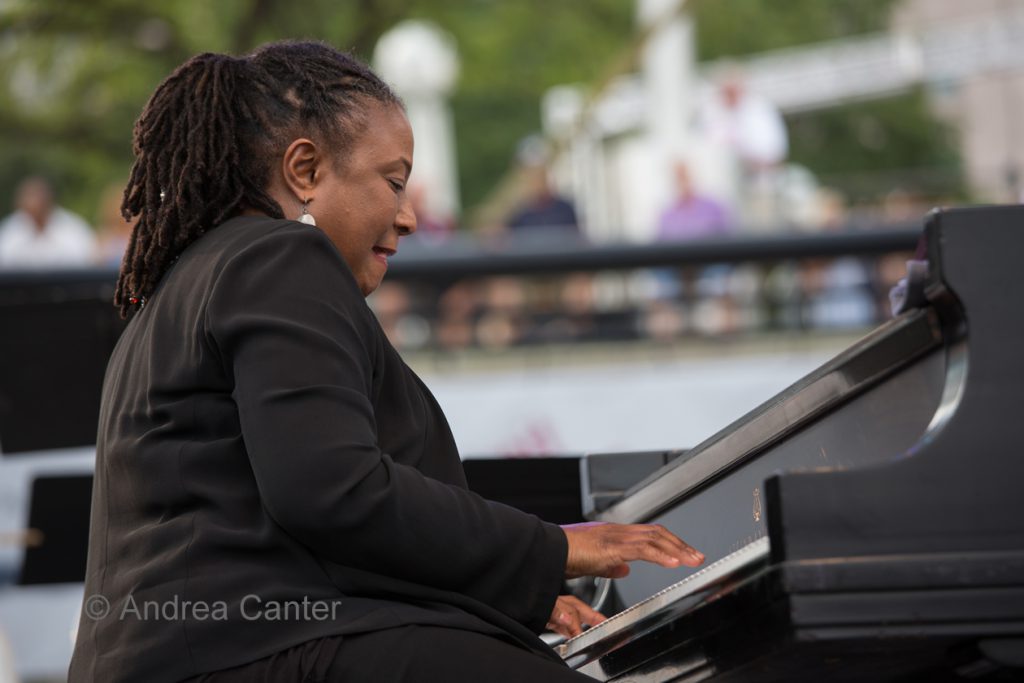 © Andrea Canter
"One of the most brilliant, creative artists of our time…" – Christian McBride
"Perhaps more than any other pianist, Ms. Allen's style — harmonically refracted and rhythmically complex, but laden with inertia — formed a bridge between jazz's halcyon midcentury period and its stylistically diffuse present." — Giovanni Russonelo, The New York Times
"Her brand of pianism, assertive and soulful, has long suggested a golden mean of major postwar styles. She just as easily deploys the slipstream whimsy of Herbie Hancock, the earthy sweep of McCoy Tyner and the swarming agitation of Cecil Taylor." –Nate Chinen, The New York Times
"Music at its most evolved transcends language, culture, genre and even time itself." –Geri Allen
One of the unique and most creative voices of her generation of musicians, pianist Geri Allen, 60, passed away today in Philadelphia following a battle with breast cancer. Defying classification while staying true to her roots in Detroit's hard bop culture, Allen was widely influential as a jazz pianist, composer and educator. Among her most notable collaborators were Ornette Coleman, Oliver Lake, Steve Coleman, Charles Lloyd, Ralph Peterson, Charlie Haden and Paul Motian. More recently she enjoyed partnerships and new harmonic directions with Terri Lyne Carrington, Esperanza Spalding, and David Murray. As an esteemed educator, Geri taught at Howard University, New England Conservatory, and the University of Michigan; at the time of her death she was Director of Jazz Studies at the University of Pittsburgh.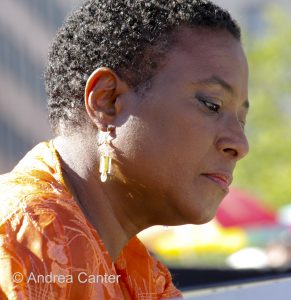 A product of the great jazz tradition of Detroit, Geri Allen began piano studies at age 7 and attended the famed Cass Technical High School. She became a protege of the late Marcus Belgrave and went on to earn a degree in Jazz Studies at Howard University in Washington, DC (where she met husband, trumpeter Wallace Roney), a master's degree in Ethnomusicology at the University of Pittsburgh, and also studied jazz piano in New York with the great Kenny Barron. In the 1980s she was a member of the M-Base Collective; in the early 90s she worked with Ornette Coleman. She released a series of acclaimed recordings as leader (including Life of a Song with Dave Holland and Jack DeJohnette, Zodiac Suite Revisited with the Mary Lou Williams Collective, and Timeless Portraits and Dreams) while teaching at Howard University. In 1996 she became the first woman and youngest person to be awarded the Jazzpar Prize in Denmark, the only international jazz award.
As a composer, Geri Allen received numerous awards and commissions, including her "For the Healing of Nations," commissioned by the  Walt Whitman Arts Center and Meet The Composer, a sacred jazz work composed in tribute to the victims and survivors of the 9/11 tragedy that premiered in 2006. Allen was awarded a Guggenheim Fellowship in 2008, and she was the first recipient of the Soul Train, Lady of Soul Award for Jazz. In 2011 she was nominated for an NAACP Award for her recording Timeline/Tap Quartet Project. Allen received the Howard University Pinnacle Award, and in 2014 received an Honorary Doctorate of Music degree from the Berklee College of Music as well as the 2014 Congressional Black Caucus Foundation Jazz Legacy Award.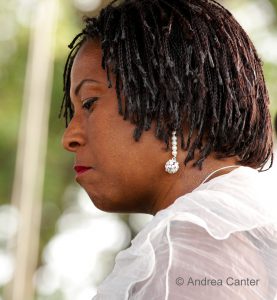 Geri had most recently served as the first Artistic Director for the Carr Center, a Detroit arts organization known for its arts education program and championing African-American art, culture and music. Her final Detroit performance was in April at the Carr Center. As Artistic Director, Allen set the tone for both creative programming and arts education at the Carr, working with established talent and students alike. Oliver Ragsdale Jr., President of the Carr Center, described Allen as "warm, intellectual, someone you could talk to and smile with…A way of thinking about Geri is as a renaissance woman. She spanned generations with her music. She was a role model to many."
In addition to a long list of recordings, Geri Allen was involved in a number of innovative projects and commissions. In 2013, the New Jersey Symphony Orchestra commissioned her to compose new works for the 50th Anniversary celebration of Dr. Martin Luther King's iconic "I Have a Dream" speech. She composed "Stones & Streams," a work for orchestra, chorus, piano and narrator.  As the Musical Director of the Mary Lou Williams Collective, Allen recorded and performed the music of the great Mary Lou Williams, including her sacred work, "Mass For Peace." Allen collaborated with S. Epatha Merkerson and Farah Jasmin Griffin on two music theatre projects, Great Apollo Women, which premiered at the legendary Apollo Theatre, and A Conversation with Mary Lou, which premiered at the Harlem Stage as an educational component for the Harlem Stage collaboration. The University of Pittsburgh hosted the first ever Mary Lou Williams Cyber Symposium where ViJay Iyer, Jason Moran, and Allen performed a three-piano improvisation from Harvard, Columbia, and the University of Pittsburgh in real time using Internet 2 technology.
Allen's extensive discography launched with the support of Minnesota's internationally acclaimed bassist Anthony Cox, who appeared with drummer Andrew Cyrille on Geri's 1984 release, The Printmakers. She soon followed with a series of albums led by Steve Coleman (M-Base), including Motherland Pulse (1985) and additional albums with Coleman's Five Elements. In 1986 she released her own Open On All Sides in the Middle, with an electro-acoustic band including Coleman, Marcus Belgrave and Robin Eubanks. She then recorded a series of trio albums, including releases with Charlie Haden and Paul Motian (Segments, 1989; In the Year of the Dragon, 1989; Live at the Village Vanguard, 1991), with Ron Carter and Tony Williams (Twenty-One, 1994), and with Dave Holland and Jack DeJohnette (The Life of a Song, 2004). "In each setting, Allen proved more than a virtuoso able to marshal the greatest rhythm sections; she was a musical partner with prodigious ears, motivated by the percussive energy of the avant-garde, the elusive unified spark of straight-ahead swing, and the expressive truth of piano balladry" (David Adler, WGBO).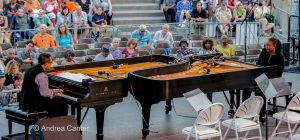 In 1996, Geri recorded the albums Sound Museum: Hidden Man and Sound Museum: Three Women with Ornette Coleman, the first time in nearly 40 years that an acoustic pianist had recorded with Ornette. More recent releases included her first solo album (recorded in Europe), Some Aspects of Water (1997),  The Gathering (1998), Zodiac Suite: Revisited (2006), Timeless Portraits and Dreams (2006), Geri Allen and Timeline Live (2010), her solo recording, Flying Toward the Sound (2010), and her holiday album, A Child Is Born (2011). She appeared on Terri Lyne Carrington's acclaimed Mosaic Project (2011), and most recently with Carrington and David Murray as the Power Trio on Perfection (2017).
At the time of her death, Allen's performance schedule was filled with gigs honoring McCoy Tyner; with a trio with Esperanza Spalding and Teri Lyne Carrington; and with Wayne Shorter, scheduled for the 2017 Detroit Jazz Festival.
On a personal note, Geri Allen was part of my "rebirth" as a fan of jazz in my early 50s, following my introduction in my teens to the music of Al Hirt and Pete Fountain, in my early 20s to the music of Keith Jarrett, in my early 40s to the music of Oscar Peterson and Marian McPartland, and as the millennium turned, reaching the music of Fred Hersch and Geri Allen. In the Twin Cities, I saw her perform only once, at Macalester College during residency with her trio (Kenny Davis and Kassa Overall) in 2010. But I did hear her several times in the context of jazz festivals, particularly in her native Detroit where she appeared with her trio and most recently, in 2013 when she played a two-piano duo with Danilo Perez.
She was never less than impressive and dignified and elegant, in the way she approached the piano, the audience, her collaborators. And when she touched the piano, it became a new instrument.