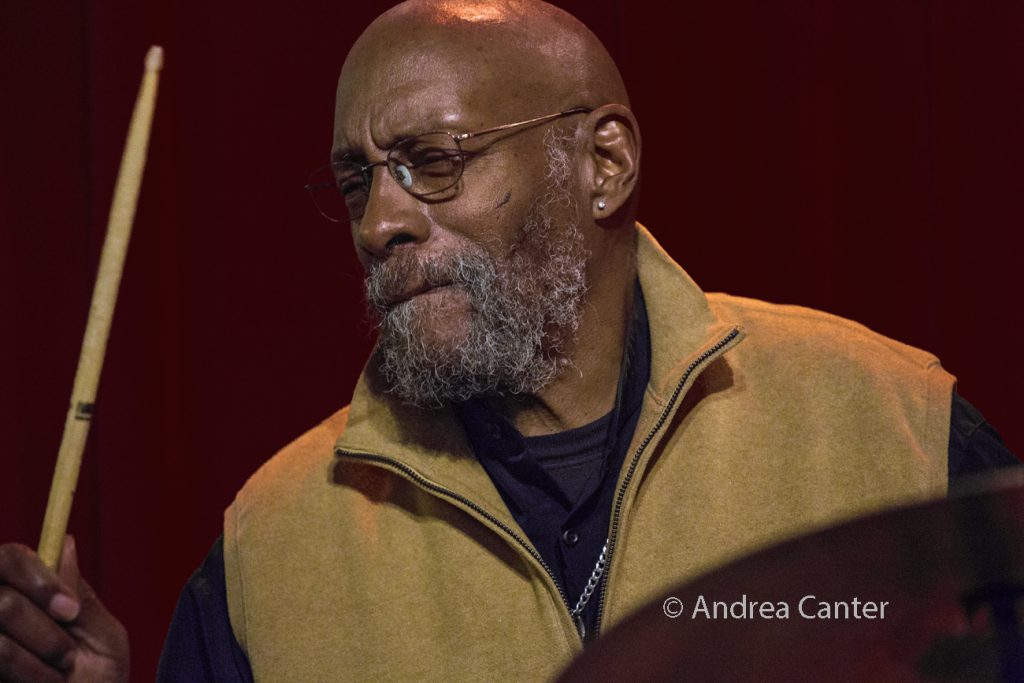 © Andrea Canter
Former Weather Report drummer Eric Kamau Gravatt was already a legend in the 70s, and has enjoyed a resurgence of his career over the past 15 years, particularly as leader of Source Code. Headlining the Saturday Night Jazz at the Black Dog series on May 6, Gravatt's ensemble includes veterans Dean Magraw on guitar, Dave Graf on trombone, and Ron Evaniuk on bass, along with rising star Solomon Parham on trumpet. The opening set will feature a Rochester-based quartet, The D'Sievers.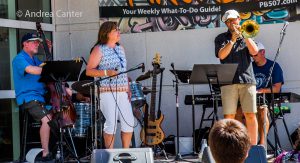 The D'Sievers (7 pm)
The D'Sievers is a jazz quartet based in Rochester, MN, with John Sievers (trombone), Remi Moulder (guitar), Steve Sawyer (bass), and Garrett Kolb (drums). They've released a live CD, Trombots and Mermaids (2015) and perform regularly at southeast Minnesota venues including The Half Barrel. They also host a regular jazz jam at the Rochester Civic Theatre. Bryan Lund, from The Rochester Post Bulletin, describes the band as "seducing audiences with trombone-fueled jazz" that consists of "some ripping tunes." Megan Kennedy from KROC-FM described Trombots and Mermaids as putting a "stamp on Rochester's musical map. The band was one of the headline acts at the new Rochester City Jazz Festival in summer 2016.
Eric Gravatt and Source Code (8:30 pm)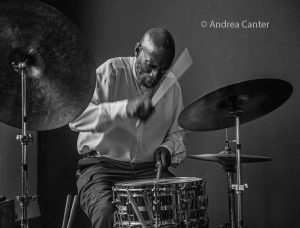 An alum of the bands of McCoy Tyner, Joe Henderson, Freddie Hubbard and Blue Mitchell as well as Weather Report, Eric Kamau Gravatt essentially has had two careers in jazz with a couple decades of separation. Like John Coltrane and long-time associate McCoy Tyner, he is a native of Philadelphia. Originally a conga player, Gravatt taught percussion and music in Philadelphia and Washington, DC in the 1960s. Miles Davis invited him to join his band, but Gravatt turned down the Prince of Darkness to follow Wayne Shorter into Weather Report, with whom he toured and recorded. But Gravatt's sound was not exactly what WR founder Joe Zawinul had in mind, and after a while Gravatt was replaced in favor of a more "bottom heavy" drummer. He moved on to the fusion band Natural Life (with Bobby Peterson and Bob Rockwell), a move that brought him to the Twin Cities some 30 years ago. Demands of family and a desire for financial stability took Gravatt out of fulltime music and into fulltime work as a guard at the Minnesota Correctional Facility in Lino Lakes. "I had kids, and Corrections were the only thing being offered that paid that good, and they had (benefits) you couldn't get in jazz," Gravatt told the St. Paul Pioneer Press. Only after retiring from Lino Lakes did Gravatt return to his calling, touring again with McCoy Tyner, performing with his band, Source Code, and engaging in some more experimental improvisations with metro area musicians including Adam Linz, Brandon Wozniak, and, recently, Dean Magraw, with whom he released Fire on the Nile.
Source Code (from software lingo for a collection of instructions to generate the programs that run on our computers, PDAs, cell-phones and toasters) tackles the works of such titans as Coltrane and Jackie McLean—and Gravatt's band has the power to handle the repertoire.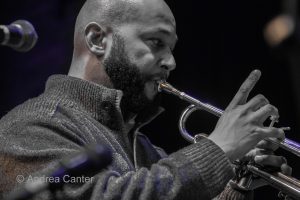 Trumpeter and educator Solomon Parham came to the Twin Cities from Detroit where he taught in public school and performed at Baker's Keyboard Lounge. He's also performed with Delfeayo Marsalis' Jazz for Kids, " Jazz and Jasmine Meets the Jazz Band," Wess Anderson, and at  the Twin Cities Jazz Festival, Artists Quarter, Dakota, Bedlam and Jazz Central. Currently, Solomon teaches in the St. Paul Schools and directs jazz ensembles at Walker West Music Academy. He also led Solomon's Sessions–performance and open jam– weekly at The Bedlam through last fall and earned his Master's Degree from McNally Smith last year.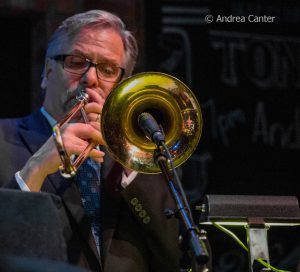 Dave Graf is one of the most versatile and talented trombonists in the Twin Cities. He's worked in diverse musical settings, including Dixieland, swing (Twin Cities Seven), modern mainstream jazz (Source Code, X-Tet), salsa (Salsa del Soul) and Brazilian music, big bands (JazzMN Orchestra, Cedar Avenue Big Band), trombone ensembles (Locally Damaging Winds, Valve Meets Slide), pit orchestras and recordings. He has performed with Dizzy Gillespie, Slide Hampton, Jack McDuff, the Toshiko Akiyoshi/Lew Tabackin Big Band, and the Woody Herman Orchestra, and has appeared on Prairie Home Companion and with the St. Paul Ragtime Orchestra, Mandala, and the Steve Wright Big Band. Dave had an eleven-year association with the late trumpeter Red Wolfe in his Port of Dixie Jazz Band and Ellington Echoes. In 2005 he released his debut recording as a leader, Just Like That (Artegra Records). One of his more recent collaborations has been as half of Valve Meets Slide, an ensemble with valve trombonist Brad Bellows. In addition to performing, Dave teaches, writes, arranges, and works as a graphic designer.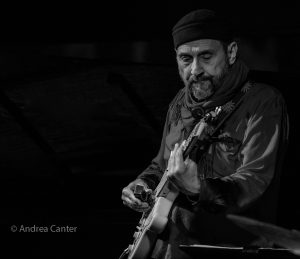 Dean Magraw is one of the Twin Cities' most eclectic musicians, with a thirty-year career spanning genres and cultures, from blues to classical to folk and jazz, from Japanese and Indian to Celtic and middle American. Dean has collaborated with many local artists at the Artists Quarter, Black Dog, Studio Z, Vieux Carré, Jazz Central and more, including Brandon Wozniak, Bryan Nichols, Billy Peterson, Peter Schimke, Kenny Horst, Butch Thompson, Steven Hobert and Eric Gravatt.  He's released a series of recordings spanning his musical universe, including a duo with tabla master Marcus Wise, How the Light Gets In. After first playing with Eric Gravatt as a sub in Source Code, Dean has become a regular member of the band, and also plays in a duo with Gravatt, which led to the release of their Fire on the Nile in 2014. He's recently performed in duos with pianists Steven Hobert and Butch Thompson.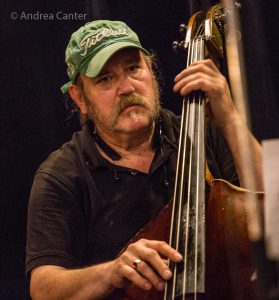 Bassist with the Americana Classic Jazz Orchestra (devoted to the big band music of the 20s and 30s), JazzMN Orchestra,  and leader of his own quartet, Ron Evaniuk recorded with Twin Cities trumpet legend Gene Adams and has played with George Avaloz, in addition to his long-standing work with Source Code.
Saturday Night Jazz at the Black Dog is curated by Steve Kenny. No cover but tips ($10 suggested) are appreciated to support the series and musicians. The Black Dog is located at 308 Prince Street, at E. 4th and Broadway in St Paul's Lowertown. Full Saturday schedule at www.saturdaynightjazzattheblackdog.edu