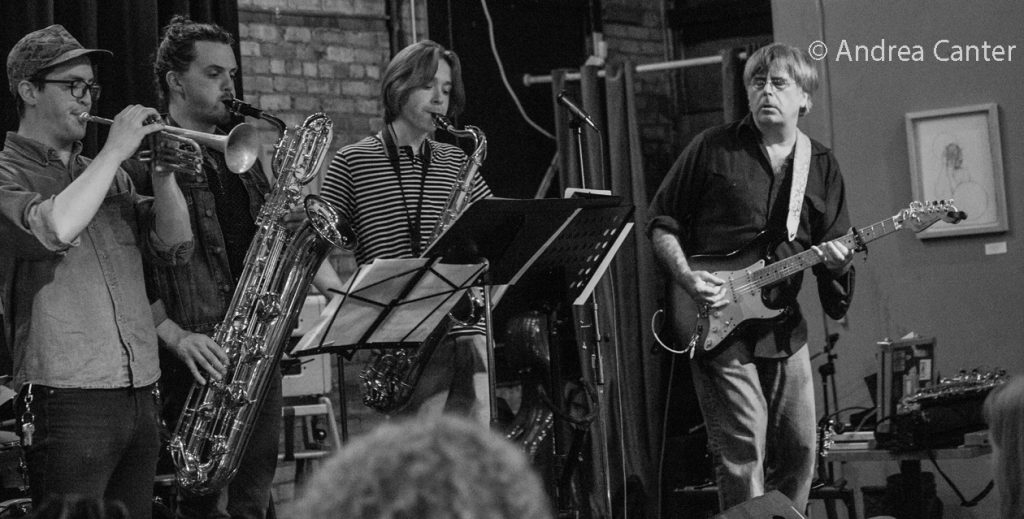 © Jon Morgan
One of the area's most inventive ensembles, Fall of the House of Usher, under the direction of Chris Cunningham, returns to Jazz Central Studios in Minneapolis on Friday, April 14, 8 pm.
Guitarist/composer Chris Cunningham has been a fixture on the Twin Cities creative music scene since arriving in 2002, having worked in numerous ensembles in a variety of styles running the gamut from electronic music, chamber music, solo guitar work, jazz, improvised music, or presenting multi-media performances for a variety of theatres commissions. Prior to relocating to the Midwest, the musically restless Cunningham played in a multitude of experimental, no-wave, art-rock and punk jazz bands on the New York City downtown scene for two decades, including working with the likes of John Zorn, the Lounge Lizards, the Contortions and the Golden Palominos.  Cunningham's primary project for the past few years has been the eleven-piece Fall of the House of Usher (FOTHOU), a band that invites Cunningham to explore new musical avenues while recalling earlier work in the composer's oeuvre. "The idea for FOTHOU came from listening back to recordings of my band Ecstatomitique," Cunningham explains, "which was a large group I had in New York City in the 90s that had several horns and used lots of polyrhythmic approaches. That group drew primarily from the pool of players I was working with in the Lounge Lizards and the Jazz Passengers at places like the Knitting Factory."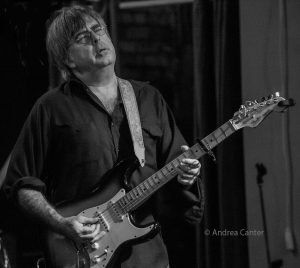 Despite a fairly saxophone-heavy lineup, the group's sound tends to favor a surprisingly buoyant groove that finds the horns interjecting knotty lines over an infectious rhythm, rather than opting for a monolithic onslaught of brash reeds. "I'm especially moved by Ethiopian music from the 70's," Cunningham mentions, "which had a very unique modal style that was very different from Mid African or Eastern African music of that era.  I also like to experiment with a sort of multi-pulse going on within my music and I try to create layers in the pulse that actually suggest another pulse entirely."
As a result of Cunningham's desire to widen the rhythmic possibilities, close listening reveals a an alternate groove bubbling beneath the shifting meters, which is no accident: "I'm interested in the rhythmic equivalent of a moiré pattern, and what can happen if you are placing one of those patterns on top of another to see where they overlap and how that creates new patterns that are a little different."  The music found on FOTHOU's two recordings is as varied as Cunningham's influences, resulting in an appealing brew that suggests hints of Sun Ra's Arkestra, Tony Allen, Hal Russell's NRG Ensemble and Fela Kuti, and yet, something entirely vibrant that is unique to this aggregation.  At times, the pieces are cinematic and atmospheric, with jittery guitar lines giving way to clouds of shifting reeds.  Other pieces focus on spoken word and poetry, and elsewhere there are snippets of contained noise and more jagged terrain. "The group has so many fine soloists that I try to make sure everyone has a chance to take solos, so within the eleven pieces on stage, there are always lots of opportunities to split into duos and trios, also to create shifting dynamics and not have everyone going at the same time."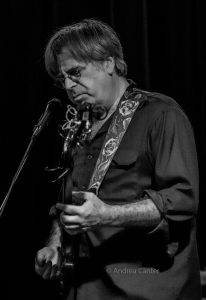 While Cunningham composes the majority of the pieces the band performs live, experience working within strategies for improvisational large ensembles such as Butch Morris' conductions or John Zorn's game pieces has influenced the composer's own methodologies for spontaneous embellishments: "In FOTHOU a lot of what we do is composed, but each night we do one piece called 'Ushering Time,' which is completely improvised, often with Adam Svec improvising lyrics, like freestyle rap with more melody and technique," Cunningham explains.  "While lots of the pieces are composed with plenty of double and triple solos, if someone in the band is inspired, they can lift their right hand for the entire band to take it out for as long as they want, but they are also responsible to bring it back to the tune when they feel it has runs its course."
Cunningham indicated that his current group also draws from several of the concepts of his other New York bands, with the benefit of a few decades of seasoning and perspective to hear it and present it through a new lens: "The other thing I'm really drawing from in FOTHOU was the No-Wave music that I was involved in, especially when I was with the band the Contortions in the early 80s. That sort of punk jazz was based on things like playing James Brown riffs incredibly fast with experimental and outside stuff playing over top of it."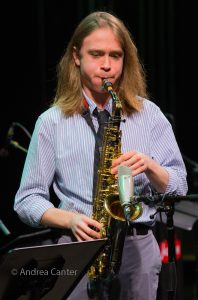 A long-time music teacher, currently a professor in the Sound Arts Department at the Minneapolis Community and Technical College, Cunningham clearly benefits as much from his work mentoring his students as they surely do from him. "Really I get so much inspiration from playing with young people. I especially enjoy it when in some cases they have no idea of what they are doing with the instrument yet, and you get to witness the discovery as they put it together." Cunningham's teaching has also put him in close contact with numerous excellent young musicians, many of whom he has invited to work with his groups. Being in such close proximity to creative young players also enables him to constantly scour the scenes for talent or unique new voices for projects or to expand his current lineup: "The line-up is often determined by the availability of the players, so it can shift from one performance to the next. FOTHOU has been going for at least four years now, and I'm always on the lookout for incredible horn players and have all sorts of ideas for how to use them. I want to do a John McLaughlin piece that used John Surman on baritone originally, but I want to use four baritones on it because I love dark, threatening, crunchy lower range sounds."
Even with a fairly fluid line-up that benefits from a wide array of musicians that Cunningham has crossed paths with in the past 15 years, his current group also enables him to work closely with his family, including cellist Michelle Kinney and his saxophone-playing son: "The most important part of FOTHOU is the chance it gives me to play with my son Ivan.  He is 17 and about to turn 18, and just a great inspiration for me.  He kicks my butt constantly. It is really important to not assume you know more than a younger musician."
In addition to his work with FOTHOU, Cunningham keeps himself fairly busy composing and envisioning other projects and mentioned he has been experimenting with using different technologies to help create compositional framework for other musicians. "I really like to do film score work and used to do a lot of multi-media type stuff, but the technical aspect of doing all those things live just takes time for setting up and paying attention to the logistics, so it just got to be too much," Cunningham admits. "Lately I've been more excited about using technology to create music for live players, such as creating a visual design and transporting that into sounds and arranging it for a specific performer or instrument."
On Friday night, Cunningham's Fall of the House of Usher will be playing a full evening of music at Jazz Central, which will also include collaborations with Syrian oud player Issam Rafea and special guest, keyboardist John Keston.
Jazz Central Studios is located at 407 Central Av SE in Minneapolis, http://jazzcentralstudios.org. Music at 8 pm, $10 donation requested. Jazz Central is a nonprofit venue for education and performance, hosting music at least five nights per week