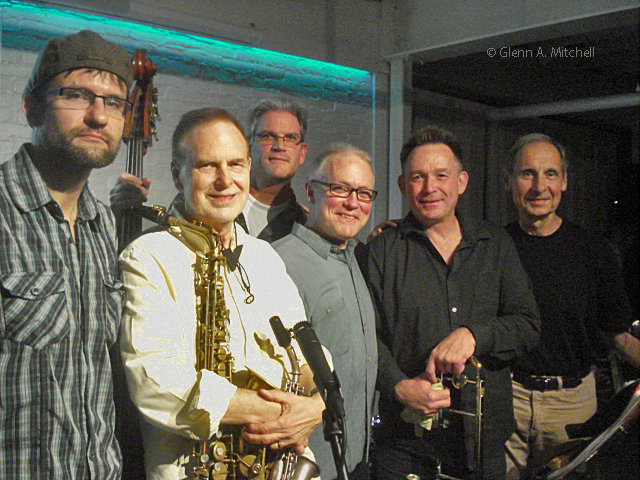 Kim Richmond, a very well-versed alto saxophonist, composer and bandleader, joined his longtime friend, trumpeter Clay Jenkins, for a sextet performance in Anaheim, CA at Cook's Chapel on November 17. Playing to a full audience inside the large old-time Packing House, Richmond and Jenkins assembled a superb ensemble with Joey Sellers (trombone), Daniel Szabo (piano), Trey Henry (bass) and Joe LaBarbera (drums). Their musical goal this night was to do a concert mostly from their newest CD, Inner Spirit, the fourth recording from this band.  Most of the pieces were composed by either Richmond or Jenkins and are quite unique and moving in many ways.
The biggest thing I noticed about this ensemble is the nature of their various tunes — their music has many twists and turns, both harmonically and melodically, but they always resolve each piece with an interesting ending.  It is not always easy to replicate music from a CD, but in all cases (for them) they reached higher levels in all their performing.  The band's cohesiveness made a lot of room for many excellent solos from everyone.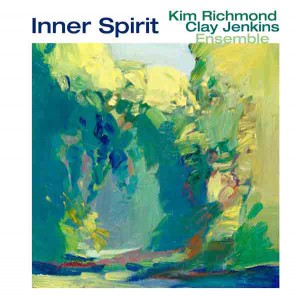 The sextet opened with a Richmond piece, "Spring Forth."  This number was very lively and had some great rhythmic patterns in its beginning.  Jenkins played some sterling solos.   The steady, nice riff throughout the number gave everyone opportunity to play great solos while the sextet backed them beautifully. Other inspiring tunes included "Inner Spirit" (Richmond); "Sense of Things" (Richmond) with special bass work by Henry; "Keira" (Jenkins), a pretty ballad; "You Don't Know What Love Is" (arranged by Richmond); and "Humpty Dumpty" (Chick Corea, arranged by Richmond), a winner!
One musician that I need to mention is their pianist, Daniel Szabo.  His playing is incredible!  He is an advanced graduate of USC and is a classical pianist now teaching at UCLA.  He also plays jazz voicings and chords unbelievably well.  Look for him in the future! 
Richmond announced most of the selections of this night's concert.  He made mention of the non-predictability of his and Jenkins' charts not having routine chord changes.  Very interesting.
Their second set included a groovy number, "Powers That Be" (Richmond) and "The Peacocks" (Jimmy Rowles, arranged by Richmond).  They closed this impressive show with "In Fine Line" (Jenkins), with stellar solos from Sellers and Richmond, and La Barbera's great drumming.
This full and appreciative audience gave the group a standing ovation at this show's conclusion.  See websites of Kim Richmond at www.kimrichmond.com and Clay Jenkins at www.clayjenkins.com .  A high listening jazz experience — recommended!
Edited and posted with permission from L.A. Jazz Scene, December 2016