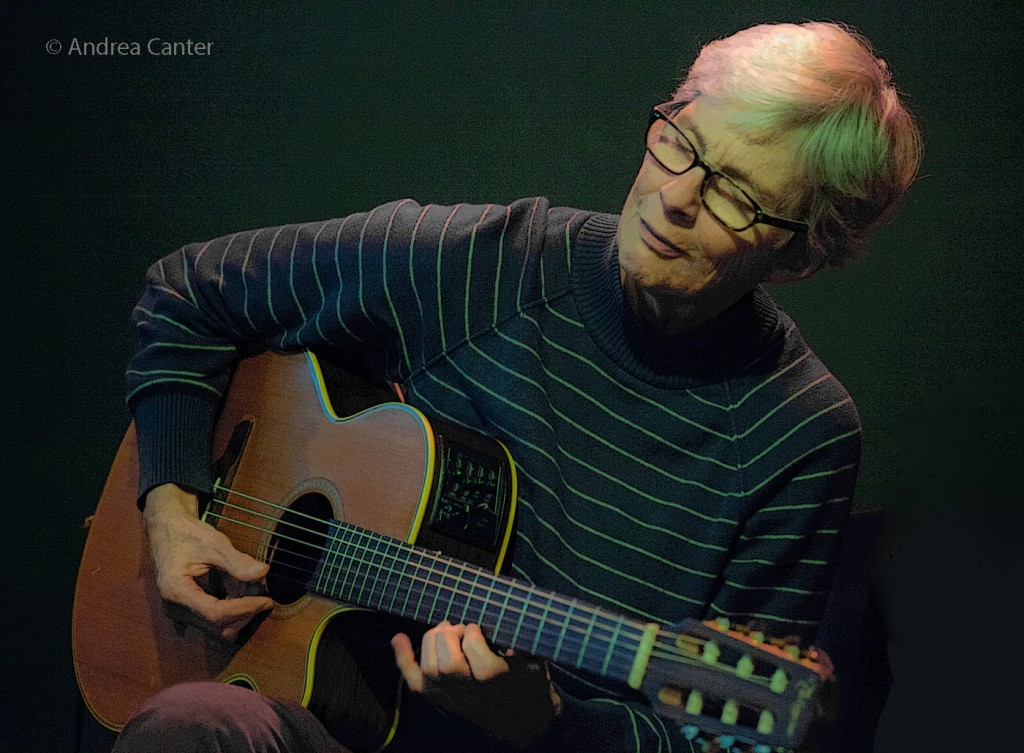 A long-time metro area favorite, guitarist/mandolinist/bassist and composer Joan Griffith brings and ensemble of friends to Jazz @ St. Barneys at St. Barnabas Lutheran Church in Plymouth, this Saturday, October 1 at 7 pm. With pianist Laura Caviani, drummer Dave Schmalenberger, and vocalist Prudence Johnson, this creative quartet will explore original compositions supporting the words of poet Edna St. Vincent Millay, a project launched about 5 years ago under the leadership of Prudence Johnson. For this concert, many selections reflect nature themes — as do the photographs of Joan Griffith that will be on display in the adjacent Gardenview Gallery of the St. Barnabas Art Center.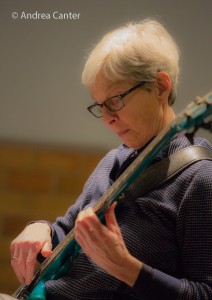 A noted teacher, composer and performer, Joan Griffith has toured and recorded as a classical and jazz guitarist, bassist and mandolinist. She started out on piano and moved on to ukulele and then guitar at age 11. A classical guitar major in college, she picked up the bass in order to form a rock band, switching from electric to upright later when living in Kansas City in order to participate more fully in the area jazz scene. Now head of the Jazz Studies Department at the University of St. Thomas, Joan is also a guitar and bass instructor at St. Catherine's University, director of the MacJazz Workshop at Macalester College, and a roster artist in jazz for COMPAS, the Minnesota State Arts Board and Young Audiences. She also appears frequently with the Minnesota Orchestra as a classical mandolinist. With Lucia Newell, Joan released Enter You, Enter Love, named to the Top Ten list of recordings for 1996 by KBEM radio. More recent works include Sambanova! with Laura Caviani and Circle of the Dance with Clea Galhano and Lucia Newell. Joan is particularly known for performing and composing Brazilian style music, an area that has fascinated her since she first heard "The Girl From Ipanema" as a teen in Nebraska. Over the years she has developed her personal fusion of the African, European and Amerindian traditions that define the soul of Brazilian music. Most recently Joan has worked with Patty Peterson's Jazz Women All Stars and performed in a two-guitar duo with Chris Olson.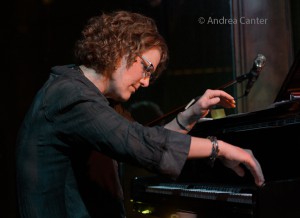 Raised in the Midwest where she studied trumpet as well as piano through high school, Laura Caviani received a Bachelor's of Music in Composition from Lawrence University in Appleton, WI, and a Masters of Music in Improvisation from the University of Michigan at Ann Arbor. Caviani is a veteran of nearly three decades of performing, recording and composing, including appearances with Toots Thielemans, Bob Mintzer, and Dave Liebman, and touring and recording with star vocalist Karrin Allyson. As a leader she now has five acclaimed recordings to her credit and a long list of supporting roles with local musicians. Projects include her tributes to Horace Silver, Mary Lou Williams and Thelonious Monk; Soul Café with guitarist Steve Blons and saxman Brad Holden; Pete Whitman's Xtet; and her cross-genre Alec Wilder project. In spring 2011, she collaborated with Prudence Johnson, Joan Griffith and other area composers to create "A Girl Named Vincent," setting the poems of a young Edna St. Vincent Millay to music for both live performance and recording. And more recently she has presented "From Bach to Bop" – jazz arrangements of favorite classical works– at a number of venues including the Artists Quarter, Hopkins Center for the Arts, and Jazz @St. Barneys. Her latest releases include Sambanova (with Joan Griffith), mostly original works drawing from the traditions of Brazil; another set of Brazilian influenced songs, Circle of the Dance; and a 2013 reissue of a holiday album, Holly, Jolly and Jazzy with Gordy Johnson and Joe Pulice. Laura currently directs big bands at Carleton College in Northfield and teaches at MacPhail Center for Music, McNally Smith College of Music, and Shell Lakes Arts Center.
Prudence Johnson's career as a singer, writer, and teacher has included two feature films (A River Runs Through It, A Prairie Home Companion), national radio (A Prairie Home Companion), and concerts across North America and occasionally Europe. She has released more than a dozen recordings, including albums dedicated to the music of Hoagy Carmichael, Greg Brown, and a collection of international lullabies. In recent years, Prudence has focused on creating multi-media works for concert and theater stages that blend performance with her interests in history and literature. In 2011, she created and produced the touring show and CD, A Girl Named Vincent, featuring the poetry of Edna St Vincent Millay set to music by four Minnesota composers. Prudence has enjoyed a long musical collaboration with Dan Chouinard on widely heralded projects — their recording of S'Gershwin (2003) and four multi-media music/history productions– Flappers, Miners & Moonshiners; The Golden Age of Radio; Tiptoe Through the 60s: Songs and Stories from a Revolutionary Decade; and Another Song About Paris. Their latest album (2015) is simply called Gerswhin.  A founding member of the trio Rio Nido, Prudence and the band have enjoyed a reunion leading to several performances over the past year. She has also be spotlighted as guest vocalist on several of Dan Chouinard's "Birthday Club" evenings in the Dunsmore Room of Crooners Lounge.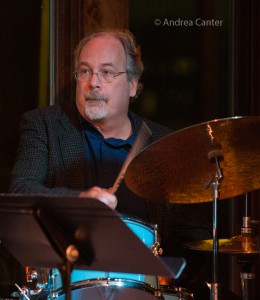 Drummer Dave Schmalenberger received his DMA in Percussion Performance and World Music from West Virginia University, his Master of Music Degree in Orchestral Percussion from the University of Michigan, and Bachelors Degree in Jazz Studies from Capital University. He has performed locally with Pooch's Playhouse, Laura Caviani, Alma Brasileira, Joan Griffith, the Jazz Imports, Vocal Essence, Synergy (a 10-piece dance band), SCHAG (jazz percussion duo with Dave Hagedorn), JazzMN Orchestra, Benny Weinbeck Trio, Russ Peterson Big Band, Cedar Avenue Big Band, and with vocalists Debbie Duncan, Judi Donaghy, Connie Evingson, Charmin Michelle, and Dennis Spears, Dave has also kept time for Lynne Arriale, John Scofield, Conrad Herwig, Kevin Mahogany, Steve Turre, the Jimmy Dorsey Orchestra, Cab Calloway, Rufus Reid, the Fifth Dimension, and The Mills Brothers, as well as in productions at the Ordway and Children's Theatre Company. He also toured with the Summit Brass Ensemble and the Intergalatic Contemporary Ensemble (I.C.E.). Dave is currently on the faculty of McNally Smith College of Music.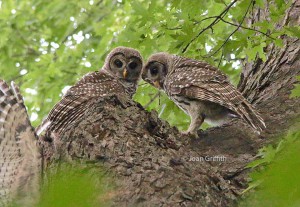 Of the program at St. Barney's, Joan notes that "we are doing six songs from the Millay project. A lot of them have nature themes. The last song in the show is called 'God's World' it has the line, 'Thou hast made the world too beautiful this year.' We're also doing some Sambanova." Also opening on October 1 will be Joan Griffith's first exhibit as a photographer, with a selection of her travel and wildlife images on view through the month in the Gardenview Gallery within the St Barnabas Center for the Arts.
St. Barnabas Church (and Center for the Arts) is located at 15600 Old Rockford Road in Plymouth. Jazz @ St. Barney's tickets available at the door, $10. Concerts offered at least once per month through June. Next: Maud Hixson on November 12. See http://www.stbarnabaslutheran.org/