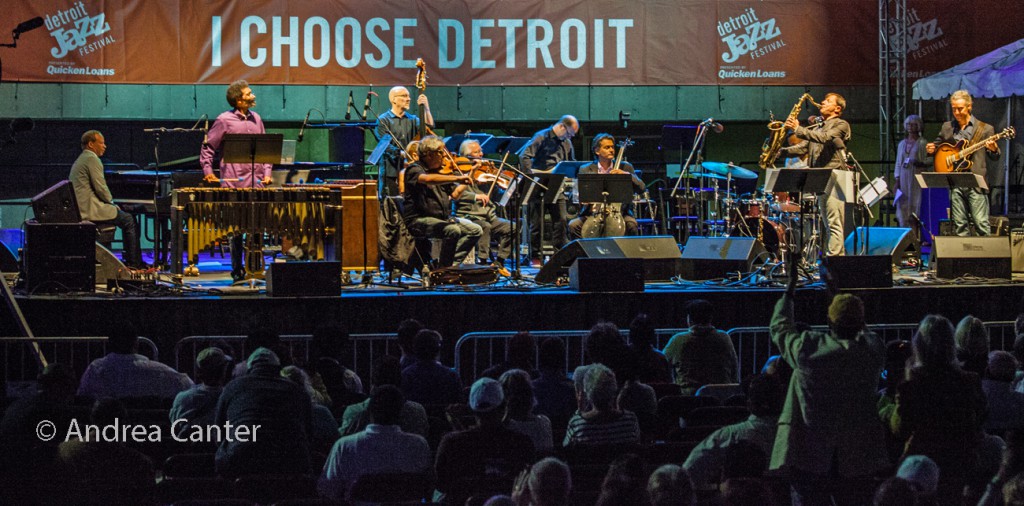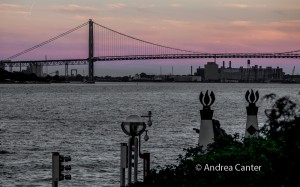 Neither rain, nor high winds, nor malfunctioning starter adapters keep us from the Detroit Jazz Festival. At least not since our string of fests began in 2008. Our plans never vary–take off from the South St Paul Airport about 9 am on the Friday of Labor Day Weekend, flying in my friend Keith's 4-passenger plane stuffed with general luggage, lawn chairs, camera gear and tomatoes (for Keith's parents).  Land at the Willow Run Airport in Ypsilanti, pick up the rental car, drive to Plymouth and Livonia where we (Keith, Linda and I) stay during the few hours we are not at the festival.  Fly home Tuesday after 3 1/2 full days of the best jazz on the planet. In-between festival afternoons and evenings, take in something fun in the Detroit area– Eastern Market, Detroit Museum of Art, the Motown Museum…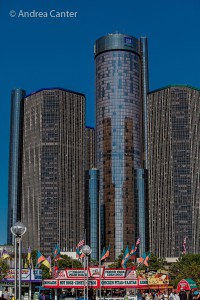 Our plans never vary. But you know what they say about the best laid plans…. One year a high wind forecast for the whole weekend would keep us grounded. Undaunted, on that Friday morning of Labor Day weekend, we drove 15 hours to Detroit (normally a 10 to 11-hour drive), missing the opening evening and swearing to never make that tedious drive again, at least not on a holiday weekend. This year, 12 hours before take-off, Keith reported that his "starter adapter" malfunctioned, grounding the plane. After some furious hunting online, we found a United flight to Chicago with 3 seats remaining at a more than decent fare, reserved a rental car at O'Hare (again, a decent rate), and found a more agreeable way to cover 700 miles at the last minute, missing opening night (Ron Carter Nonet, George Benson), but arriving in plenty of time to maintain our plans for the rest of the weekend. And enroute we also found a fabulous Mexican restaurant in Chesterton, IN. We timed our return trip on Tuesday to hit El Cantorito at noon.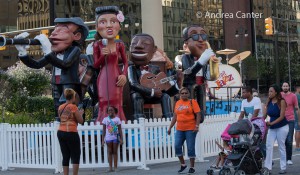 Yes, the Detroit Jazz Festival is worth that effort. Sometimes we wonder if we really want to wade through the crowd again (about 300,000 total attendance for the weekend). Sometimes, like this year, it seems things have been pared back a bit in terms of the number and star power of the music acts. But we always come away with ears glowing from sets from the likes of Ron Carter, Randy Weston, Chris Potter's Underground Orchestra, Freddy Cole, Jason Moran, Luciana Souza, Cyrille Aimee, Brad Mehldau and John Scofield; with a new name or two to keep on our radar, like Charnee Wade and Alfredo Rodriquez; and a vow to track down the music of an old timer who managed to stay below our radar like Kirk Lightsey. And often I get reacquainted with a young artist from the Twin Cities, now attending college in the Detroit area, whom I have not heard in a year or two or longer. Although I am not from Detroit like Keith, or an alum of an area university like Linda, it always feels like homecoming when we reach Hart Plaza.
Highlights of 2016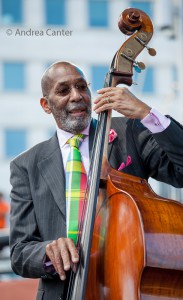 Ron Carter. Living legend bassist Ron Carter was a major presence over the two previous festivals, appearing in duo with Peter Bernstein in 2014 and twice in 2015, with his trio and in duo with 2015 Artist in Residence Pat Metheny. Serving as the 2016 Artist in Residence, Detroit native Carter made four appearances on three stages. Metheny had made it a goal to perform on all four stages in 2015, putting his duo with Carter onto the much-too-small Pyramid Stage. Repeating this logistical mistake, Carter and an unusual quartet with both drums and percussion, along with pianist Rene Rosness, totally gridlocked Pyramid. I was only able to get a brief and distant glimpse of that set by climbing to the top of the rear tower of cement bleachers. It sounded very cool. I'll have to look for a video.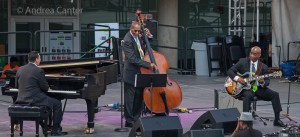 We arrived too late for the opening night Ron Carter Nonet, perhaps the set I most wanted to hear with the choir of cellos! (The audience, I heard, was merely waiting for George Benson and paid little attention to what was likely one of the most interesting jazz sets of the festival!) I did catch the first half of the Ron Carter Trio, with Donald Fagan on piano and Russell Malone on guitar, my third time to enjoy the trio within a year as they also appeared in St Paul last October. It's a tight group, and the interplay between bass and guitar provides some very special string moments. Things were just scheduled too tightly between the Chase and Carhartt Stages to catch Carter in the festival's closing set with the Detroit Jazz Festival Orchestra. I'm sure it was a grand finale.  Aside from being one of the most accomplished artists at the festival, Carter is also the best dressed! In particular, the trio again impressed with matching ties as stunning at the music.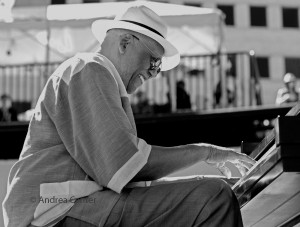 Randy Weston with the Wayne State University Jazz Band and Jimmy Heath. Turning an unbelievable 90 this year, Weston stands as tall and elegant as ever, onstage with saxophonist T.K. Blue, outstanding soloists from Wayne State, and a special appearance from another new nonagenarian, Jimmy Heath.  From his collaborations with Melba Liston, Randy offered "Little Notes" and "Songs for Children." Weston's solos were filled with abstract constructions answered by Wayne State's full support. Heath came on late in the set to highlight Weston's "High Fly," again arranged by Melba Liston. Spotting vocalist Roberta Gambarini in the audience (a day ahead of her own set with Heath), festival Artistic Director Chris Collins invited her to the stage to regale Weston with a round of "Happy Birthday," and, of course, cake. By the end of the festival, it seemed that birthday tributes via Gambarini had been orchestrated in advance, as she similarly honored Heath and Freddy Cole. It was fun, the first time.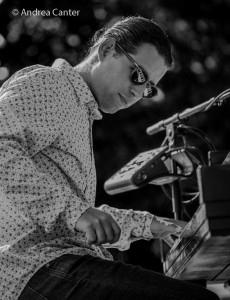 Alfredo Rodriguez Trio. I remember an earlier Detroit festival–in 2009–when a young Cuban pianist appeared solo on the relatively small Pyramid Stage and blew away the audience with his dazzling "Body and Soul," as well as some traditional Cuban fare. Befriended by Quincy Jones, Alfredo Rodriguez was barely oriented to the U.S. following his defection, but clearly on his way to becoming a significant player on the American jazz scene (with the invaluable support of one of the genre's most successful promoters and producers). I have now seen him twice since that debut, both times in Detroit. His 2016 trio appearance on the Waterfront Stage seemed a logical progression from that first date, here now with the stellar support of bassist Peter Slavov (Joe Lovano's US Five) and drummer Henry Cole (Miguel Zenon). Compared to that first set in 2009, Alfredo covered more of his original music, still dazzling and more confident.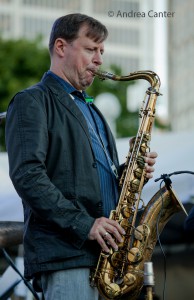 Chris Potter's Underground Orchestra. Producing one of the top albums of 2015 (in my book, but also many others), Chris Potter's Underground Orchestra has toured internationally in support of Imaginary Cities and brought the project to Detroit. Built around Potter's Underground Quartet (with Adam Rogers, Craig Taborn and Nate Smith), the addition of vibes (Steve Nelson), bass (Scott Colley), and strings provides a wide palette for Potter's compositions and numerous opportunities for inventive soloing– here with Taborn, Nelson, Rogers and Potter himself sharing the revolving spotlight. Nothing imaginary about the talent and the creative energy here, and the full-house at Carhartt Amphitheater seemed well aware of the level of musicianship they were witnessing. We were not able to follow the core of Underground to the Marriott where they played another set in place of the usual after-hours jam.
University of Michigan Jazz Band. Directed by Ellen Rowe, the U of M band exhibited some outstanding soloists throughout its set on the Waterfront Stage, but for me the treat was seeing sophomore saxophonist/flautist Peter Goggin from the Twin Cities (Mounds View High School) playing with the full ensemble and soloing on alto.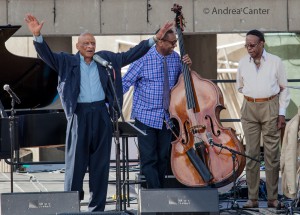 Kirk Lightsey/Louis Hayes Trio with Robert Hurst. Two generations and three veteran Detroiters got together and had at least as much fun as did the audience. Although his exploits and honors place him at the top of the first hundred years of jazz piano, Kirk Lightsey's name remains unknown to many jazz fans– outside Detroit. The home-town cognescenti have no doubts about Lightsey's rightful place among the legends. Approaching 80, as is fellow Detroit native and equally admired drummer Louis Hayes, Lightsey can still razzle-dazzle at the keyboard. Standing between them about thirty years their junior, bassist Robert Hurst provided the apex of the triangle. No birthday cake here but it was like a rebirth celebration–and it was part of the fest's "Homecoming" series.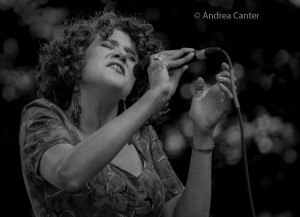 Cyrille Aimee. I think this was my third Cyrille Aimee experience in Detroit, starting back when she was just getting her hot club chops polished with the Hot Club of Detroit. The French-Dominican vocalist still swings like there's no tomorrow but now she's spreading her wings a lot farther, even adding some looping as well as original songs to the mix. She nodded to Edith Piaf, gave us a lot of energy for just "Three Little Words," and an original paying homage to her days pulling "all nighters" with "White Night." Her bands are always stellar, particularly her guitarists, and we enjoyed another Minnesota connection– Dylan Shemat on bass, one-time teen prodigy in the Twin Cities who studied at the Manhattan School of Music and now tours and records with Aimee. I like her better each time out.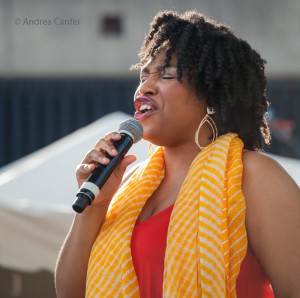 Charenee Wade. I only caught the beginning of her set (nodding to the music of Gil-Scot Heron), but the Monk Vocal Competition Finalist launched quickly and with high energy, not in any small part due to the propulsive soloing of saxophonist Lakecia Benjamin.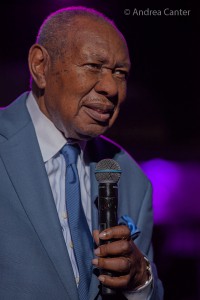 Freddy Cole. If I have to describe one set as "Unforgettable," no pun intended, credit Freddy Cole. At 85, he still has the energy – and voice – of a much younger singer, taking over the stage from the first tune through the last, about 80 minutes of nonstop performing in tribute to brother Nat and niece Natalie, including a couple tunes at the piano which was otherwise admirably handled by his music director John di Martino; Gil Goldstein conducted the orchestra through a gem-studded songlist including "Rio Di Janero", "Paper Moon," "Sweet Lorraine," "Mona Lisa," "After All These Years," and of course "Unforgettable." More forgettable — an attempt at another "Happy Birthday" scene, Roberta Gambarini serenading a reluctant Freddy at the end of the set, and a birthday cake that was clearly anticlimactic.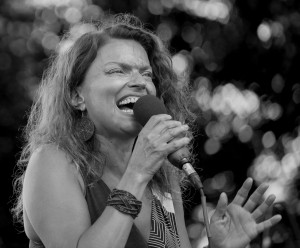 Roberta Gambarini and Jimmy Heath. After her more casual birthday salutes, Roberta donned her festival best and gave us her flawless, if not particularly creative, renditions of some over-exposed standards like "That Old Black Magic," "Ask Me Now," and "Lover Man," as well as some Jimmy Heath originals (from his suite, "In Praise"), sung with the Jazz Master himself. At 90, Jimmy, like Freddy Cole, seems tireless.
Terri Lyne Carrington's Mosaic. The original ensemble recording earned a Grammy for Carrington, and despite revolving personnel, this all-women's ensemble continues to draw big crowds and critical acclaim. This edition includes Helen Sung on piano, Tia Fuller and Ingrid Jensen on horns, Carrington of course on drums, and token males on bass and guitar. The pairing of Fuller and Jensen is particularly explosive.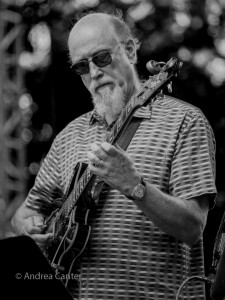 Scofield-Mehldau-Guiliana. Three artists who seem able to reinvent themselves in each new configuration, the SMG trio was a great act for Monday as festival activity wound down at the Chase Stage. Mehldau ignited sparks from two keyboards, the acoustic grand and his electric Rhodes; Scofield too brought along two axes, and Guiliana had a healthy array of drums and percussion options.  There was always a threat of an electronic storm but the trio managed to stay within the realm of intriguing, but never overblown.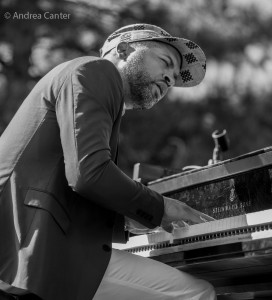 Caught too briefly in my running between stages but sounding terrific– Jason Moran and Band Wagon with Taurus Mateen and Nasheet Waits; Marcus Roberts with Jason Marsalis, Etienne Charles and orchestra; Luciana Souza with Gregoire Marat.
Missed totally: It's hard to spend three days in Detroit and still miss some great music– from the Vanguard Orchestra, David Weiss, Stanley Cowell, Lisa Fischer, and of course the Ron Carter Nonet and Big Band.
Major disappointment: Roy Hargrove with Strings directed by Gil Goldstein. Hargrove was not displaying much energy and sat in the brass section as if recently demoted to 8th chair trumpet; Goldstein's arrangements seemed tepid.
Best food experience. In Detroit, the landmark Slow's Barbecue, melt-in-your-mouth baby back ribs, a perfect ending to festival madness. Slow's is a madness all its own.  Outside of Detroit, hands down, the best food of our weekend at El Cantorito in Chesterton, IN. And many thanks to our waiter Alex for his suggestions, coming and going. If we drive again, we know where to stop.
And come hell or high water or malfunctioning engine parts, we'll be back for the 38th annual festival in 2017!