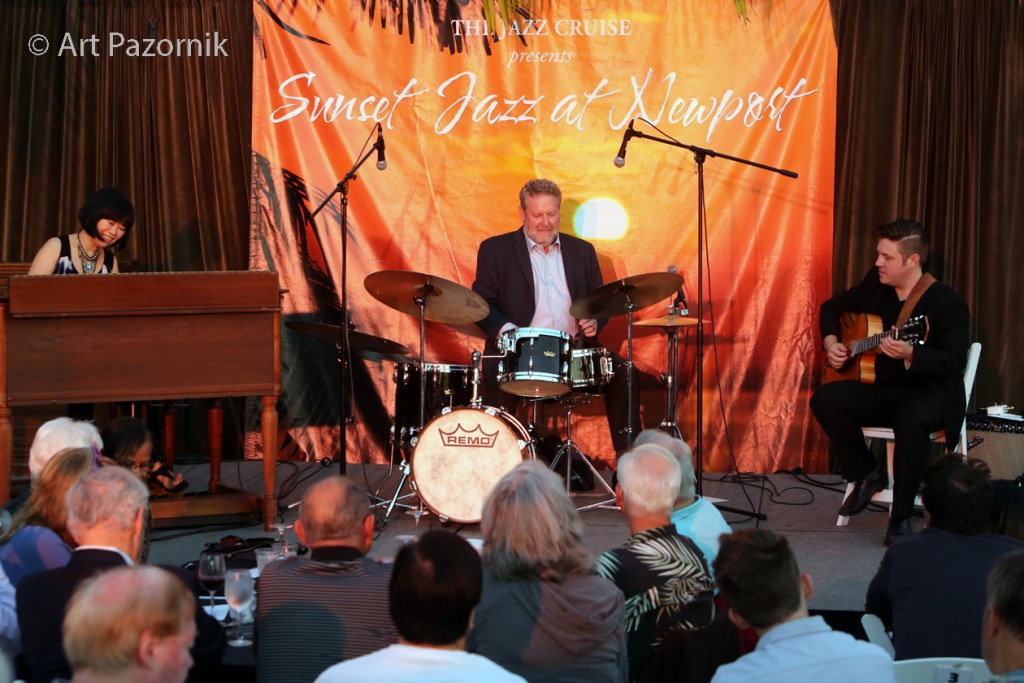 One of the great musicians of our time is drummer/percussionist, composer and leader, Jeff Hamilton.  He has long been regarded as a stellar figure in the jazz world!   He is a regular at Newport Beach Jazz Party and also Sunset Jazz at Newport, now in their 7th year.  Besides Hamilton's many musical activities, he has been making excellent jazz for quite some time with his organ trio.   His organist, Akiko Tsuruga, is perfect for this trio. She has been a mainstay in the jazz scene since the early 2000s when she arrived in New York, and has performed with many greats here in U.S. The third member of Hamilton's trio is superb rising guitarist, Graham Dechter.  Both Tsuruga and Dechter are very gifted soloists,  which add tremendously to making this trio cook musically beyond belief.
The trio opened with a tune titled "Love," a nice mover for an opener.  Their next tune, a pretty ballad, "Easy to Remember," was mellow and enticing.   Dechter's guitar lines are incomparable and Tsuruga's playing is superb. Hamilton's brush solos work well for all ballads.  Tsuruga announced a welcome to the audience and introduced a boppish number, "Face to Face," a snappy tune that gave the trio a splendid work out.  Another impressive ballad, "How Deep Is Your Love" created a serene mood with this beautiful music that every one enjoyed. Dechter gave us his original "Orange Coals," a very uptempo and a stellar number jazz-wise.  Everyone gave some excellent choruses, making this one a highlight of the evening.  Watching Tsuruga playing and doing the footwork for bass on organ was amazing.  Her sharing 12-bar breaks with  Hamilton was remarkable.  They ended the first set with an original of  Tsuruga's, "Funky Girl," a rocking tune in medium tempo setting a good  closing groove.
Set two began with the standard "Give Me the Simple Life."  Hamilton shared excellent 8- bar breaks with Dechter and Tsuruga.  Other tunes they played included a theme song, "Spanish Flea" and a Slide Hampton number, "A Flame for the Blues."  The organ and guitar worked magically to tell this blues story in a nice and slow blues tempo, another highlight of the evening.  Closing the set and the concert was another original that Tsuruga wrote for her small dog, "Blues for Bandito," a fast number with a huge drumming solo for Hamilton.  The audience gave them a big standing ovation.
There are several concerts still coming Wednesdays through September 14.  See their website: www.sunsetjazzatnewport.com.  See also Akiko Tsuruga's website: www.akikojazz.com and Jeff Hamilton's site at www.hamiltonjazz.com .
Adapted from L.A. Jazz Scene, September 2016