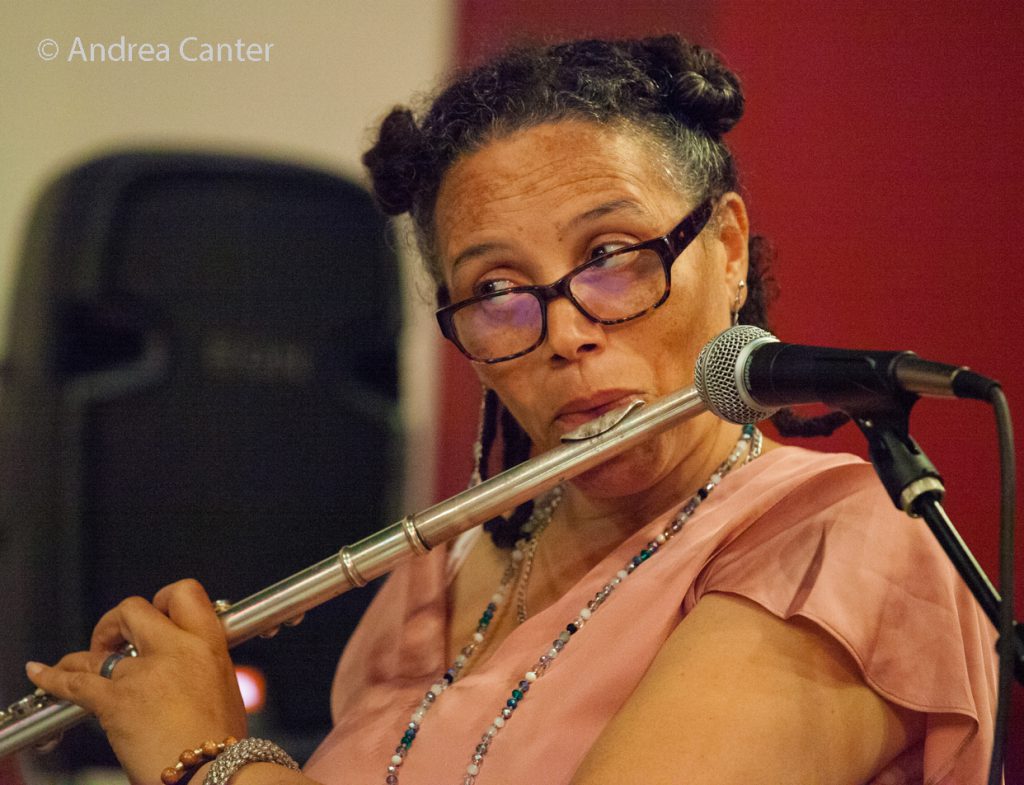 "Nicole Mitchell is the preeminent improvising flutist of her generation, adapting and extending the innovations of Eric Dolphy and James Newton." —Neil Tesser, Jazziz
An extended fourth season of Jazz at Studio Z ends this weekend when Chicago-based, internationally acclaimed flautist Nicole Mitchell comes to St. Paul on Saturday, August 27. She'll present a Master Class at 6 pm followed by a performance at 7 pm with a Twin Cities quartet with Bryan Nichols, Jeff Bailey and Davu Seru, along with special guest, spoken word artist Calvin Gantt.
The Band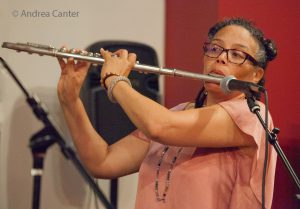 Nicole Mitchell is a creative flutist, composer and educator. Her mission is to "celebrate the power of endless possibility by creating visionary worlds through music." Having emerged from the Chicago creative music scene in the early 90's, Mitchell formerly served as the first woman president of Chicago's Association for the Advancement of Creative Musicians. For the last seven years she has been awarded "Top Jazz Flutist" by the Jazz Journalists Association and by Downbeat Magazine's Jazz Critics Poll. A Doris Duke Artist and Herb Alpert Award recipient, Mitchell is the founder of Black Earth Ensemble, Ice Crystal, and Sonic Projections. As a composer, she has been commissioned by Chamber Music America, the French Ministry of Culture, the French American Jazz Exchange, and the Chicago Jazz Festival, and has been supported in the creation of interdisciplinary projects by the Museum of Contemporary Art (Chicago).  In recognition of her impact within the Chicago music and arts education communities, she was named "Chicagoan of the Year" in 2006 by the Chicago Tribune.
Mitchell's music celebrates African American culture while reaching across genres and integrating new ideas with jazz, gospel, experimentalism, pop, and African percussion. Her albums include Black Unstoppable (Delmark, 2007), Awakening (Delmark, 2011), and Xenogenesis Suite: A Tribute to Octavia Butler (Firehouse 12, 2008). She is currently a Professor of Music, teaching in "Integrated Composition, Improvisation and Technology" (ICIT), a new and "expansively-minded" graduate program at the University of California, Irvine.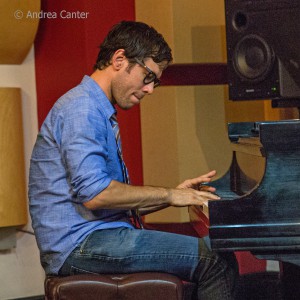 Bryan Nichols studied classical piano with a "neighborhood piano teacher" but came to jazz on his own, developing his skills without formal jazz studies. After studying genetics in college, Bryan moved to Chicago where he performed with Corey Wilkes, Maurice Brown, Jeff Parker, Nicole Mitchell, Von Freeman, Ari Brown, Hamid Drake and Ernest Dawkins. Back in the Twin Cities in 2005 after his residency in Betty Carter's Jazz Ahead program, Bryan quickly became a favorite pianist among the more forwarding-spinning jazz ensembles, working with Kelly Rossum, James Buckley, Zacc Harris, Gang Font, Todd Clouser, Adam Linz, JT and Chris Bates, and more.
In 2009, he received a grant from the American Composers Forum, and in 2010, a fellowship from the McKnight Foundation. Bryan has been a frequent weekend performer in duos at the Icehouse, often with bassist James Buckley, appears with Chris and JT Bates as Nichols/Bates/Bates, and leads his trio, quartet, quintet, and nonet (We Are Many). He's released recordings with his quintet (Bright Places, 2011) and solo (Looking North, 2016).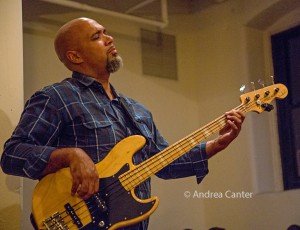 Jeff Bailey is well regarded as a bassist, composer, teacher and producer. He has performed with such local and international stars as Captain Jack McDuff, Craig Taborn, James Carter, Nachito Herrera, Eric Gravatt, Rodney Jones, Dave King, Brian Lynch, Wessel Anderson, Andrés Prado, Doug Little, James Moody, Ellen Lease and Pat Moriarty.  Beyond jazz, Jeff has also toured and performed with Keri Noble, Joey McIntyre (NKOTB), Tommy Barbarella (Prince), Charles Lazarus (Minnesota Orchestra), Reverend Billy Steele and more. Jeff has also received accolades for producing a Minnesota Music Award-winning CD for Alicia Wiley, received a Best of the Twin Cities Award as a founding member of Moveable Feast, and a Minnesota Music Award nomination for best Bass Player of the Year. His recent exploits include performances with Jeremy Walker's Atrium Jazz Ensemble and Pete Whitman's Mississippi.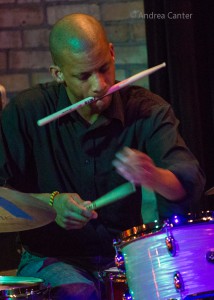 Minneapolis native percussionist Davu Seru has worked with Milo Fine, Charles Gillett, Elliot Fine, Paul Metzger, Anthony Cox, Dean Granros, Dean Magraw, Wendy Ultan, Adam Linz, Evan Parker, George Cartwright, James Buckley, Taylor Ho Bynum, and Nicole Mitchell. He currently plays with Merciless Ghost, Milo Fine, Dean Magraw and more; curates a monthly show at Khyber Pass Cafe; is a member of the composer-improviser collective orchestra, Cherry Spoon Collective; and recently joined J. Otis Powell and Kate Pehrson in a new project, the Nu Skein Ensemble. He also leads the No Territory Band and other ensembles. In addition to his musical pursuits, Davu is a PhD candidate in African American Literature at the University of Minnesota. In 2013 he received an American Composers Forum Minnesota Emerging Composer Award.
Calvin Gantt is a writer, public speaker, radio talk show host, community organizer, and Interfaith minister. He received a BA in Sociology and Anthropology from Lake Forest College in Illinois,  and graduated magna cum laude with an MA in Community Development from North Park University. He is co-founder and president of By Grace Creations, an organization dedicated to providing education about health and well being, and to promoting understanding among diverse cultures through arts and communication. He is currently has a radio show on KUCI. Gantt appears on several of Nicole Mitchell's recordings.
Master Class: Endless Possibilities — An Approach to Life and Music (6 pm)
For the master class this Saturday, Nicole Mitchell will share her inspiration for the concept of "endless possibilities" and how it helped her to discover resilience and navigate the hostile racial climate and challenging family life of her youth, and ultimately to develop her own personal language as an improviser and member of Chicago's internationally renowned music collective: the Association for the Advancement of Creative Musicians (AACM).
Studio Z is located in St Paul's Lowertown at 275 E. 4th Street, in the Northwestern Building, second floor. Tickets in advance $10, $15 at the door. Attend the free master class at 6 pm and get your concert ticket for $10. (Advance purchase at http://jazzatstudioz.org.) Jazz at Studio Z is curated by Zacc Harris. This will be the final concert for the 2015/16 season of JASZ. Assuming the project receives funding again, the series will return in October or November for a new season.