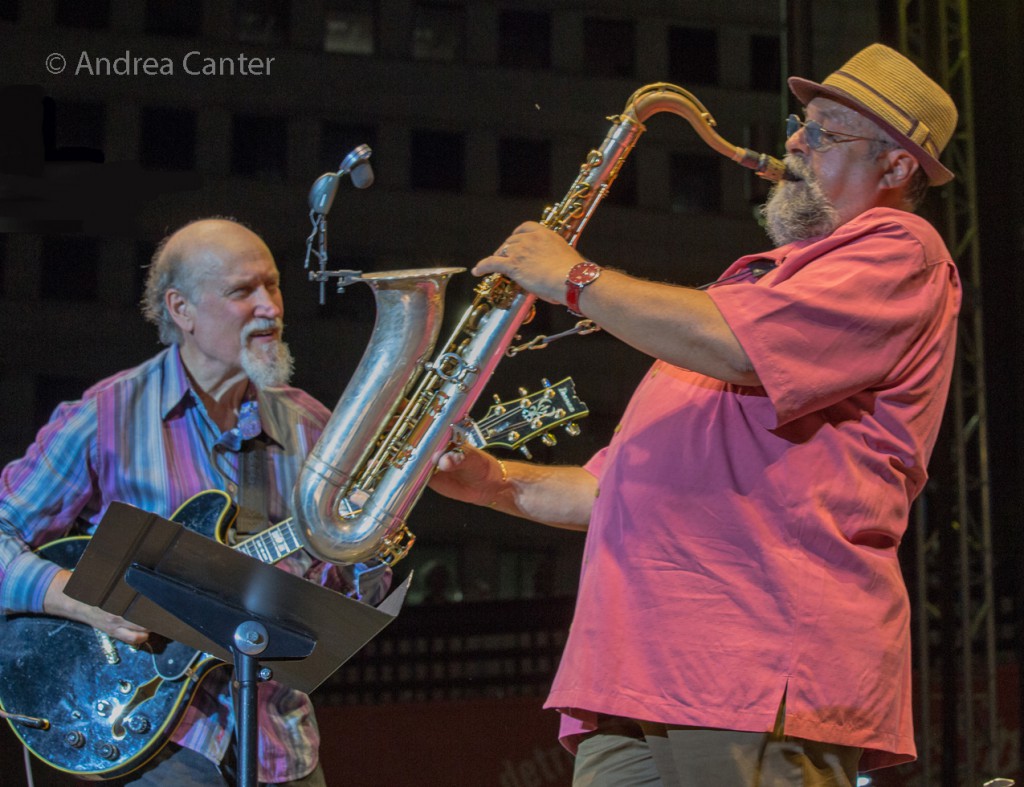 "Most saxophones are out of Coltrane. Joe knows Coltrane too, but his roots are older than that. He can swing. He can play ballads. He can burn. I love Joe's playing." –John Scofield
"We have a ball together. We've known each other since the early '70s. Through the years of watching each other and hearing each other in all these different settings… all in a real creative way…All of a sudden, it's new music." –Joe Lovano
Jazz has been described as "never the same way once." Let alone twice or three times. Yet the partnership of two post bop titans– guitarist John Scofield and saxophonist Joe Lovano–has endured now through three iterations. The core of Scofield's popular early 90's ensemble, which briefly reconvened for an acclaimed tour of Asia and Australia in 2008, Scofield and Lovano have revived the quartet magic yet again, touring over the past year and recording an album aptly titled Past Present, released last fall. With bassist Ben Street and drummer Lewis Nash, the Scofield/Lovano Quartet comes to the Dakota in downtown Minneapolis for two nights, four sets, February 8-9.
One of the working legends of modern jazz guitar (mentioned in the same breath with Pat Metheny, Bill Frisell and Mike Stern), John Scofield has enjoyed an eclectic career since his student days at Berklee in Boston. Born in Ohio and raised in suburban Connecticut, he started guitar at age 11, finding inspiration initially in the great rock and blues artists.  He went on to Berklee College of Music, and after his recording debut with Gerry Mulligan and Chet Baker, joined the Billy Cobham-George Duke band for two years. In 1977 he recorded with Charles Mingus and began a tenure the Gary Burton Quartet, moving on to work with Miles Davis  from1982-1985. By this time he had become a significant figure on the international jazz and funk-oriented electronic music scenes, as both a player and composer.  Some of his most distinctive collaborations have included  Pat Metheny, Charlie Haden, Eddie Harris, Medeski, Martin & Wood, Marc Johnson, Bill Frisell, Brad Mehldau, Mavis Staples, Government Mule, Jack DeJohnette, Tony Williams, Jim Hall, Ron Carter, Herbie Hancock, Joe Henderson, Dave Holland, and of course, Joe Lovano. Recent projects have included MMSW (Medeski, Martin, Scofield and Woods), the Piety Street Band and Hollow Body Project with Mike Stern. Touring the world approximately 200 days per year with his own groups, Scofield finds time to teach as an Adjunct Professor of Music at New York University.
A native of Cleveland and the son of tenor saxophonist Tony "Big T" Lovano, Joe Lovano studied with his father and absorbed the influences of Sonny Stitt, James Moody, Gene Ammons, Rashaan Roland Kirk, and Dizzy Gillespie, and later the experimental work of John Coltrane, Ornette Coleman, and Jimmy Giuffre. After attending the Berklee College of Music in Boston, Lovano made his recording debut with organ master Lonnie Smith and worked with Jack McDuff before joining Woody Herman's Thundering Herd. He went on to perform with top big bands and touring artists, lead his own acclaimed ensembles, and held the first Gary Burton Chair for Jazz Performance at Berklee.
With multiple Grammy nominations and the Award for 52nd Street Themes, Lovano has recorded with a wide range of ensemble formats and top-flight musicians. In addition to his collaborations with John Scofield, he performed and recorded with the Paul Motian Trio while maintaining his own varying projects as leader. Recent projects have included the Spring Quartet, featuring Lovano, Leo Genovese, Esperanza Spalding, and Jack DeJohnette; the double drum quintet Us Five; Soundprints, his collaboration with trumpeter Dave Douglas; and the Village Rhythms Band. Joe has continued to accumulate critics and readers poll honors, including Tenor Saxophonist of the Year by Downbeat Critics (2013), Tenor Saxophonist of the Year by Jazz Times Critics (2014), and Tenor Saxophonist and Multi Reeds Player of the Year by the Jazz Journalists Association (2014).
Ben Street is one of the most lauded bassists of his generation. Son of a saxophone mouthpiece maker, Street is a native of Maine who studied with Buster Williams and Miroslav Vitous. His resume includes performing with Kurt Rosenwinkel, Mark Turner, Ben Monder, Sam Rivers, Billy Hart, Danilo Perez, Adam Cruz, and Ethan Iverson, in addition to touring with John Scofield and leading his own ensembles.
Lewis Nash grew up in Phoenix, and had become the area's first-call drummer by 21, working with bands led by Sonny Stitt, Art Pepper and Slide Hampton. He moved to New York in 1981, where he worked with the great Betty Carter for four years before joining multiple ensembles led by bassist Ron Carter. Over the next decade, he worked with Branford Marsalis, J.J. Johnson, Stan Getz, Don Pullen, Sonny Rollins, Clark Terry, and more. Through the 1990s, Nash played with Tommy Flanagan, Joe Lovano, the Carnegie Hall Jazz Orchestra and Lincoln Center Jazz Orchestra, as well as a long list of vocalists, from Diana Krall to Bette Midler.  In 2012, he was selected as a member of the Blue Note 7 (honoring Blue Note Records' 70th anniversary). Today he leads his own ensembles as well as continuing to be a first call sideman.
Past Present (Impulse, 2015). The original John Scofield Quartet with Joe Lovano, Marc Johnson and Bill Stewart released three albums from 1990-92. For this recording of the "reunion" quartet, Scofield, Lovano and Stewart are joined by Larry Grenadier, performing nine Scofield compositions. The title Past Present reflects the recent cancer death of Scofield's son and his love of the music of his youth–blues, country and soul jazz. Noted John Fordham in The Guardian, "Scofield sounds warmer and more comfortable in his skin than he has for some years, but this set's mellowness is constantly being creatively hounded by a quartet of superb improvisers."
The John Scofield/Joe Lovano Quartet convenes at the Dakota at 7 and 9 pm, February 8-9. Reservations highly recommended at 612-332-5299; www.dakotacooks.com. The Dakota is located at 1010 Nicollet Mall in downtown Minneapolis.