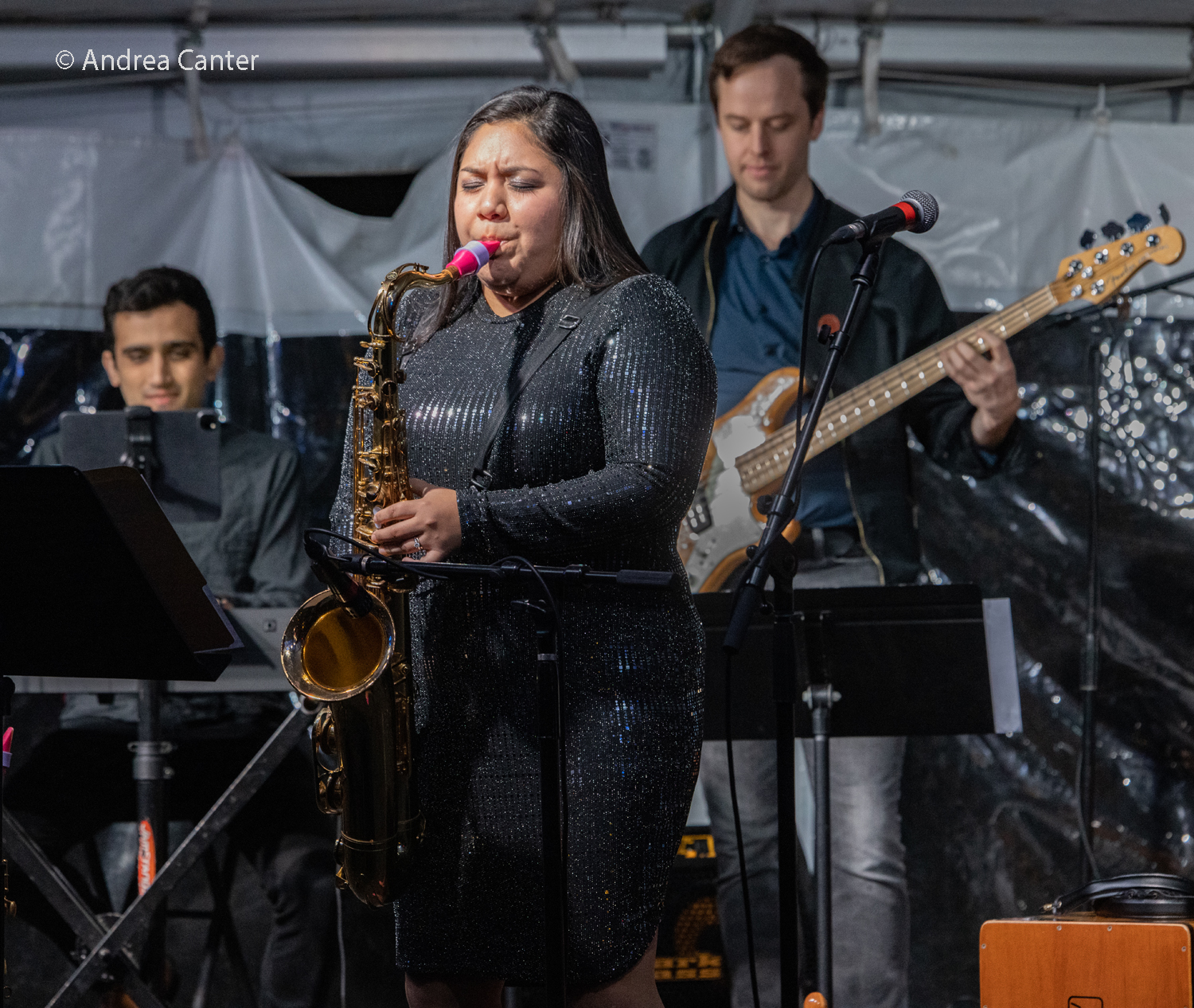 "I always say that music has saved, saves and will save my life." –Claudia Medina
She grew up in Lima where her father  "transferred his love for music to me." She joined her school marching band in fourth grade, began saxophone studies in 7th grade, and went on to the National Conservatory of Peru and the Berklee College of Music in Boston before finding her way to the Twin Cities in 2020. A performer on all saxes, flute and percussion, as well as an accomplished educator, composer, arranger and producer,  Claudia Medina will soon move on to Los Angeles, but not before exciting her Minnesota audiences with two more performances, at KJs Hide-a-Way in St Paul on February 4, and a finale at Jazz Central Studios in Minneapolis on February 24th.
There's now so little time to get to know this gifted artist before her departure, but she graciously agreed to this interview.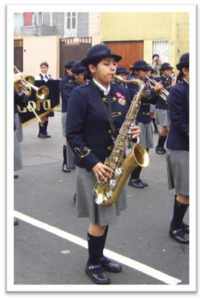 A Childhood Surrounded by Music
 Claudia grew up in the "Jesus Maria" neighborhood of Peru's capital city, Lima, surrounded by music. "My father was a musician when he was in elementary and high school. He played the trombone, tuba, and guitar, and composed. When he graduated high school there was a bad period of terrorism in Peru and music wasn't considered as a professional career. There was and somehow still is this misconception that a musician will starve to death because that is not a profession… My parents both always have supported my decisions and my love for music. I am the oldest child of three. My sister is 26 years old and plays the clarinet, and is an alumnus of the National University of Music of Peru, and my not-so-little brother is 16 years old and plays drums and percussion."
"As a Latina and Peruvian, music has been part of my life since very young. In Lima, going to peñas, which are gatherings of local musicians and just civil people to play and sing together creole music, is very common. I grew up listening to salsa, classical music, Peruvian music, etc. Playing at the church, in my Catholic school, in  the marching band and the concert band in national competitions was part of my childhood. My parents went to every concert I had no matter how small or big it was. Jazz came later in my life, when I started playing saxophone at 11."
First, Drums
Claudia's first instruments were drums and percussion, and she still includes percussion in her music arsenal. "When I was 5 years old I saw the school marching band and wanted to be part of it. My dad brought me to the music teacher, but they said that I had to be in fourth grade to join. When I was in fourth grade I joined the band, playing percussion at first. Although I played in the marching band and then later in the classical concert band, playing minor percussion and Latin percussion, I was in love with the drum set. I wanted to be a rock star. I even had rock/punk groups when I was in middle school."
Even after she picked up the saxophone (at age 11), Claudia continued to study and play percussion. "I used to listen and memorize songs on the drum set, and then I started getting in love with Latin music. Later, when I was studying at the Music University (previously called Conservatory of Peru), I started studying Peruvian music and I even wrote my thesis and did my research on that."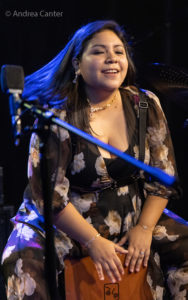 "When I was around 19 I started playing with Peruvian traditional groups in Lima, and I was always listening to the cajon. I played in a musical tribute of Chabuca Granda, a famous Peruvian songwriter, with an incredible cast and the "Peru Negro group", a very important family of many generations of traditional Afro-Peruvian musicians. Before every show and during rehearsals, I would hang with the cajon player, Rony Campos, or my percussion friends, learning how to play Afro-Peruvian instruments such as cajon, cajita and quijada criolla. Believe it or not, the first instrument I bought in my life with my own money was a cajon. I bought it when I was 13 and it cost me around 20 dollars. Then, I took lessons with percussionist Maestro Gigio Parodi. Percussion is still a huge part of my life and I play it every time I can."  If you attend one of Claudia's gigs, you will indeed see her playing the cajon in addition to saxophones.
Saxophone and Jazz: "Keep Playing and Never Give Up"
When she started 7th grade, Claudia was given the option of playing a wind instrument.
"One day I was at home zapping on the TV and I found a movie that was about a guy in high school playing the saxophone. The plot wasn't that interesting. He basically practiced at the cemetery because neighbors would complain and at the cemetery he met a jazz saxophone player that ended up being the ghost of his grandfather. What actually captivated me about the instrument was the connection between the human and the saxophone. The sound for me was beautiful and then the next week I said to my teacher that I choose to play the saxophone, and didn't stop since then." 
 Claudia cites a number of influences along her trajectory toward becoming an accomplished professional musician: "Chabuca Granda, a songwriter/musician from Peru; Quincy Jones, because he is everything I want to do with my career. I've read his books and followed his career for a long time… A non-musician that I admire and inspired me to create my worldwide educational program 'From Perú to the World' is Malala Yousafzai. She is a great inspiration as a woman and I identify with her for her resilience coming from another country and everything that she had to fight to be educated."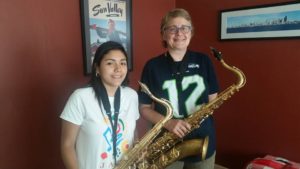 At just 13 Claudia met her most important influence "who changed my life forever…Cynthia Mullis is my hero and mentor. She is a saxophone player based in Seattle and she was part of the DIVA Jazz Orchestra and the Seattle Women Jazz Orchestra. We met in 2007 when she was touring with the Seattle Women Jazz Orchestra in Lima. She played in a concert with the band and I attended. That was the first time I saw an all-female band playing jazz. I got in love with the music and at that right moment I said to myself, 'This is what I want for my life.' After the concert I approached to talk to them in my very basic English at the time, and Cynthia and I started talking. I was a 13-year-old full of dreams and questions. Cynthia gave me her CD and she asked me to promise to keep playing the saxophone forever. At that moment I made one of the most important decisions of my life and I said YES. Then, I asked her for advice on how to start this journey, and she said the words that changed my life forever: 'Keep playing and never give up.'"
Claudia kept playing and never gave up! She continued playing in her school jazz band, attended Jazz Jaus academy, and toured in Chile with the Libop Jazz Orchestra. "I started getting close to jazz more and more. I had many opportunities with people from the States that came to Peru for master classes and concerts. I actually met students from McNally Smith College of Music [the recently closed music school in downtown St Paul] that came to Peru to perform with us and do a cultural musical interchange. That is when I met Pete Whitman — I was probably 16 years old then. I studied classical music in the Conservatory but I was always playing jazz, funk, Latin, etc. outside of that."
Claudia's thesis at the Conservatory concerned 20th century saxophone in Creole-Peruvian music. "That made me understand and feel more connected with my roots. I knew I was not going to be a jazz player like someone from the States, because that is not my culture even though I learned from a young age. I knew that there was a way for me to unite and fuse both to keep playing the music I wanted, that felt more like me and my roots, and that is when I started writing my first arrangements and investigating more about jazz Afro-Peruvian music."
From Peru to Berklee
Claudia had long dreamed of studying in the U.S. "My family didn't have the money to send me abroad, and when I finished high school my only option was to apply to the prestigious National Conservatory of Peru. It was hard to get in because it is public education, so it's for free but very competitive. When I got in, there were just two vacant spots for saxophone."
Meanwhile Claudia never lost touch with Cynthia Mullis. "In 2014, I was taking lessons with a Peruvian Berklee alumni in Lima, because that was the closest for me to be at Berklee. That year, Cynthia sent me an email telling me about the Jazz Port Townsend workshop in Seattle. She told me that I should apply and see if I get a scholarship. I did apply and I got a scholarship. Cynthia told me that she wanted to invite me to stay in Seattle with her for a week after the workshop to meet people in town, play at jam sessions and even have a concert. I said yes immediately. I knew this was my opportunity to go to the U.S. and search for myself about scholarships and possibilities to study there. I sent hundreds of emails to all the musicians I wanted to take lessons from and I ended up doing a month-long trip to Seattle, Los Angeles, New York, Boston and Miami. I spent all the money I had on that trip, but I got the information I needed. Unlike other people that apply to many universities, I went back to Peru and decided to apply only to Berklee. I studied hard and prepared for my audition for six months and in 2015 I did an online audition and got the letter of acceptance in March, with a full tuition scholarship to attend Berklee. My dream came true."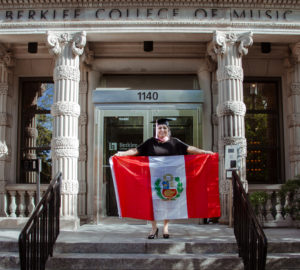 And Berklee provided Claudia with the skills and resources to grow as a performer, composer, arranger, producer and educator. "I can say that my years at Berklee have been probably the happiest of my life. Berklee gave me so many resources about the music industry. When I started Berklee I was very prepared because of the 7 years in the Conservatory. I knew a lot about music theory and saxophone techniques. But that was all theoretical. At Berklee I got chances to create my own music. I learned how to compose for small and large ensembles. I recorded my own music and met incredible musicians from around the world. I produced huge music events and got to travel to many places. Berklee opened my mind, my heart, and expanded my musical knowledge."
At Berklee, Claudia discovered a passion for music directing and production. "I love being a performer but Berklee showed me that there are more fields I can go into in the music industry. The stage is my happy place and I was lucky enough to be performing almost every week…I would say the most important mentors for me were Oscar Stagnaro, Ayn Inserto (my jazz composition mentor), Greg Hopkins (who performed and wrote for Buddy Rich), Shannon LeClaire, Ed Tomassi (who taught all about harmony and improvisation), Pratt Bennett (my English teacher), George Garzone, and honestly, many more."
On to Minnesota –and Now LA
How did this Lima native, Berklee-educated artist end up in Minnesota? "When I was about to graduate, I got a call from my former boss from the school I taught at in Peru. He was [now] the director of a Spanish immersion school in Minnesota and offered me a proposal to be the music teacher at that school. At that moment, my plans were to either stay in Boston or go to Los Angeles, but with the pandemic going on, I decided to take that job and to move to Minnesota to discover what my next step would be. Here I met my wife and we got married. I've been playing actively and was the lead teaching artist of the Experience Jazz Program of Minnesota Jazz Education."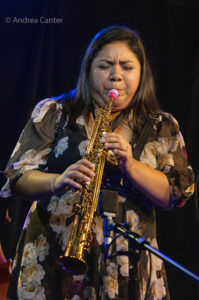 And lucky audiences in the Twin Cities have enjoyed Claudia's music, notably at KJ's Hide-a-Way in St Paul on Steve Kenny's Saturday Night Jazz series, in the Belvedere tent at Crooners in Fridley, and at Jazz Central Studios in Minneapolis. But in a few weeks she will move again to follow her dream to work in Los Angeles.
"Right now one of my main goals is to work on my album and to pursue my career goals in the music industry. At the beginning of January I resigned from my teaching job and decided to move to Los Angeles in the next few months. I have a few concerts coming up here in the Twin Cities and I am working on new projects with my educational program 'From Peru to the World.' I also have a movie to score and recordings to do. My move to Los Angeles, and to focus entirely on my music career as a performer, producer and composer, are my priorities right now. I am very grateful to the Minnesota scene and its people and I am really excited for what is in store for me in this new chapter in another city."
Twin Cities Gigs in February
Claudia Medina will lead two ensembles before her move to LA: Her Peruvian Project will perform on the Saturday Night Jazz series at KJ's Hide-a-Way in St Paul on February 4 (two sets starting at 8 pm).  "This is a very special show because I will be presenting my originals that consist of a combination of jazz, Afro-Peruvian and Latin. This time I will have a 6-piece band—3 horns and rhythm section– featuring Miguel Hurtado on drums, Ted Godbout on piano, Matt McIntyre on bass, Riley Helgeson on trumpet, and Shane Cox on trombone. You will be listening to one of my originals called 'Avenida Javier Prado' that I released in 2019. This song is a very special one since it portrays the sounds and colors of life in Lima, the capital of Peru. (Purchase tickets at https://kjshideaway.com/event/claudia-munoz-peruvian-project/)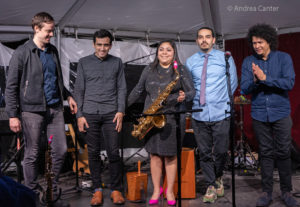 Her final show will take place in Minneapolis at Jazz Central Studios on February 24, 8 pm. "This is my farewell show and will have special guests like [vocalist] Katia Cardenas and more. In this show I will be playing the best of Latin jazz, Afro-Peruvian, and some originals. This show is very special because I will be gathering friends and musicians from the Twin Cities that have been part of my shows. This will be a special night full of musical friendship." (Reserve at www.jazzcentralstudios.org)
 Learn more about Claudia Medina at www.claudiamedinamusic.com