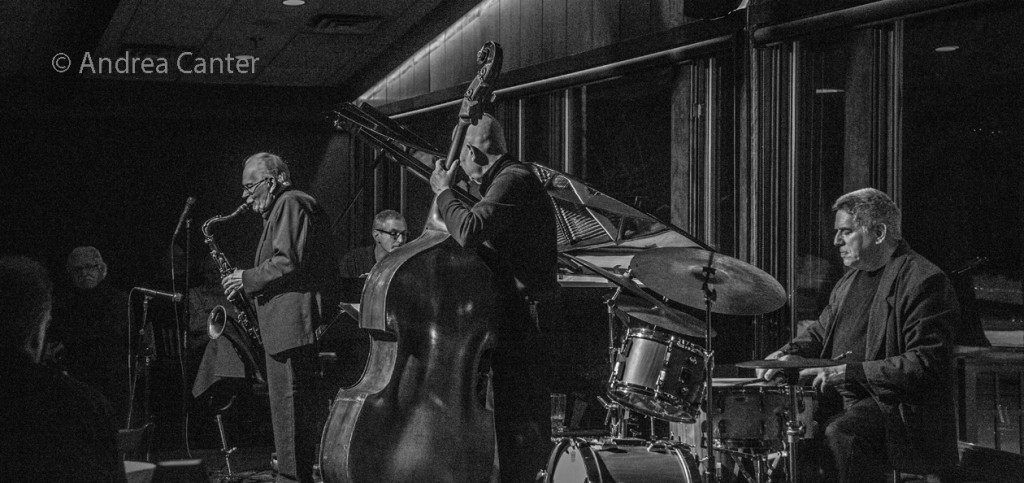 Ed. note: Not intended to be exhaustive, just some subjective highlights of the coming month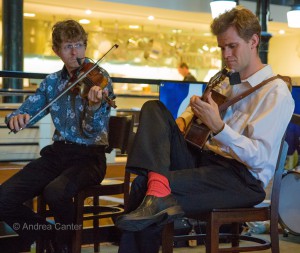 May 2. Tim Kliphuis and Sam Miltch at the Dakota, 7 pm. Dutch violinist and Grand Rapids, MN guitarist dazzled at the 2015 Twin Cities Jazz Festival, and just released the album, Duets. The gypsy jazz tradition is in good hands! (Read more!)
May 2, Regional Jazz Trio at the Icehouse, 9:30 p.m. JT's Jazz Implosion presents locals with international reputations: Bassist/cellist Anthony Cox performed with Stan Getz, Dewey Redman and more. His local affiliations include Jeremy Walker's Atrium Jazz Ensemble, Vector Families, and other noteworthy bands with the likes of Dave King, John Penny, Davu Seru, and more.  Founding member of Fat Kid Wednesdays and Happy Apple, saxophonist/bassist Michael Lewis has toured with Andrew Bird, and locally performs with Bryan Nichols, the Bates brothers, Alpha Consumer, Dosh, and Red Start. And on the drum set is Implosion curator JT Bates , named "Best Jazz Artist of the Year" for 2016 by City Pages, and one of the busiest musicians in town, leading his organ trio Grain and propelling a long list of bands including The Pines, brother Chris' Red Five, Zacc Harris Group and Bryan Nichols Quintet and Trio, and dueling with Dave King in the duo Real Bulls. There's nothing "regional" about this trio– this is a globally talented band!
May 2, The Growlers at Jazz Central, 8:30 pm. Formed just a few months ago, this trio is headed by guitarist Joel Shapira, with David Martin trading in his usual guitar for fretless bass and Pete Hennig manning the trapset. Shapira is probably best known for his swinging chops with vocalist Charmin Shapira (Charmin & Shapira), but his post-bop leanings are evident in such bands as Bottomless Pit and the Joel Shapira Quartet. Martin is also often heard in collaboration with area vocalists like Maryann Sullivan and Paula Lammers, but his more adventurous side shines in the company of fellow guitarists like Mike Doolin of Portland, OR, with whom he recorded a well received duet album last year.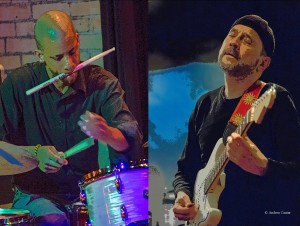 May 3, Dean Magraw and Davu Seru at the Black Dog, 7 pm.  Two of the most inventive artists around, Dean and Davu hold their monthly duo on First Tuesdays. Dean has led the long-running trio Red Planet (with Chris Bates and Jay Epstein), and recently formed two new duos– with drum titan Eric Kamau Gravatt, leading to their release Fire on the Nile, and with imaginative pianist Steven Hobert.  A doctoral candidate at the U of M in African American Literature, Davu is otherwise busy with such ensembles as the Cherry Spoon Collective, Merciless Ghost, Body Omara , NuSkein Ensemble,and his No Territory Band.
May 3, Butch Thompson solo in the Dunsmore Room at Crooners Lounge, 7 pm. Traditional and stride jazz specialist, pianist/clarinetist Butch Thompson filled the intimate Dunsmore Room shortly after the venue opened, treating patrons to what seemed like a live version of his Originals radio program, complete with witty commentary as well as rags and stride classics on piano and a couple spins on clarinet. More of the same would be more than enough! Reservations a must!
May 4, Abdullah Ibrahim and Ekaya at the Dakota, 7 & 9 pm. Nelson Mandela referred to his fellow countryman as "Africa's Mozart." Known in his early career as Dollar Brand, pianist Ibrahim was launched by Duke Ellington and toured with Elvin Jones and later Max Roach, returning to his native Cape Town after the fall of apartheid. He's released over 50 albums as leader, a number of them with his septet Ekaya. Ibrahim lives in New York and Capetown and has seldom toured in the Midwest. (Read more!)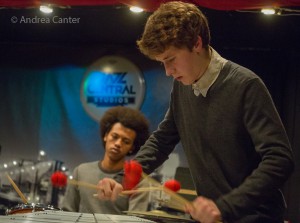 May 4, Four Trees/Levi Schwartzberg Quintet at Jazz Central, 8:30 pm. An unusual percussion trio (Four Trees) opens this night of new music, featuring young vibes master Levi Schwartzberg and two drummers– Benjamin Beyene, and Tarek Albdeqader, playing all original music. The second set features the return of the Levi Schwartzberg Quintet, with fellow Dakota Combo alums Jackson Mullett (trumpet), Thomas Strommen (saxophones), Ben Beyene (drums) and pal Drew Stinson (bass). He's only in his second year at the U of M, but Levi Schwartzberg has proven to be an invaluable member of the local jazz scene, appearing with Adam Linz's Le Percheron and in ensembles led by Steve Kenny and other veterans.
May 5, Thursday Night Jazz at Reverie, Soft Opening (9 pm). After a month in "exile," the former Friday Night Jazz series returns to Reverie on Thursdays, at least this week with a "soft opening" featuring the trio of Davu Seru, Chris Bates and Brandon Wozniak. Seru (see May 3 above) is having a busy week, and his bandmates tend to have multiple obligations at any given moment as well. Bassist Chris Bates leads his Red 5 and Good Vibes Trio, performs with Atlantis Quartet, Red Planet, Dean Granros' Tall Tales and ensembles led by Bryan Nichols, Zacc Harris and more. Brandon Wozniak is also a member of the Atlantis Quartet, Dave King Trucking Company, Atrium Jazz Ensemble and other high-end improvising bands. Jazz will then return to Reverie on May 19 with the "grand opening" and hopefully weekly performances thereafter.
May 7, Jazz at Studio Z: Phillip Greenlief, Nathan Hanson, Chris Bates, Davu Seru (7 pm). Since his emergence on the West Coast in the late 1970s, saxophonist/composer Phillip Greenlief has achieved international critical acclaim for his recordings and performances with musicians and composers in the modern "post jazz" world as well as new music innovators and virtuosic improvisers. He has performed and recorded with Fred Frith, Meredith Monk and They Might Be Giants. His recent residencies have included Headlands Center for the Arts and, from 2012-14, he was the curator at Berkeley Arts, a home for progressive music. He is the recipient of a San Francisco Bay Guardian Goldie Award. His partners at Studio Z include a home team of virtuosic improvisers– saxophonist Nathan Hanson, bassist Chris Bates, and percussionist Davu Seru. The pre-concert master class (6 pm, free) addresses compositional strategies for improvising musicians.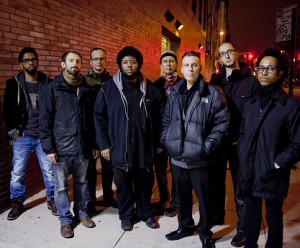 May 7, Steve Lehman Octet at the Walker Art Center, McGuire Theater (8 pm). The New York Times described this ensemble as "a breathtaking accomplishment, a blast of urban futurism at once hypnotic, kinetic and kaleidoscopic. And funky!" Lehman works across a wide range of experimental music idioms. His 2014 recording Mise en Abime was NPR's top jazz CD of that year, also taking top honors from the Los Angeles Times and Musica Jazz Italia, receiving a rare 5-star review from Downbeat. The Lehman Octet includes leaders of next generation of jazz greats– Jonathan Finlayson (trumpet), Mark Shim (tenor sax), Tim Albright (trombone), José Davila (tuba), Charles Dingman (vibes), Drew Gress (bass) and Tyshawn Sorey (drums).
May 7, Saturday Night Jazz at the Black Dog, Plus One Trio/Witch Hunt (7 & 8:30 pm). The opening set from the Plus One Trio is a popular River Falls-based ensemble of former UW-RF students, with Nate Bauermeister on saxophones, Benjamin Allen on Trombone, Jason McLean on bass, and Anthony Bloch on drums. Witch Hunt headlines, a tribute to Wayne Shorter's Speak No Evil album, featuring Joe Mayo on saxes, Steve Kenny on FLUMPET, Ted Godbout on piano, Ted Olsen on bass and Adam Nussbaum on drums– a feisty combination of veterans and young generation artists.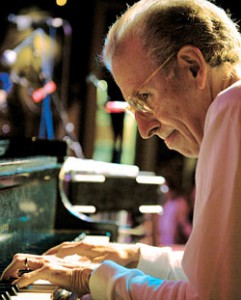 May 10, Stu Katz in the Dunsmore Room at Crooners Lounge, 7 pm. One of the veterans of Chicago jazz, Stu Katz has over six decades of experience as a pianist and vibraphonist, performing with Gene Ammons, Kenny Burrell, Joey DeFrancesco, Dexter Gordon, Roy Haynes, Milt Jackson, James Moody, Zoot Sims, Sonny Stitt, and Phil Woods, among others. He's appeared at ten Chicago Jazz Festivals, toured in Europe with Bunky Green, and has enjoyed long collaborations with Chicago stars, Ira Sullivan and Willie Pickens. He released a live recording, A Family Affair, in 2011, from a live show at the Jazz Showcase with Sullivan. In the Dunsmore Room, Stu will play a solo set followed by a second set with son Steve (bass and vocals) and Jay Epstein (drums).
May 11, Inventions and Dimensions (Chris Bates, Joe Strachan, Matt Buckner) at Jazz Central (8:30 pm). On his monthly "Magica Improvisada" night, bassist Chris Bates brings back the ensemble he launched in January with young lions Joe Strachan (piano) and Matt Buckner (drums), noting that "we are going to continue to develop our trio sound over the course of this whole year." Originally conceived as a short-term experiment, the chemistry among the trio was simply too charged to call it quits. So who knows where it will all lead? Most likely to some very satisfying new music!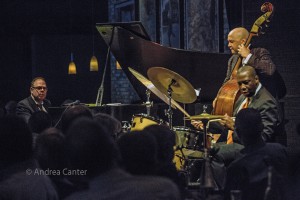 May 11, Bill Charlap Trio at the Dakota, 7 & 9 pm. He's one of the most lauded pianists of his generation, and his trio with Peter Washington and Kenny Washington is often compared to the great trios of Bill Evans. The trio was here about two years ago, and since Bill teamed up with Tony Bennett on the recording named (oddly) Best Traditional Pop Vocal Album at the 2016 Grammy Awards (The Silver Lining: The Songs of Jerome Kern), and now the Bill Charlap Trio just received a 5-star review in Downbeat for their new release, Notes From New York.  Charlap grew up with music, son of Broadway songwriter Moose Charlap and vocalist Sandy Stewart. Early on he worked with Gerry Mulligan, Benny Carter, Clark Terry and Frank Wess, and became a first-call accompanist to vocalists Tony Bennett, Carol Sloane and Sheila Jordan before taking over the piano shair for the Phil Woods Quintet. For nearly 20 years, Bill has performed with the same trio, releasing a number of acclaimed recordings, as well as performing and recording with pianist Rene Rosness. Reservations strongly recommended.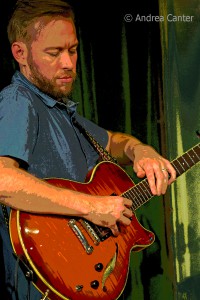 May 12, Zacc Harris Group at Vieux Carré (9 pm). It's been a while since we have heard the Zacc Harris Group, probably because each musician has such a busy schedule– getting these four improvisers in the same place at one time is a challenge. But guitarist Zacc Harris is used to the challenge of coordinating schedules, heading the Atlantis Quartet, Zacc Harris Group, Zacc Harris Trio, American Reverie and more, as well as performing with Babatunde Lea, Adam Meckler, Dean Granros, Steve Kenny and a long list of area jazzers. He also balances performing with teaching, including directing the jazz combo at Hamline University. In his spare time, Zacc is a cofounder of Shifting Paradigm Records and curates the almost-monthly Jazz at Studio Z concert series. His quartet includes Bryan Nichols (piano), Chris Bates (bass) and JT Bates (drums).
May 13, Eight O'Clock Jump Series, Nathan Hanson and Doan Brian Roessler at Walker West.  This successful first season has brought top local and national performers to the intimate performance space at Walker West. This duo of veterans has a long history of collaboration with each other and the most inventive artists in the jazz and experimental music community. Going back 20 years, Nathan and Doan have worked together in Fly Manifesto, Fantastic Merlins, and Wiwex Quartet. More recently, the duo has expanded to a quintet with violinist Laura Harada, saxophonist Cole Pulice and drummer Christopher McGuire, and at Walker West will create music that can be lyrical, bombastic, ethereal, and challenging –but always accessible.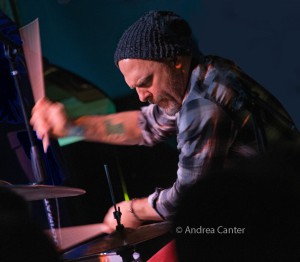 May 14, Saturday Night Jazz at the Black Dog, Steve Kenny Quartet/Dave King-George Cartwright Duo (7 & 8:30 pm). Steve Kenny and young pals open the evening as the veteran FLUMPET-eer brings arrangements and originals to the stage, accompanied by vibraphonist Levi Schwartzberg, much in-demand bassist Ted Olsen, and rising star drummer Rodney Ruckus. They're followed by two revered artists: Dave King (Bad Plus, Happy Apple, Dave King Trucking Company) has set new standards for jazz drummers. He's also added piano to his repertoire with a solo release (Indelicate) and a few years ago launched a trio with Bill Carrothers and Billy Peterson that shows his softer side. George Cartwright (Curlew, Gloryland Pony Cat) is one of the genre's most creative saxophonists, often on the bandstand at the Icehouse and Khyber Pass Cafe.
May 16, Bill Simenson Quintet at the Icehouse (9:30 pm). We tend to think of Bill Simenson as a big band leader, which of course he is (monthly at Jazz Central), but also heads a blazing quintet appearing on JT's Jazz Implosion. His cohorts include Nathan Hanson, David Martin, Chris Bates and of course, JT himself.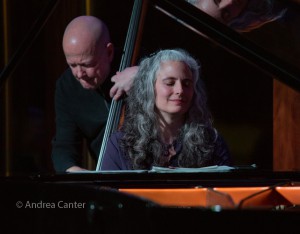 May 17, Mary Louise Knutson Trio in the Dunsmore Room, Crooners Lounge (7 pm). Another return visit, the MLK Trio was a big hit in the Dunsmore Room this winter, and leader Mary Louise returns now with Gordy Johnson on bass and Greg Schutte on drums. Often compared to Bill Evans, Bill Charlap and Marian McPartland, Mary Louise brings elegance and creative arrangements to the stage as well as original compositions. She's busy in Minnesota with the JazzMN Orchestra, and around the country with the Doc Severinsen Big Band. A finalist in the Mary Lou Williams "Women in Jazz" Piano Competition in 2005, her recordings Call Me When You Get There and In the Bubble have earned rave reviews and high-trending on Jazz Radio charts.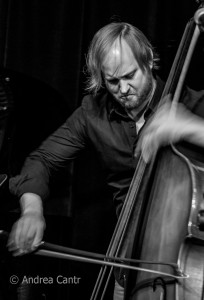 May 17, Michael O'Brien's Triage at Vieux Carré (8 pm). Bassist extraordinaire Michael O'Brien was one of the hottest young jazz talents in the Twin Cities during the first part of the 00s, relocating to New York about 8 years ago where he has built an enviable reputation. In addition to leading his own ensembles, Michael has composed for or played with Harry Connick, Jr., Reuben Blades, the Merce Cunningham Dance Company, Gene Pitney, David Samuels, Dave King, Matt Wilson, Wessel Anderson, David Binney, The Jazz Mandolin Project, Christian Howes, Ari Hoenig, Paul Bollenback, ETHEL and more. Michael has toured in Russia, Norway, and Haiti. During return visits to Minnesota, Michael has appeared with Jeremy Walker, Kelly Rossum, and in this trio with Chris Lomheim and Jay Epstein dubbed Triage. (See more dates for Michael O'Brien– May 20-21.)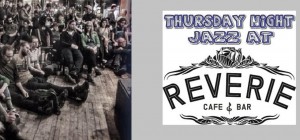 May 19, Grand Re-Opening, Thursday Night Jazz at Reverie: Halcyon Daze/Fall of the House of Usher, 7 pm. Officially opening the new jazz night at Reverie, Steve Kenny's series welcomes back the monthly JazzINK Youth Showcase, featuring Halcyon Daze, a high school ensemble led by drummer Sam Stroup of South High, along with Ivan Cunnigham (alto and tenor sax), Yonci Jameson (bass clarinet), George Adzick (flute, alto sax), and Nicholas Christenson (bass). They're followed by the large ensemble, Fall of the House of Usher (around 9 pm), performing world music improv and some spoken word, and including Chris Cunningham (guitars), son Ivan Cunningham and Cole Pulice (saxes), Noah Ophoven-Baldwin (trumpet), Chris Bates (bass), Greg Schutte (drums), Adam Svec (vocals) and special guest, Michelle Kinney (cello).
May 19, Stephene Wremble at Vieux Carré (9 pm). After learning to play among the Gypsies of rural France, guitarist Wremble was inspired to delve into jazz and contemporary music after attending the Django Reinhardt Festival, earning a scholarship to the Berklee College of Music. Now considered one of the most original voices in contemporary music, he's since collaborated with Woody Allen on the soundtrack to Vicky Cristina Barcelona and the theme track for Midnight in Paris ("Bistro Fada").  And as long as you are into guitar, come early (6 pm) for some solo magic from our local wonder, Joel Shapira. (Note — this show is nearly sold out as of May 1, standing room tickets remain. Call for availability)
May 20, Michael O'Brien at Jazz Central, 8 pm. Keeping busy during his Minnesota "vacation," Michael returns to Jazz Central where he will lead a trio of old friends. (See May 17.)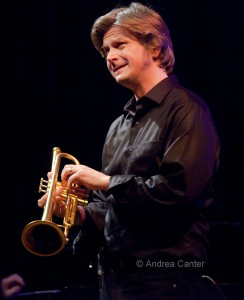 May 21, Saturday Night Jazz at the Black Dog, Convergence Trio/Kelly Rossum Quartet, 7 & 8:30 pm. Two more opportunities to enjoy Michael O'Brien before he returns to New York. The Convergence Trio features Michael in the company of young lion Joe Strachan (piano) and internationally renowned veteran Eric Kamau Gravatt . For prime time, it's another homecoming gig, with trumpeter Kelly Rossum celebrating a new release (Blue Earth County) with O'Brien, Gravatt and vibes grand master, Dave Hagedorn. Once a major player on the modern jazz scene in the Twin Cities, Kelly spent a year gigging in New York, another year at Jacksonville State University in Tennessee and then relocated to Christopher Newport University in Newport News, VA where he heads the jazz program. If Blue Earth County is any indication, we can expect a sonic circus!
May 21, Travis Anderson Trio, Jazz @St. Barneys (St Barnabas Lutheran Church), 7 pm. Spend a Saturday night with great music and a heavy dose of humor! Travis Anderson picks up where the great swing and bebop pianists left off, and his sidekicks (Steve Pikal on bass, Nathan Norman on drums) are equally adept at their music and comedy routine.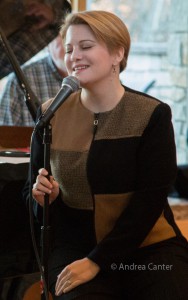 May 22, Maud Hixson with Dan Chouinard, The Birthday Club in the Dunsmore Room at Crooners Lounge (7 pm). One of the area's favorite songbirds, Maud Hixson would seem to be born to perform in the intimate Dunsmore Room with pianist/host Dan Chouinard at the Bösendorfer. The program's format is also ideal– selecting tunes written or performed by artists with May birthdays and sharing stories about the songs– something Maud Hixson does as a matter of course. A straight-forward singer who inhabits every lyric, this will be Maud's debut in the Dunsmore Room. Reservations strongly recommended.
May 23, Freddy Cole Quartet at the Dakota (7 pm). I'm Not My Brother, I'm Me was the fitting title of a popular Freddy Cole recording, reissued in 2004. Twelve years younger than legendary brother Nat, it is understandable that the younger Cole—who also sings and plays piano—would have to work hard to establish his own style and reputation. The similarities can not be easily dismissed, however—a smoky baritone, usual configuration of piano with guitar trio. While the voices have a distinctly brotherly affinity, however, their piano styles diverge, as Freddy Cole embraces bebop and beyond. And there is no denying that three-time Grammy nominee Freddy Cole has established his own reputation, particularly as his voice has taken on some new qualities over the years. Listeners can make their own comparisons when Freddy Cole returns to the Dakota!
May 23, Graydon Peterson Quartet at the Icehouse (9:30 pm). What a great utility infielder is to baseball, bassist Graydon Peterson is to the local jazz scene, serving as first-call sideman for a wide range of projects from vocal trios to big bands, and leading a couple bands of his own, including his quartet with Adam Meckler, Joe Strachan and Adrian Suarez. While they will surely play as an ensemble, don't be surprised if there are a few duet combinations as well, given Peterson's most recent release, Duets.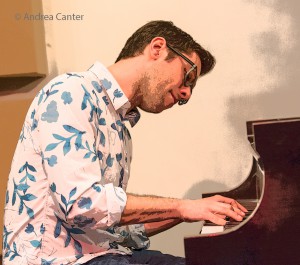 May 24, Bryan Nichols CD Release at the Dakota (7 pm). His quartet album, Bright Places, was among the brightest of new releases in 2011, and his stunning new solo album, Looking North, is more revelatory of the arc of Bryan Nichols' still-young career.  Usually surrounded by like-minded musicians like Chris and JT Bates, Zacc Harris, Mike Lewis and Brandon Wozniak, there's a special sound connection between Bryan and the piano on the rare occasions to hear him solo. Perhaps with this album release, there will be a lot more of these solo séances.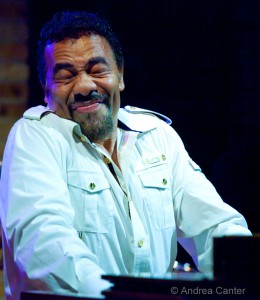 May 24-25, Bobby Lyle in the Dunsmore Room, Crooners Lounge (7 & 9 pm). Twin Cities native keyboard prodigy-turned music director and bandleader Bobby Lyle comes home to the for two nights of acoustic piano, in the fine company of bass pal Billy Peterson. We've heard Bobby most recently at the Dakota on Hammond B-3 and keyboards, but the opportunity to hear him on just the acoustic piano is a rare treat. Influenced primarily by Oscar Peterson, Ahmad Jamal, Bill Evans, Erroll Garner, and Art Tatum, as a teen in the early 1960s, Lyle was the talk of the Twin Cities. Soon he was burning up pianos and Hammond B3s, gigging in clubs that couldn't yet serve him. Eventually he worked a short time with Jimi Hendrix, then moved with his family to LA and toured for a while with Sly and the Family Stone, then Ronnie Laws. After making a few recordings for Capitol, Lyle joined forces with George Benson, later touring with and serving as Music Director for Al Jarreau, Bette Midler, and Anita Baker. Three decades into a prolific career as composer, arranger, band leader, and recording artist of fusion as well as straight-ahead, Lyle released Straight and Smooth (Three Keys) in 2004 as an overt declaration of his dual keyboard personality. And with this release, Bobby became the first artist to ever chart on both the Billboard Contemporary Jazz Chart and the Straight Ahead Jazz Chart.  He's in the intimate Dunsmore Room for two nights, four sets. You definitely need a reservation!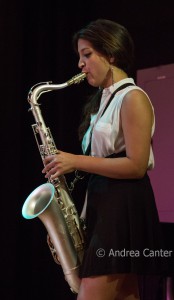 May 26, Thursday Night Jazz at Reverie, Lucia Sarmiento Group (9 pm). Talented young tenor saxophonist Lucia Sarmiento studied in her native Peru and Argentina before landing at McNally Smith where she studies with Pete Whitman. But this is no student ensemble, Lucia has proven to be a precocious bandleader with appearances as the past two and upcoming Twin Cities Jazz Festivals, and has also made her mark with Eric Gravatt's Source Code. Her band includes young pianist Will Kjeer, who already has a mass of credits on the local scene, another young gun, guitarist Ethan Elseth, and the "older" young veterans, Andrew Foreman on bass and Zach Schmidt on drums. Really, this is the future of jazz!
May 29, Sérgio Mendes at the Dakota (6 & 8 pm). If you are a "certain age," you grew up listening to Sérgio Mendes and Brasil 66, one of the most influential bands and sounds of the 60s and 70s. Producer, composer, keyboardist and vocalist, three-time Grammy winner Sérgio Mendes has significantly impacted five decades of popular music, and his career continues to evolve. Mendes has recorded 35+ albums, many gold or platinum. Big hits included "The Look of Love," "The Fool on the Hill," and "Scarborough Fair"; adding soul and funk to his jazz and pop learnings, never losing that Brazilian rhythm, his "Mas Que Nada" was the first song, sung only in Portuguese, to hit the Billboard Pop Chart in the U.S. Mendes redefined Brazilian music for audiences worldwide. And now he's back in our front yard, at the Dakota.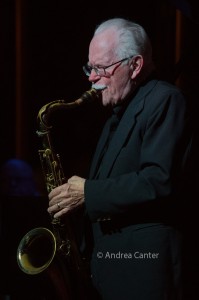 May 31, Dave Karr Quartet in the Dunsmore Room, Crooners Lounge (7 pm). We should all have the energy of multi-reed veteran Dave Karr when we are 85! (Or even 65!) One of the most beloved musicians in the Twin Cities, Dave continues to keep a busy performing schedule, appearing regularly with the JazzMN Orchestra, Pete Whitman X-Tet, Connie Evingson, and his own quartet, which now returns to the Dunsmore Room after a much celebrated debut in February. When it comes to interpreting the bebop canon, there just isn't another voice around town like Dave's. And his quartet is filled with local heroes–Chris Lomheim on piano, Gordy Johnson on bass and Phil Hey on drums.
Coming Next Month!
June 3, Patty Peterson All-Stars with Steve Cole at the Dakota
June 4, Bruce Henry at the Dakota
June 5, Poncho Sanchez at the Dakota
June 5, Joe Lovano Tribute to Gunther Schuller at Sundin Hall (Hamline University)
June 7, Teri Roiger and John Menegon in the Dunsmore Room at Crooners Lounge
June 8, Arturo Sandoval at the Dakota
June 12, Minnesota Festival Jazz on the Prairie at Starling Lake Amphitheater, Eden Prairie
June 17, David Binney Quartet at Walker West
June 17, Tord Gustavsen Trio at Mindekirken (Norwegian Lutheran Church)
June 18, Rosemount Jazz Blast at Rosemount Central Park
June 18, Jazz at Studio Z, Doug Little's Tres Mundos
June 20, JazzMN Orchestra at Chanhassen Dinner Theater
June 20, David Hazeltine and Eric Alexander, Dunsmore Room at Crooners Lounge
June 21, David Hazeltine/Eric Alexander Quartet, Dunsmore Room at Crooners Lounge
June 22, David Hazeltine/Billy Peterson CD Celebration, Dunsmore Room at Crooners Lounge
June 23-25, Twin Cities Jazz Festival, Mears Park (Delfeayo Marsalis, Ellis Marsalis, Joey Alexander, Russell Malone, John Pizzarelli, Michael Franti & Spearhead)
June 27, Junior Ranger at the Icehouse
Some of these events are free or have low covers, some require advanced tickets or reservations. Check the venue websites for more information!